You are here
Petrie Building
Petrie Building – 15 Wyndham Street North, Guelph ON—A CASE OF DEMOLITION BY NEGLECT
Lack of capital investment leaves a once stunning and unique downtown landmark suffering from neglect.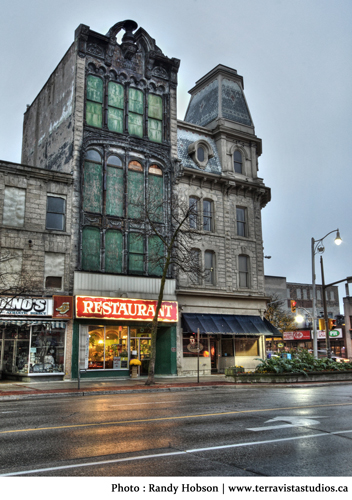 UPDATE: Tyrcathlen Partners, a heritage developer in Guelph, concludes a purchase agreement in March, 2015.
Why it matters
A local landmark, the unique Petrie Building in downtown Guelph, Ontario, was built in 1882 for Alexander Bain Petrie, a local pharmacist and one of the city's most successful and influential businessmen. Designed by Guelph architect John Day, this four-storey structure boasts an ornate façade of stamped galvanized iron that is further distinguished by a large mortar and pestle pediment. It is one of only three documented buildings in the country erected prior to 1890 with full sheet-metal façades.
Designated by the City of Guelph under Part IV of the Ontario Heritage Act in 1990, the building is located within the city's Community Improvement Plan Area, making it eligible for a number of incentive grants.
Why it's endangered
The ground floor of the Petrie Building has been occupied by the Apollo Eleven diner since 1976, but the upper floors have remained vacant for some decades. Left unheated with the windows boarded up and rust accumulating on the metal façade, the once stunning structure is becoming a victim of demolition by neglect.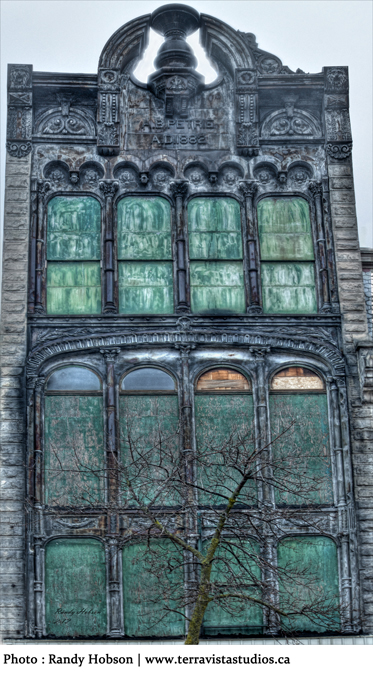 Where things stand
The launch of the Save the Petrie Building Facebook page in 2011 has helped garner public support to save the structure from further decline, as have public exhibitions at the main library and the involvement of the Architectural Conservancy of Ontario. A local filmmaker has created two shorts, Demolition by Neglect and Petrio–Threelenses on the Petrie Building, to help raise awareness of its plight.
Located within the city's Community Improvement Plan Area, the building is eligible for façade improvement and feasibility study grants as well as a tax increment-based grant—all created as incentives to help stimulate investment in the downtown and its historic properties.
In March, 2015 Tyrcathlen Partners, Guelph developers with a focus on heritage restoration and adaptive reuse, announced an agreement to purchase the Petrie Building with the goal of rehabilitating both the pressed metal facade and the interior spaces.
See CTV News Report here.
Tyrcathlen Partners will work in partnership with the Architectural Conservancy of Ontario Guelph-Wellington Branch to raise funds to restore the iconic façade.