You are here
24 and 28 King Street East, Gore Park
Hamilton, Ont.—THREATENED DUE TO QUESTIONABLE CITY DEAL WITH DEVELOPER
City of Hamilton plays fast and loose with Victorian-era commercial buildings that are key components of historic Gore Park street wall.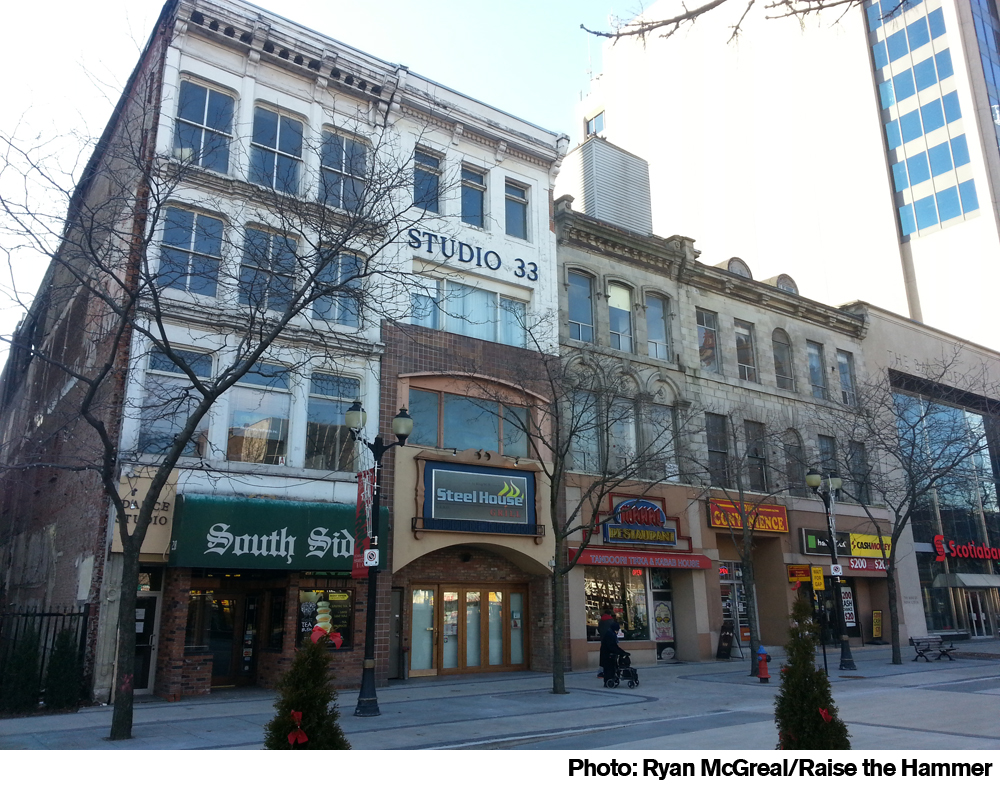 Why they matter
Numbers 24 and 28 King Street East make up part of an intact row of historic buildings that line Gore Park, located at the heart of Hamilton's civic and commercial core. Although modified at street level, the buildings—dating from 1876 and 1874 respectively—have intact upper floors that contribute to the unique downtown street wall which includes pre-confederation commercial structures. Together they help define the character of Gore Park and are considered by many to be integral to the area's rejuvenation.
Why they're endangered
The Municipal Heritage Committee, with support from the Architectural Conservancy of Ontario (ACO), made recommendations that the entire block be designated under the Ontario Heritage Act (OHA). However, the City reached an agreement with the owner, Wilson-Blanchard, not to designate the block in exchange for a promise not to demolish numbers 18-22 (according to the owner their façades would be retained), while full demolition of the two Victorian-era buildings could proceed—despite there being no immediate site plan for redevelopment. A demolition permit has been issued.
Where things stand
ACO has written five times to Michael Chan, the Ontario Minister of Tourism, Culture and Sport, who has the power under the OHA to intervene, but to no avail. Last month, David Blanchard told CBC Hamilton that he would be open to saving the façades if the City came forward with financial support, but by mid-June he reported that no action had been taken.
A demolition crew has been hired and hoarding will soon be installed.
A petition has been created asking City Council to call an emergency meeting to require that Wilson-Blanchard retain the façades so they can be incorporated in future designs for the site.