You are here
2015 Award Recipients
Prince of Wales Prize for Municipal Heritage Leadership
Gabrielle Léger Medal for Lifetime Achievement
Lieutenant Governor's Award for Heritage Conservation
Ecclesiastical Insurance Cornerstone Awards for Building Heritage
---
Prince of Wales Prize for Municipal Heritage Leadership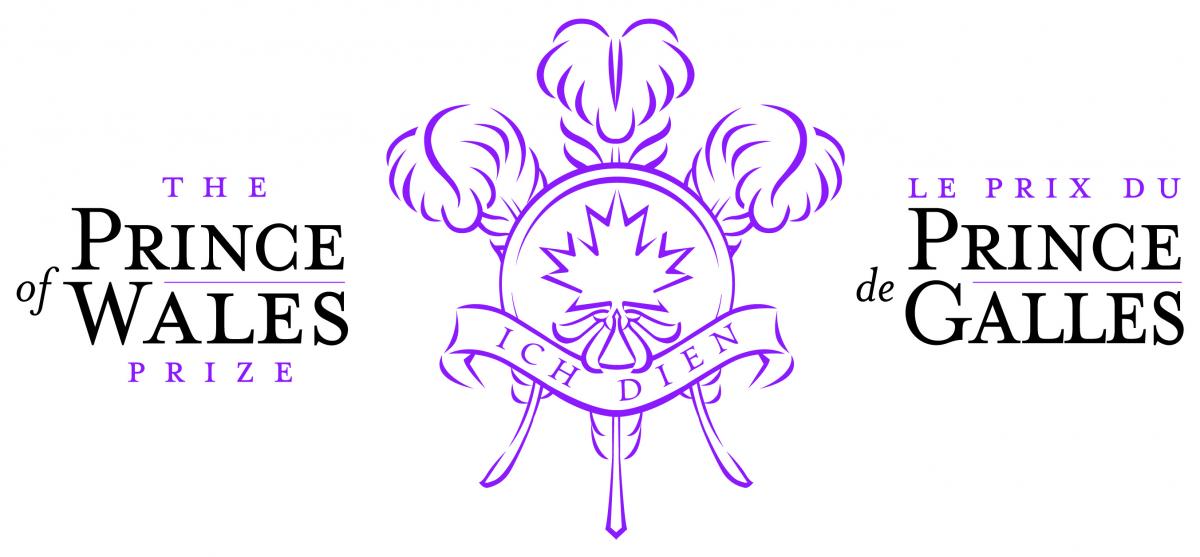 Town of Grimsby, Ontario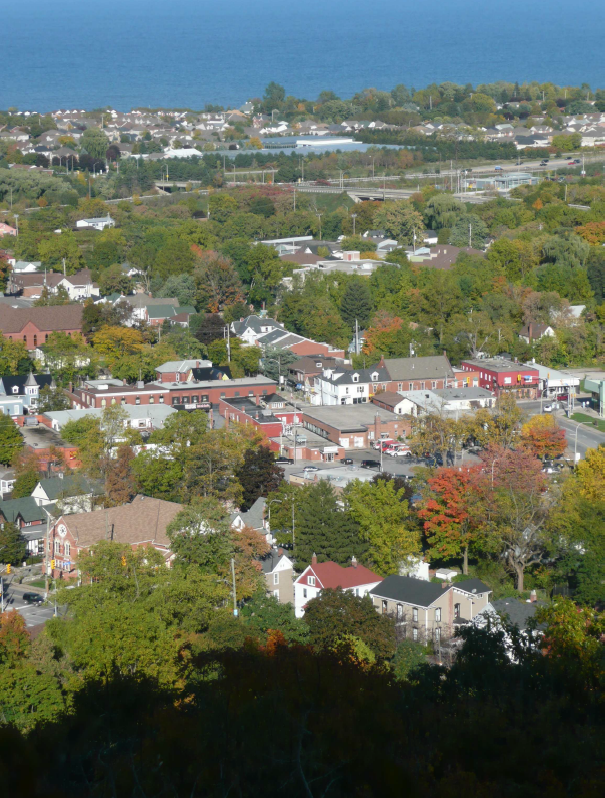 Situated at the base of the Niagara Escarpment on the shores of Lake Ontario, the small Town of Grimsby, Ontario (population 26,325) takes big pride in its heritage as evidenced in its well-preserved downtown, historic beachfront, and the palpable enthusiasm of its history-loving citizens.
Once known as "The Forty," Grimsby was founded in 1790 by a group of Loyalist families who settled at 40 Mile Creek following the American Revolution. Here, they found fertile soils and waterfalls to power mills, and their community flourished.
In 1859, a Methodist campground billed as "Canada's Chautauqua" was established at Grimsby Park. At its height, it drew as many as 50,000 summer vacationers from throughout the Golden Horseshoe who came to camp in the park and holiday in whimsical gingerbread house cottages. Grimsby remained a popular holiday destination through to the 1960s when its permanent population took off with the growth of the fruit industry.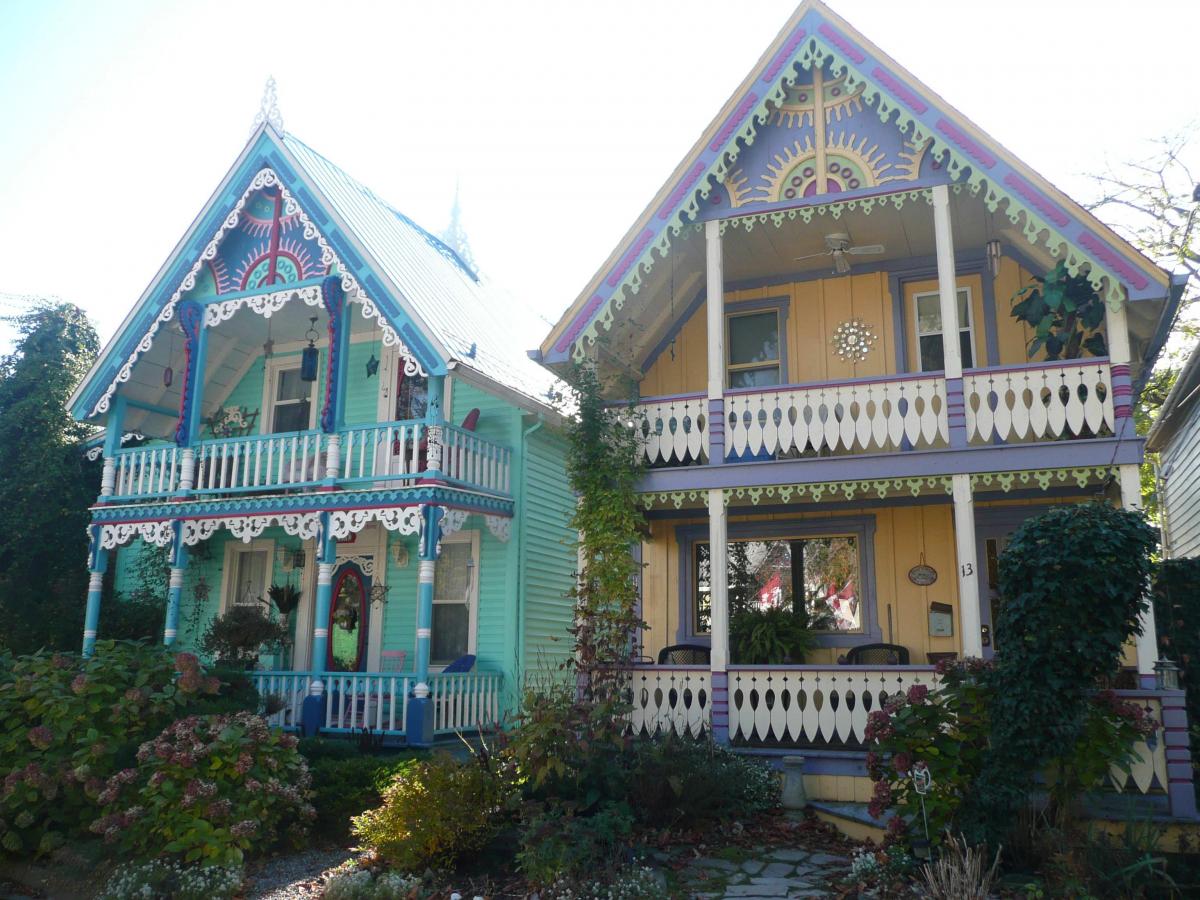 Though faced with developmental pressures, Grimsby has recognized the importance of heritage conservation in improving quality of life and enhancing a sense of place and community. Thanks to this longstanding commitment, today more 95 percent of the town's pre-1939 building stock still stands.
Beginning with the conversion of a former blacksmith shop (circa 1800) into the first Grimsby Museum in 1963, the Town has demonstrated a firm commitment to investing in its heritage assets. In 1986, the Heritage Inventory was created which today lists 142 properties. A Cultural Heritage Landscape Inventory established this year includes 26 sites to date.
In Grimsby, heritage planning is integrated into the Official Plan. Its vision states that "Grimsby's future will build on its small town scenic character" and that "Grimsby's natural heritage, cultural heritage and arts will be celebrated and protected."
To demonstrate this commitment, Grimsby, in partnership with the Region of Niagara, has implemented a robust suite of policies and programs aimed at promoting heritage conservation. Financial measures include:
Designated Property Grant Program: Provides grants up to $30,000 for heritage-designated commercial property and $10,000 for heritage-designated residential property for façade improvement projects.
Downtown Grimsby Property Rehabilitation and Redevelopment Tax Increment Rebate: Owners who complete property rehabilitation projects are eligible for reimbursement in the form of an annual grant equivalent to 70% of the resulting municipal tax increment for up to 10 years
Residential Conversion/Intensification Grant: Provides a grant equal to 50% of the cost of rehabilitation existing residential units, up to a maximum of $75,000.
In addition, several zoning by-laws protect the town's historic character and ensure the sensitive integration of new developments within the historic context.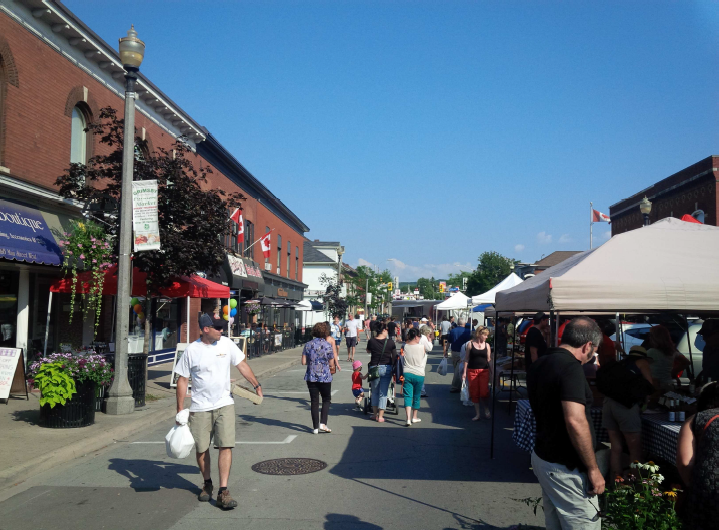 The residents of Grimsby celebrate their community's heritage, enthusiastically participating in the annual Doors Open Grimsby Festival, historic walking tours and the Grimsby Heritage Art Contest. This enthusiasm demonstrates how powerfully heritage connects citizens to their town.
The jury was unanimous in its selection of this impressive nomination, calling Grimsby's approach to heritage conservation "proactive" and "sophisticated."
"Grimsby has so many dedicated programs for such a small community, such as designated property grants, tax increments, special zoning, and main street façade improvement grants. They have everything that you could possibly think of."
The Town of Grimsby was nominated by the Chair of the Grimsby Heritage Advisory Committee.
---
Gabrielle Léger Medal for Lifetime Achievement
Julia Gersovitz
For nearly four decades, Julia Gersovitz has been at the vanguard of the heritage conservation movement in Canada as a practicing architect, theoretician, educator and volunteer.
After completing a Bachelor of Science in Architecture and a Bachelor of Architecture at McGill University in 1974 and 1975, respectively, Ms. Gersovitz became one of the first architects in Canada to complete a graduate degree in Historic Preservation, earning her Master of Science at Columbia University in 1980.
After completing her studies, Ms. Gersovitz returned to Montreal where she embarked on her first major project, the adaptive reuse of Maison Alcan, an early example of a successful sustainable development. The project heralded Ms. Gersovitz's ensuing career as one of the foremost conservation architects in the country. It is a mark of her excellence that she has gone on to work on some of Canada's most iconic buildings, including the Parliament Buildings, Rideau Hall, Union Station and the historic campus of McGill University.
A founding partner of Fournier Gersovitz Moss Drolet and associates, Ms. Gersovitz has earned broad recognition for her work. In 2009, Ms. Gersovitz and her firm were jointly awarded the City of Montreal's SITQ Award of Excellence for exceptional contributions to heritage conservation in the city. In 2014, she was received the Harley J. McKee Award by the Association of Preservation Technology International for outstanding contributions to the field of preservation technology.
One of Ms. Gersovitz's most invaluable contributions has been her role in educating a generation of architects and conservation professionals. As an adjunct professor of design at McGill University's School of Architecture since 1980, Ms. Gersovitz teaches courses in Heritage Conservation, the History of Architecture in Canada and design studios. Furthermore, as an adjunct professor at l'Université de Montréal from 1987 to 2001, she played a key role in developing the school's Master of Heritage Conservation program. Ms. Gersovitz is regularly invited to lecture at academic institutions both in Canada and abroad.
Proving her passion for conservation, Ms. Gersovitz has shared her knowledge as a volunteer on various committees and boards. She has been a member of the Conseil de patrimoine for the City of Montréal and chair of the Planning Advisory Committee for the City of Westmount. From 2001 to 2012, she served as vice‐chair of Montreal's Comité d'architecture et d'urbanisme and from 1996 to 2001, she was a member of the Commission Jacques‐Viger, which advises the City on architectural and urban design issues. As a member of the Comité consultatif de Montréal sur la protection des biens culturels from 1987 to 1990, she advised the executive committee on preservation issues. At the provincial level, she was a member of the Commission des biens culturels, advising the Minister of Cultural Affairs on classified buildings. Beyond the province, she has served as a special advisor to the National Capital Commission for the Governor-General's residence and participated in the federal Historic Places Initiative.
Among her peers, Ms. Gersovitz is known as much for her thoughtfulness, tenacity and generous spirit as for the impeccable standard of her work. She is an inspiration to conservation professionals throughout Canada.
Julia Gersovitz was nominated by Dr. Christina Cameron, Professor at the Université de Montréal and Canada Research Chair on Built Heritage.
---
Lieutenant Governor's Award for Heritage Conservation
Marianne Fedori, Edmonton, Alberta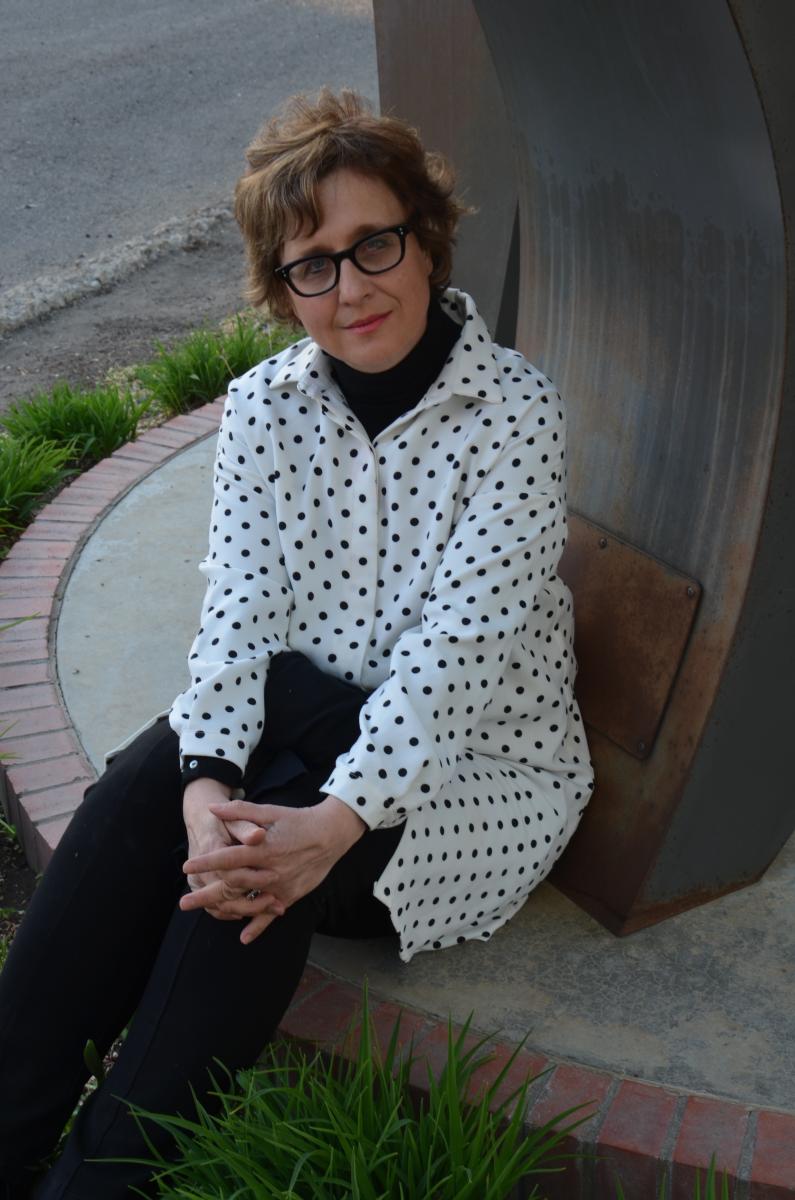 Marianne Fedori has been called Edmonton's most dogged champion of architectural conservation. For thirty years, Ms. Fedori has been an unwavering advocate for the protection of heritage buildings both in Alberta' capital and throughout the province.
An historian by training, Ms. Fedori completed her Bachelor of Arts in Canadian History at the University of Calgary in 1980. In her first job, she undertook research related to heritage conservation at the Calgary Public Library. Since then, Ms. Fedori has worked with provincial and municipal governments, architects, museums, educational institutions, publishers and the media as a researcher and historical consultant, but her true impact has been in her work as a volunteer.
A leader in Alberta's heritage conservation community, Ms. Fedori's resumé paints the picture of her extensive involvement in all things historical. She is a past president of the Historical Society of Alberta, a founding member of the Alberta Heritage Alliance, past chair of the Edmonton Historical Board, a former vice chair of the Government House Foundation, founding member of the Glenora Community Association and a lifetime member of Canada's National History Society.
Ms. Fedori has been instrumental in raising public awareness about heritage in Alberta. She helped create both Historic Calgary Week and Historic Edmonton Week. She is a founding member and tour leader for Jane's Walk Edmonton and serves as a mentoring historian for student Heritage Fairs. Ms. Fedori has also made a significant contribution to the published record of Alberta history with numerous articles, historical reports, and publications, and regularly gives talks on local history and heritage conservation.
A steadfast defender of historic places, Ms. Fedori has been involved in numerous heritage conservation campaigns, advocating on behalf of such places as the Glenbow Archives, Reader Rock Garden, Stephen Avenue, Lougheed House, the Rossdale Power Plant, Government House, the Roberts Wells residence, the Hudson's Bay Company Building and the Birks Building. Her commitment to conservation extends to her own home: she purchased and carefully restored the 1946 William Blakey House, obtaining municipal heritage designation in 2007.
Throughout the Alberta heritage community, Ms. Fedori is admired for both her grace and iron will. She has proven herself to be an outspoken and indefatigable public leader for the cause of conservation.
Marianne Fedori was nominated by Leslie Latta, Executive Director, Provincial Archives of Alberta and by Anita Jenkins.
---
Ecclesiastical Insurance Cornerstone Awards for Building Heritage

Category: Adaptive Reuse/Rehabilitation
Congregation Emanu-El Temple, Victoria, British Columbia
The London Roundhouse, London, Ontario
Market Street Development, Toronto, Ontario
Trinity St. Paul's United Church, Toronto, Ontario
Sir John A. Macdonald Building, Ottawa, Ontario
New Learning Centre – Building 94, Ottawa, Ontario
École des Métiers de la Restauration et du tourisme de Montréal, Montreal, Quebec
Cycloroute de Bellechase, Bellechasse RCM, Quebec
Congregation Emanu-El Temple (1863)
1461 Blanshard Street, Victoria, British Columbia
Owner: Congregation Emanu-El
Architects: Donald Luxton & Associates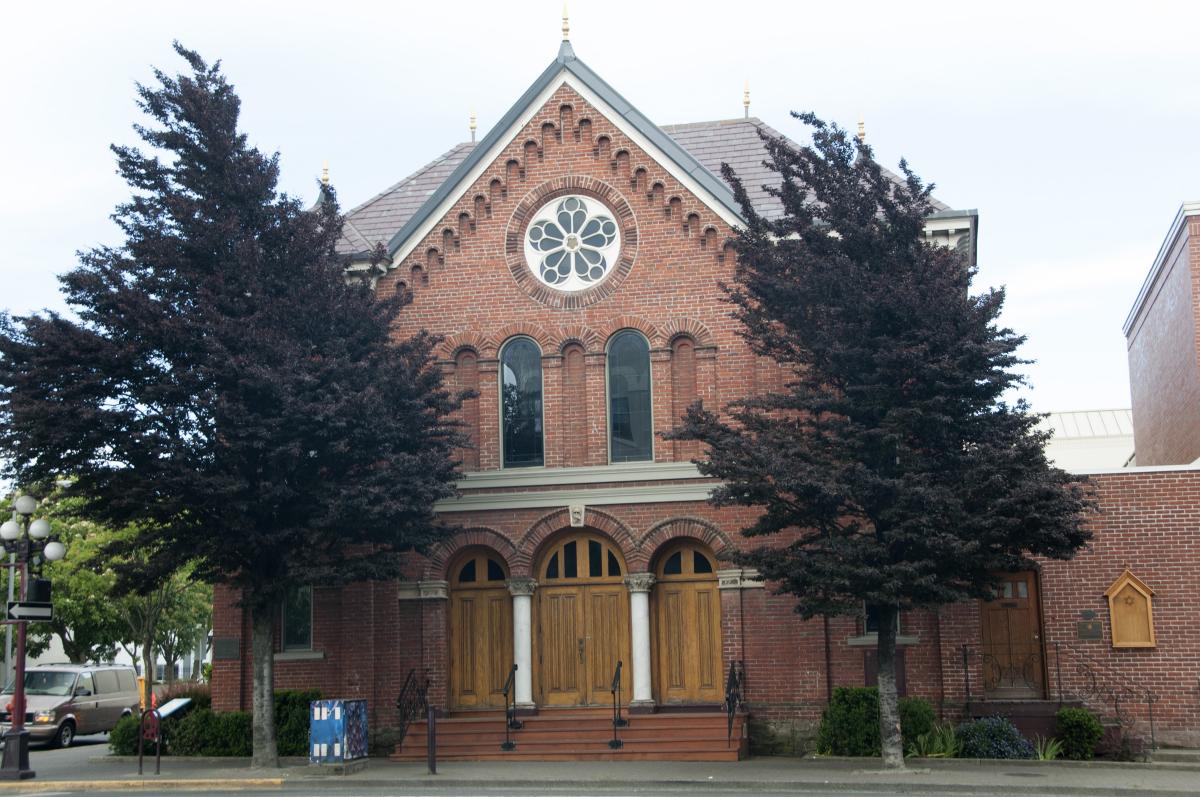 As the oldest surviving synagogue in Canada, Congregation Emanu-El holds inestimable heritage value. It was built in 1863 by a congregation comprised of settlers drawn from the Fraser River Gold Rush. Declared a National Historic Site in 1979, the congregation undertook the conservation of the rare Romanesque-style synagogue in 2010. The project encompassed a major rehabilitation of the building's structure and envelope to address structural deficiencies caused by earlier alterations; restoration and rehabilitation of the wood sash windows to increase the thermal performance; installation of an advanced fire detection system; and repairs to the masonry.
The London Roundhouse (1887)
240 Waterloo Street, London, Ontario
Owner: Creative Property Developments
Architects: Nicholson Sheffield Architects Inc.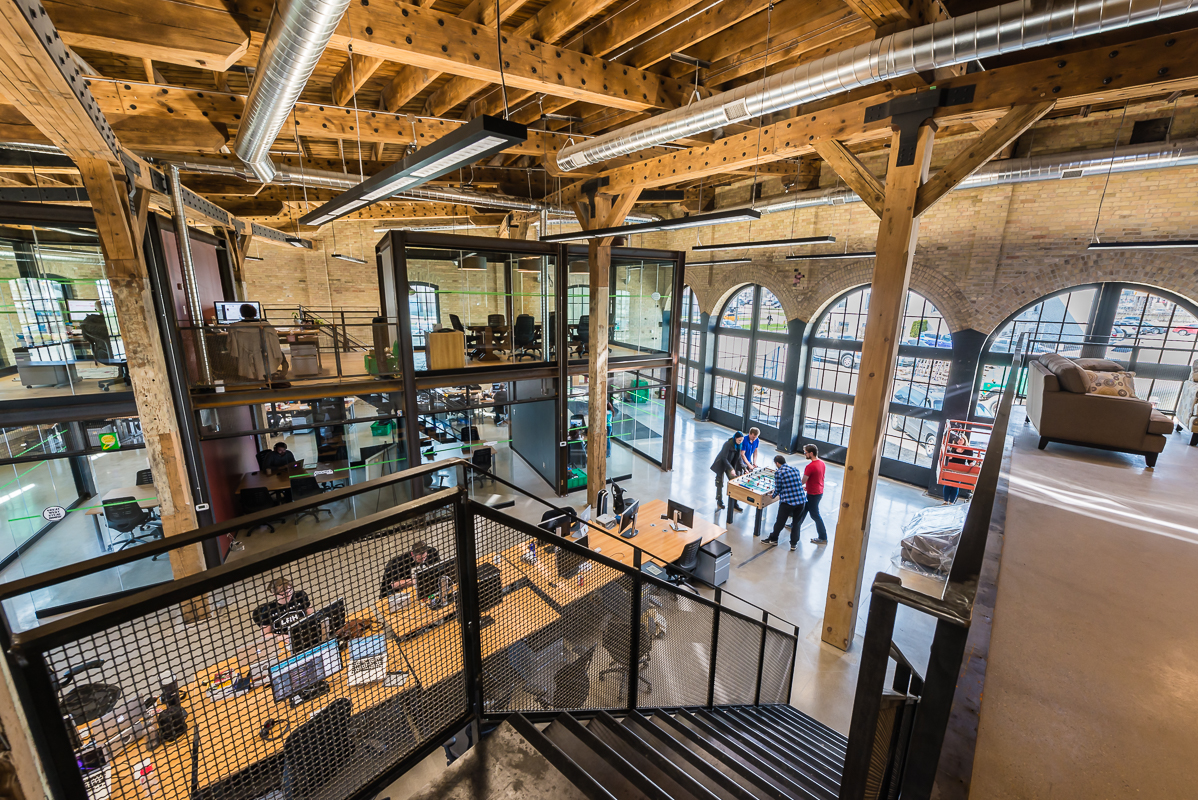 The Michigan Central Roundhouse was built by the London & South Eastern Railway Company in 1887 to service locomotives on the Michigan Central Railroad's (MCRR) line from Port Stanley to London. After MCRR moved shop to St. Thomas in 1898, the building stood vacant until 1922, then was variously used as a staging post, warehouse and restaurant until it was purchased by Creative Properties in 2006. The adaptive use project was conceived with the vision of returning the structure as closely as possible to its original layout as a locomotive roundhouse while converting it into office space for a digital media firm. The project involved returning the floor back to grade, restoring original fenestration and locomotive door openings and reinforcing the original ceiling. New construction stayed clear of walls and was inspired by the building's industrial heritage. Its history was further honoured by prominently featuring a locomotive vent stack in the boardroom, embedding steel strapping in the floor to represent where the locomotives tracks would have lain and naming meeting rooms after the building's former tenants.
Market Street Development, 10–12 Market Street (1880)
10-12 Market Street, Toronto, Ontario
Owner: Woodcliffe Landmark Properties
Project Team: Taylor Smyth Architects, Goldsmith Borgal & Company Ltd Architects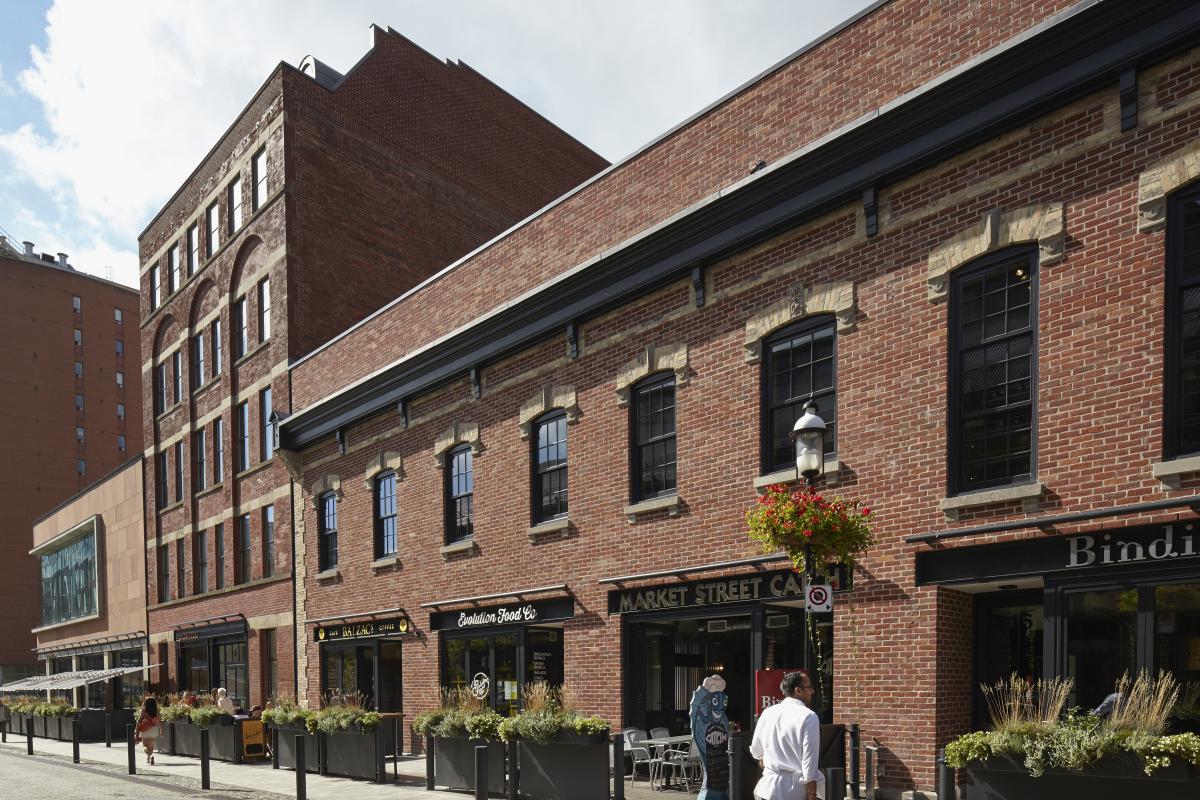 Located in Toronto's historic Saint Lawrence neighbourhood, the modest commercial building at 10-12 Market Street was commissioned by local politician William Cayley in 1880 and operated as the Armory Hotel. Along with the adjoining 8 Market Street (1899) and with 87 Front Street (1858 and 1871), it forms a handsome streetscape that stands as a reminder of Toronto's 19th century commercial heritage. Extensive alterations and decay over the years meant that conservation was a significant undertaking involving the stabilization of the brick façade during construction of a new steel-frame structure, masonry repairs and restoration, the design of appropriate wood replacement windows, and the reconstruction of a character-defining cornice based on historical documentation. The result is a successful adaptive use that has transformed a formerly derelict building and seamlessly integrating it into an inviting, low-rise, pedestrian-friendly urban streetscape.
Trinity-St. Paul's United Church (1889)
427 Bloor Street West, Toronto, Ontario
Owner: Trinity-St. Paul's United Church
Architects: ERA Architects Inc.
Project Team: Tafelmusik Baroque Orchestra and Chamber Choir, Read Jones Christoffersen Consulting Engineers Ltd., GOAL Engineering Ltd., Thurber Engineering Ltd., Knappett Projects Inc., and Vintage Woodworks Inc.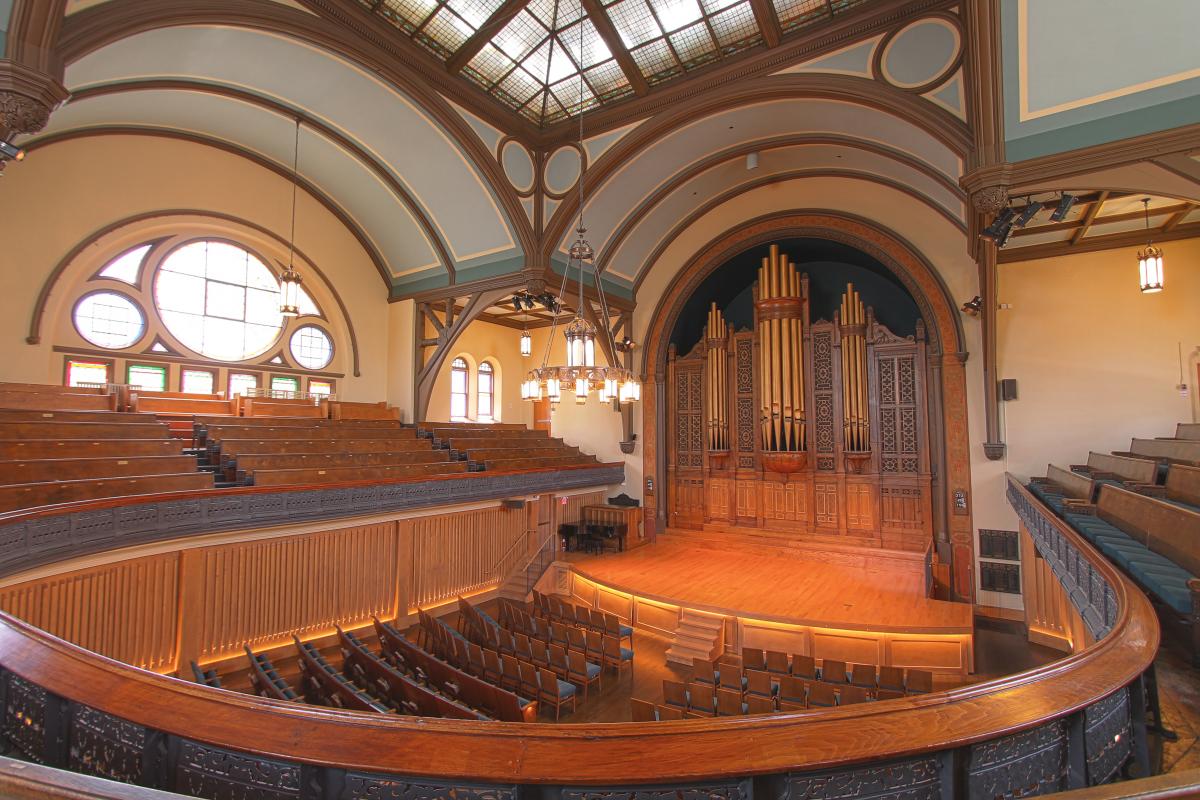 Located in Toronto's Annex neighbourhood, Trinity-St. Paul's United Church was constructed in 1889 in the Romanesque Revival style using stone quarried from the Forks of the Credit River, accented by red sandstone trim. Since 1981, Tafelmusik, the acclaimed Baroque orchestra and chamber choir, has been a tenant, drawing large audiences to the church and contributing to its long history as a community gathering space. With a view to supporting Tafelmusik's ongoing tenancy and the historic building's evolving uses, the project aimed to improve the church's acoustics, comfort, safety and accessibility. The scope included rehabilitation of the sanctuary to support both performance and worship; acoustic upgrades; improved accessibility; structural work to support a new stage; rehabilitation of decorative elements; and electrical upgrades to accommodate theatrical sound and lighting systems.
Sir John A. Macdonald Building (1930)
144 Wellington Street, Ottawa, Ontario
Owner: Public Works Government Services Canada
Architects: MTBA Mark Thompson Brandt Architect & Associates Inc., NORR Architects, Engineers, Planners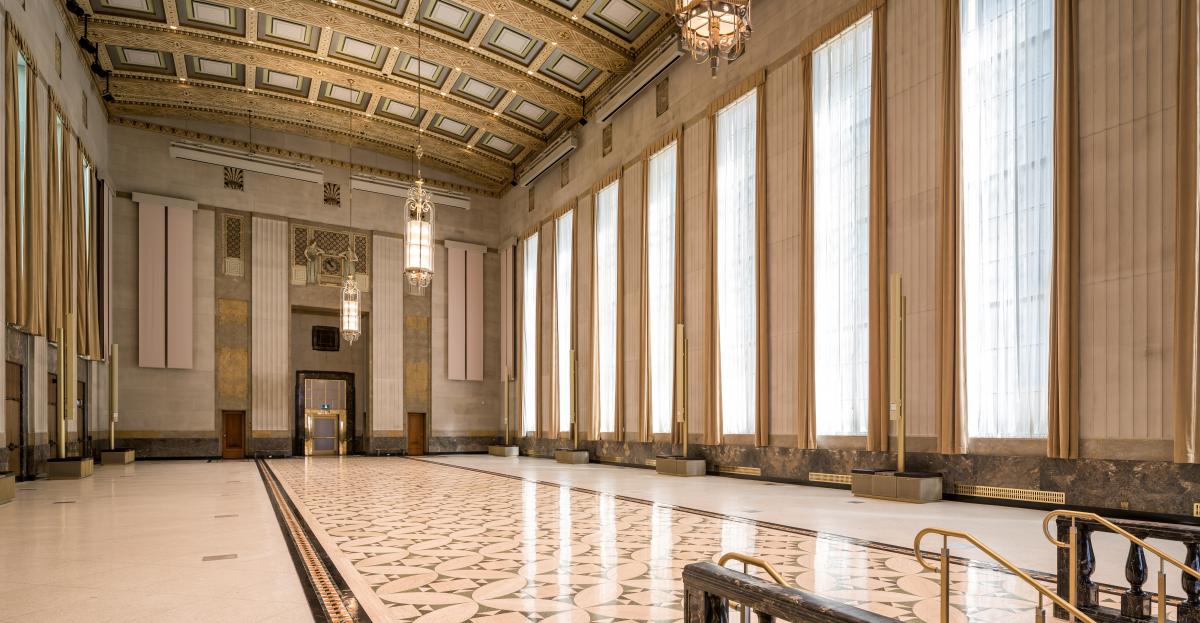 A Classified Heritage Building, the former Bank of Montreal Ottawa Main Branch is a landmark located across Wellington Street from the West Block of Parliament Hill. It won the 1932 RAIC Gold Medal, the most prestigious architectural award in Canada at the time. Its monumental Modern Classical design by Barott and Blackader Architects was the winner of a national competition to design the Ottawa branch of Canada's oldest chartered bank. The imposing granite and limestone building features exquisite detailing, including Canadian images of industry and commerce, wildlife and nature—overlaid with decorative metal and a stone Art Deco sculptural layer. After the Bank of Montreal relocated in 2005, the building was at risk if a new use could not be found. This stately structure became a fitting replacement to the West Block's former Confederation Room, used to host Parliamentary events. Public Works Government Services Canada set out with the goal of rehabilitating and celebrating the architectural qualities of the building while leveraging its monumental qualities to a new use. The scope of work included careful conservation and rehabilitation the building's many heritage elements including its stonework, ornamental grilles, bronze windows, plaster ceilings, marble panels, chandeliers and wood finishes. A sophisticated series of strategies were developed to integrate new interventions addressing such issues as security, multi-media and food services. Objectives were achieved by reinforcing street walls and constructing a contemporary, all-glass Atrium to accommodate support functions and a secure entry while preserving the "temple" view of the existing building's west façade.
New Learning Centre – Building 94, Central Experimental Farm (1936-37)
Canada Agriculture and Food Museum, Central Experimental Farm, 901 Prince of Wales Drive, Ottawa , Ontario
Owner: Canada Agriculture and Food Museum
Architects: GRC Architects Inc.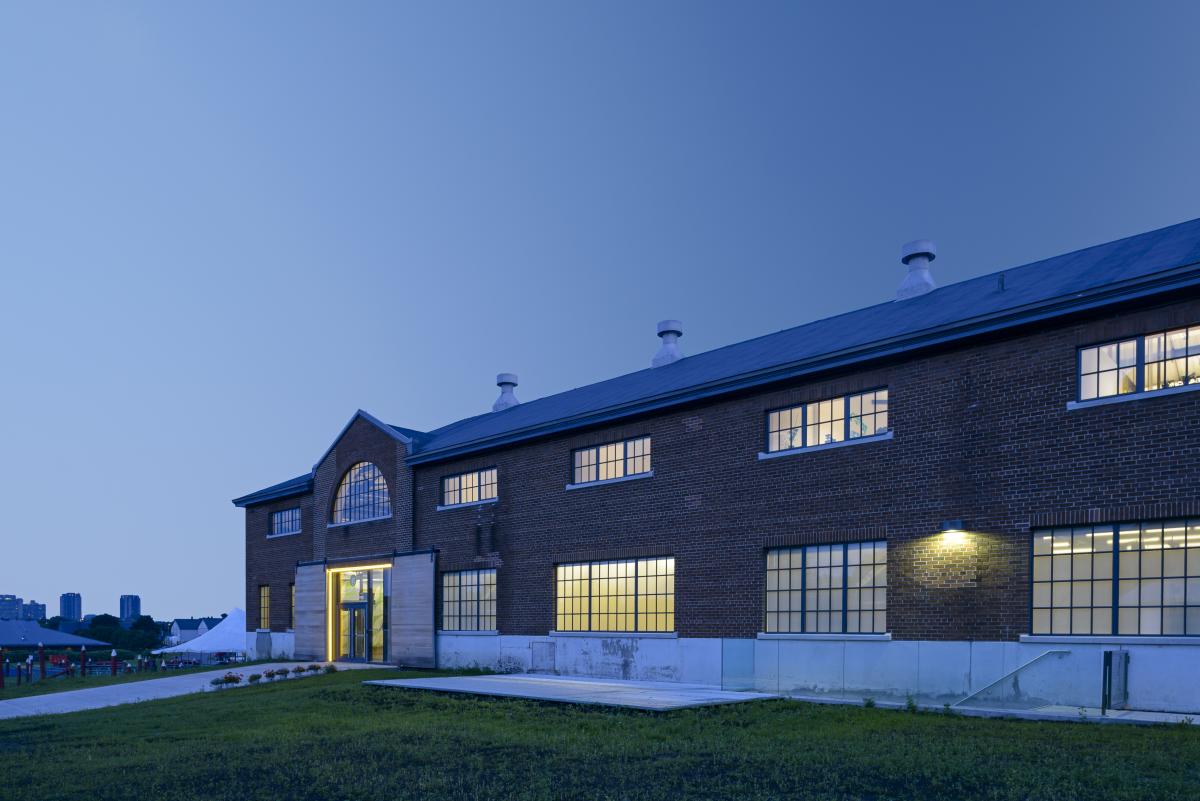 This former research building is located within the Central Experimental Farm National Historic Site, a singular cultural landscape used for scientific research since 1886. Inside Building 94, engineers designed, built and tested specialized farm machinery and agricultural building materials that helped modernized the Canadian agricultural industry. Its history made Building 94 the ideal home of the Canada Agriculture and Food Museum's New Learning Centre, a place where visitors can explore the link between food and agriculture. The renovated building comprises new exhibition areas, staff offices, event space and three modern 'learning labs'. The project's design concept celebrates the building's legacy as a place of experimentation, research and engineering. Through the course of the project, 1970s alterations, such as partitions and suspended ceilings, were removed to restore the building's dramatic clear span steel roof structure, dormers and hip roof profile; fenestration patterns were restored to match those used in the original construction; and the building's original solid wood block floor was preserved and rehabilitated. New interior elements reinforce the purpose, role and spatial qualities of the existing building by using a material that refers to agri-engineering innovation, such as polycarbonate glazing systems, used extensively by the greenhouse industry, and compressed recycled straw panels.
École des Métiers de la Restauration et du tourisme de Montréal (1888)
1822 de Maisonneuve Boulevard W, Montreal, Quebec
Owner: Commission scolaire de Montréal and City of Montreal
Architects: Affleck de la Riva architectes / Vincent Leclerc et associés, architectes en consortium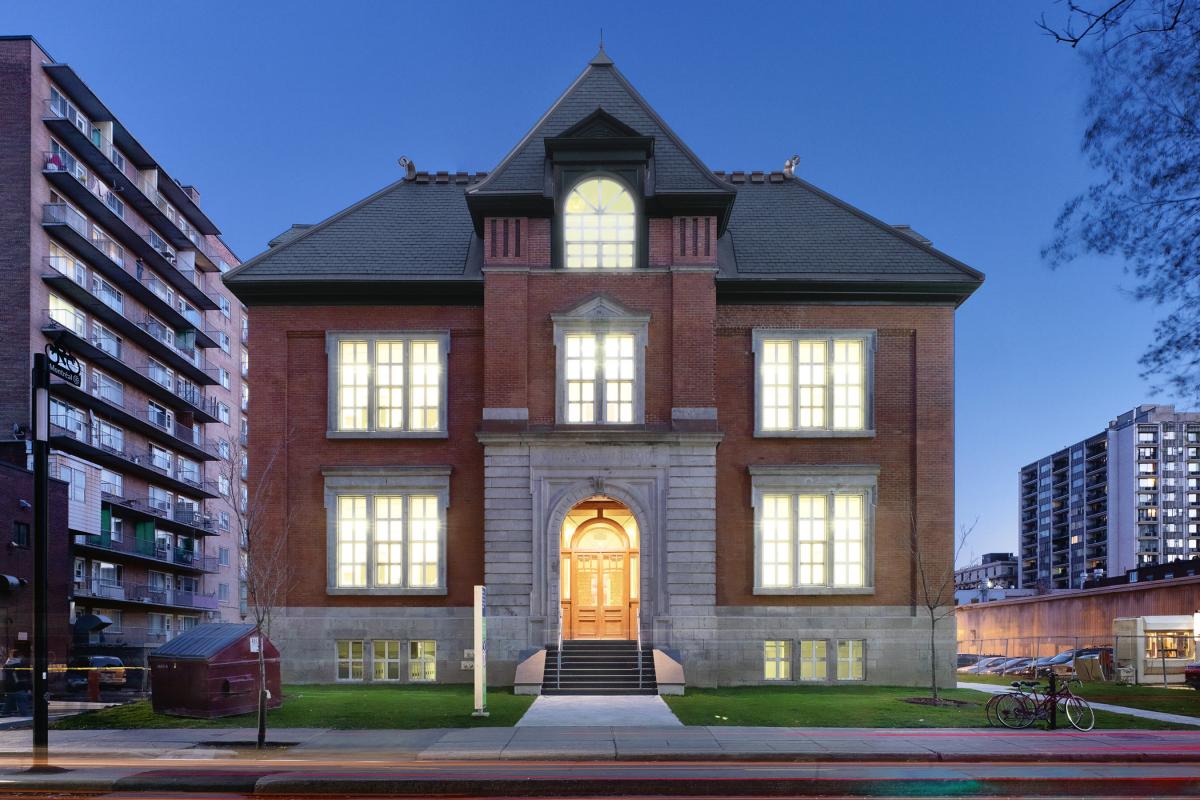 The former Victoria School is a rare surviving example of a 19th century school in Montreal. It was named for Queen Victoria in celebration of her Golden Jubilee in 1887, when the foundation stone was laid. The school comprises three adjoining buildings: the central Queen Anne style mansard and a small residence, both dating from 1888, and a three story gymnasium added in 1911. The school served as a primary school until 1979, and later as the home of FACE (Fine Arts Core Education). By 2009, when the Commission scolaire de Montréal endeavored to convert it into a hospitality and tourism school, it had been vacant for several years. Architects were tasked with restoring the historic facades and roofs of the three buildings, partially restoring their interiors, redeveloping the site and upgrading the buildings to achieve LEED Silver certification. The project was guided by the principles of green design, informed by the school's heritage. That the building changed little over 125 years as its surroundings were transformed from a rural landscape on the outskirts of Montreal to a dense urban environment make it an excellent example of durability and sustainable design. As part of the site redevelopment, a green alley was created to reflect the school's rural past.
Cycloroute de Bellechase
Bellechasse RCM, Quebec
Owner: MRC de Bellechasse
Heritage Development: Historical Society of Bellechasse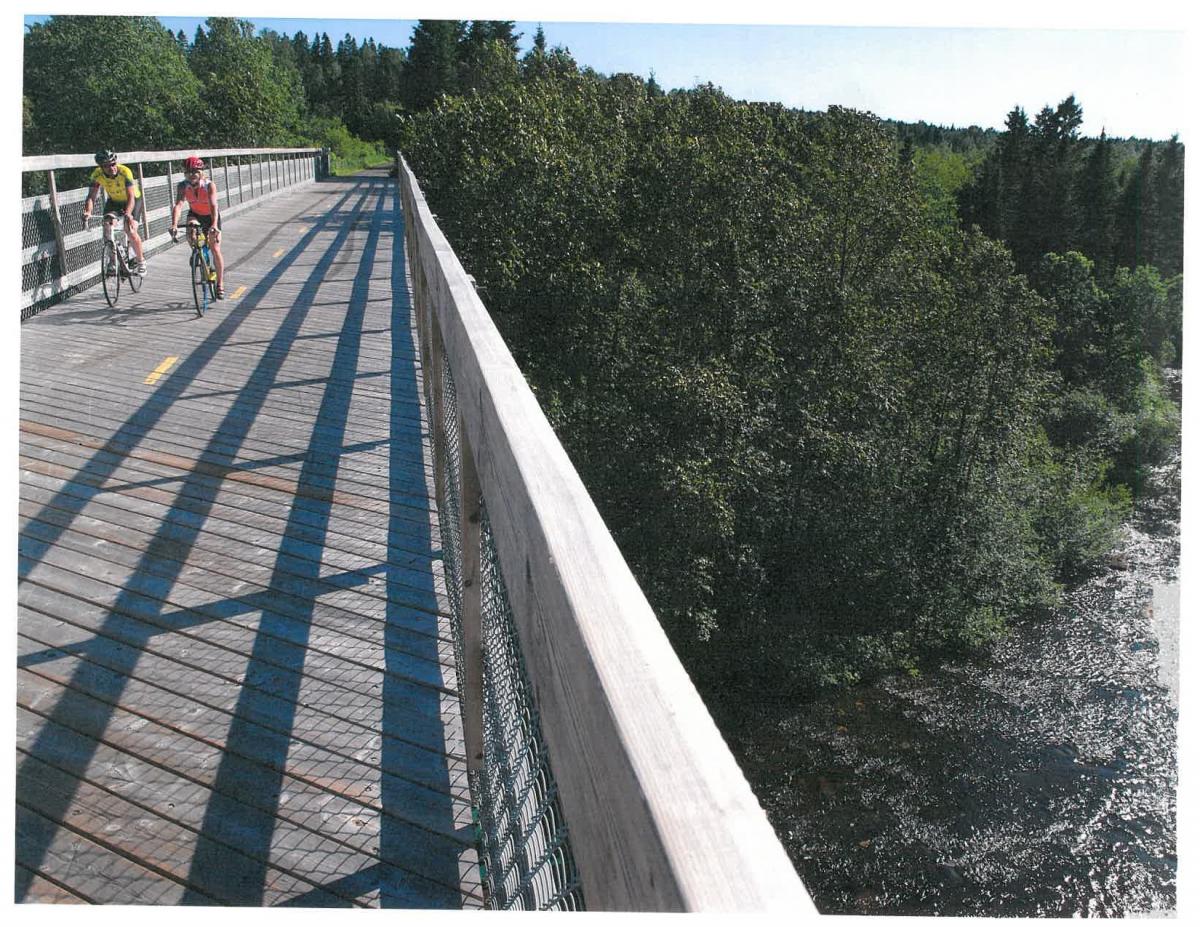 The oldest railway in Bellechasse RCM began operations in 1855. The Grand Trunk line connecting Charny and Saint-Thomas-de-Montmagny was a crucial portion of the transcontinental railway that helped forge the path to Confederation in 1867. Rapid rail expansion at the turn of the century saw tracks laid throughout the region. Following the decline of rail transport in the latter half of the 20th century, the tracks were gradually abandoned. In 2008, eight municipalities located within the Bellechasse RCM signed a 60 year lease with the Government of Quebec in order to transform the former railway tracks into a vast network of trails. The paved pathways of the Cycloroute de Bellechasse cover 74 km of land spanning eight municipalities. In 2013, the Bellechasse RCM partnered with the Historical Society of Bellechasse to commemorate the railway and the significant role it played in shaping the identities of the eight municipalities in the Bellechasse RCM. Today, 35 interpretive panels tell the story of the railway and of the eight municipalities on route. In addition, three signals mark former railway crossings and three shelters inspired by railway architecture were erected along the path between Saint Henri and Armagh, standing as physical reminders of the past.
---
Fathers of Confederation Buildings Trust, which operates as the Confederation Centre of the Arts - Charlottetown, PEI – 1964
Architects: Affleck, Desbarats, Dimakopoulos, Lebensold, Sise, (later ARCOP, Architecture49 Inc.)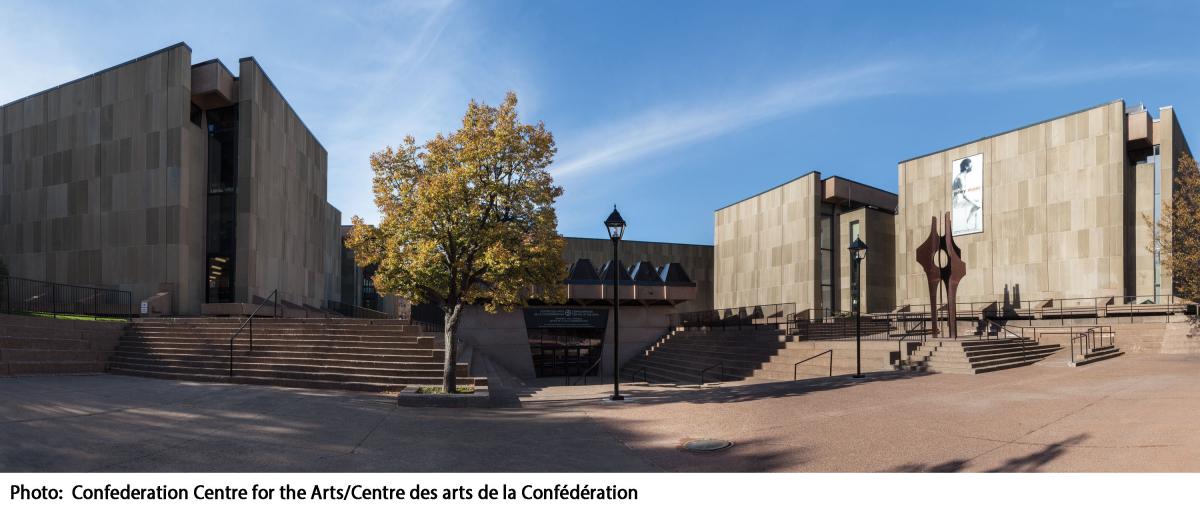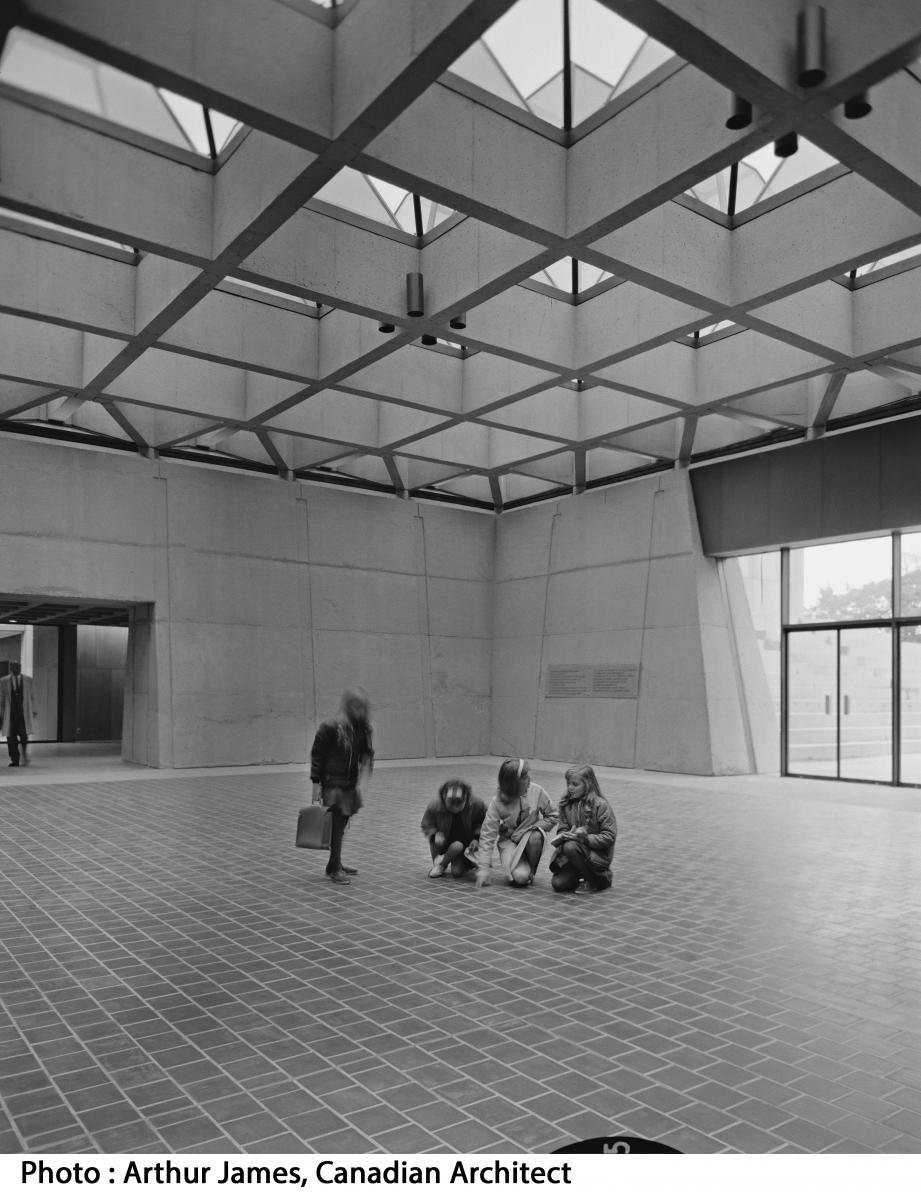 The Fathers of Confederation Buildings Trust, known as the Confederation Centre of the Arts, is an exceptional architectural tour de force of the mid-20th century. Built to commemorate the centennial of the 1864 Charlottetown Conference and as a memorial to the Fathers of Confederation, it is an active monument, offering an ensemble of spaces enabling Canadians to give full expression to their culture. The design by Montreal architect Dimitiri Dimakopoulos was selected by a national competition that included submissions from a broad spectrum of Canadian leading designers. The Centre's novel combination of uses – theatre, library, gallery, memorial hall – expresses the cultural awakening that characterized the Centennial spirit of the mid-1960s. The mix of cultural spaces and the abstract architectural composition were deeply influential in many Centennial projects to follow across Canada.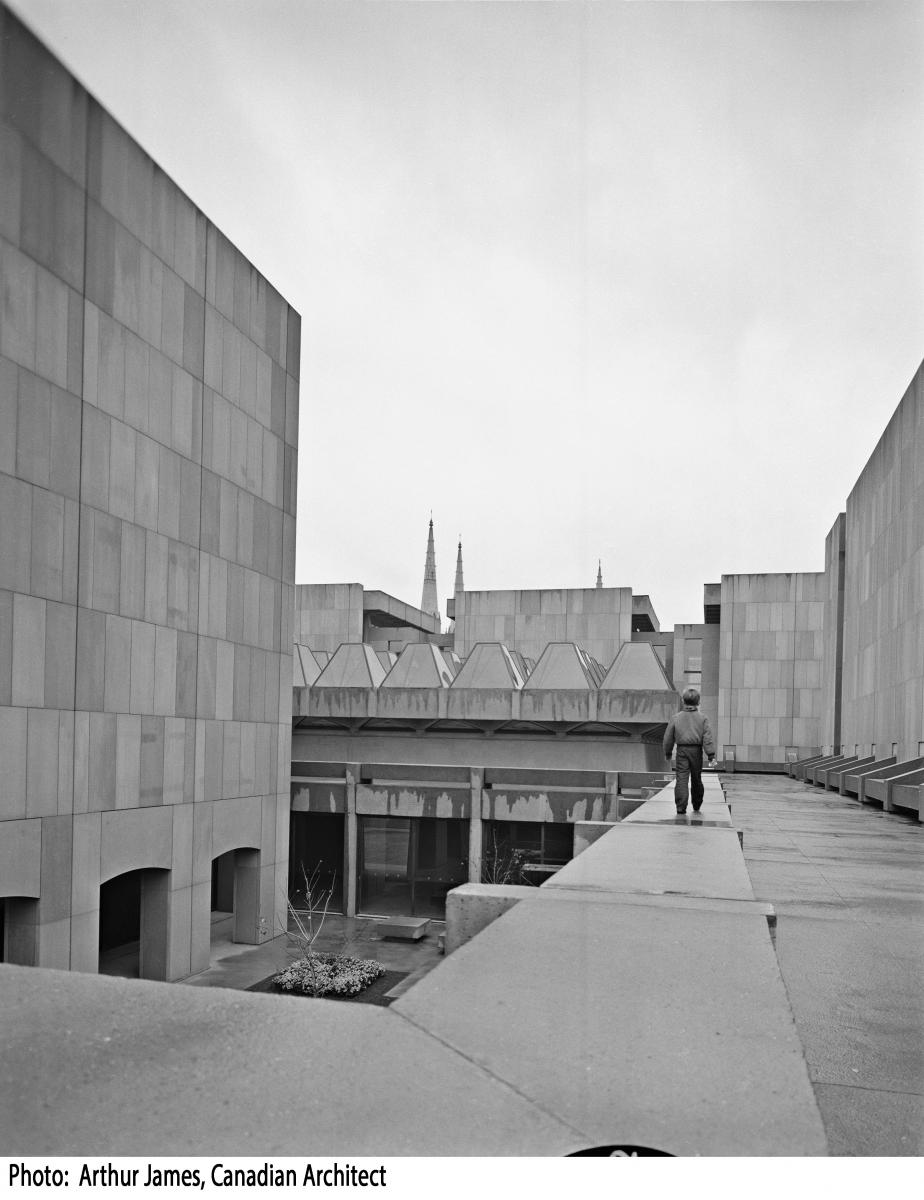 Known for its innovations in stage design, the Centre enjoys layered spaces that effortlessly balance monumentality and intimacy evident in few other places in Canada. The sculptural interplay of abstract building forms with courtyards and landscape terraces is expressed in a robust yet refined Brutalist language of concrete and sandstone, and subtly integrates the neighbouring historic Province House into one unified block perfectly scaled to Charlottetown's urban core. Fifty years on, lovingly maintained with subtle adjustments enhancing its functions and architectural qualities, the Centre remains both a key fixture of the daily life of Charlottetown, and an icon of the optimistic spirit of Canada's centennial era. The jury unanimously agreed that the Confederation Centre for the Arts merited the 2015 Prix du XXe siècle.
Award Presentation, June 5, Imperial Ballroom, Hyatt Regency Calgary -- CONGRATULATIONS!
| | |
| --- | --- |
| | Dr. Trudy Cowan, former Chair of the National Trust for Canada (far right) joined Samuel Oghale Oboh, President of Architecture Canada (far left) in recognizing the Confederation Centre of the Arts in Charlottetown, PEI, as the 2015 recipient of the Prix du XXe siècle. Accepting the award (from left to right) are Bruno Verenini, OAQ, OAA, RAIC, Managing Principal at Architecture49 Inc., Ramesh Khosla, former Project Architect at Affleck, Desbarats, Dimakopoulos, Lebensold, Sise and former Senior Partner at Arcop, Lou MacEachern, National Director for the Confederation Centre from Alberta, and Jessie Inman, Chief Executive Officer, Confederation Centre of the Arts. |
---