You are here
Hamilton Education Centre
100 Main Street West, Hamilton, ON – MODERNIST ARCHITECTURAL LANDMARK LOST TO LANDFILL
A demolition permit has been issued to Hamilton-Wentworth District School Board—a condition of its sale to McMaster University—in order to make way for the university's new $85 million health campus.
UPDATE! HAMILTON EDUCATION CENTRE DEMOLISHED AUGUST 2012.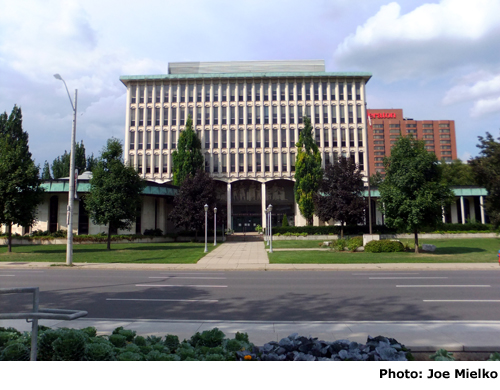 Why it matters
Thought to be Hamilton architect Joseph Singer's signature work, this elegant modernist 8-storey building partly clad in white marble with elongated arched windows and library in the round is considered by many as the city's best example of mid-century Modern architecture. Opened in 1967, the Education Centre was built as a monument to public education and is located opposite City Hall on prominent Civic Square land donated by the City as a way to convince the Board to remain downtown. Keeping the building from landfill preserves an important piece of Hamilton's history, respects the civic component of the site, and makes ecological and environmental sense.
Why it's endangered
On May 2, after months of debate about the site and the Board's relocation, the City issued a demolition permit to the Hamilton-Wentworth District School Board (HWDSB), which was part of the condition of sale McMaster University imposed to allow for the unfettered development of its new health campus on the site. With McMaster declaring that the building footprint does not fit its expansion purposes—despite it being deliberately designed to allow for future expansion—no real feasibility studies have been undertaken on how the building could be integrated into the design.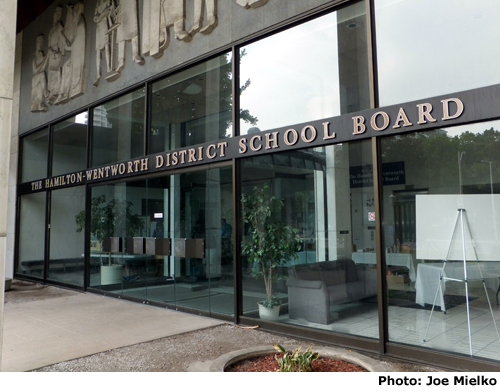 Where it stands
With the demolition permit a condition of sale, McMaster has made it clear that it is not considering any preservation plans for the building. And although the Municipal Heritage Committee urged the City in 2008 to consider the heritage value of the building in its future renewal plans for the area, council backed the university's demolition plans when it committed $20 million to the health campus project. On May 15, +VG Architects submitted its "HWDSB Education Centre Architectural Record" report to the Board that includes an appendix listing the firm's recommendation that nine "features of interest" be incorporated into the new Education Centre, to be built outside the downtown. Objectors to the building's demolition have made it clear that they are not against the health campus development. Efforts have been focused on "Adding Without Subtracting" for reasons of fiscal, environmental as well as heritage stewardship. McMaster has informed HWDSB that the building must be vacated by August.