You are here
Top 10 Endangered Places 2017
The 2017 Top 10 Endangered Places List presented by the National Trust for Canada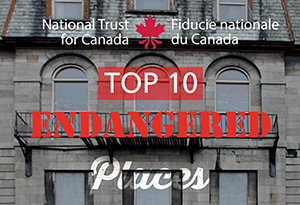 At the National Trust for Canada, we believe places matter. They tell Canada's story, connect us to our roots, and are the building blocks of a sustainable future. Each year, the Top 10 Endangered Places List shines a national spotlight on historic places at risk due to neglect, lack of funding, inappropriate development or weak legislation.
"Canadians care about their special places, yet they face powerful forces that threaten to destroy them," said Natalie Bull, executive director. "The National Trust's Top 10 Endangered Places List has become a powerful tool in the fight to save places that matter."
First launched in 2005, the list typically includes a wide range of places in danger, from architectural and engineering landmarks to simple vernacular structures, from mid-century-modern icons to heritage districts and sacred Indigenous landscapes. It is compiled from nominations submitted and from reports and news items that the National Trust has been following throughout the year.
Inclusion on the List brings national media attention and a welcome shot in the arm for local groups involved in campaigns to save places that matter.
The Guild Inn in Scarborough, Ontario was included in the Top 10 Endangered Places List in 2011 due to its risk of demolition by neglect. Today, the building and the surrounding public park have been transformed.
"I can say that this $20 million transformation of the dilapidated Guild Inn would never have happened without the attention that the National Trust for Canada gave to this site in 2011," said John P. Mason, President of the Friends of Guild Park & Gardens. "[Inclusion on the list] provided the incentive that brought together local residents and Guild Park supporters, creating a strong advocacy voice that couldn't be ignored."
We hope places on this year's list will enjoy similar positive outcomes.
Top 10 Endangered Places List for 2017

(In no particular order)

Photo: Professor Jones

Photo: Pascal Gagnon

Peterborough, ON

Not only well-known watering holes, but also landmarks in Peterborough's downtown core.

Rimouski, QC

An iconic Roman Catholic cathedral in limbo.

Photo: Barry Copp

Photo: Richard Longley

Halifax, NS

Serial demolition undermines the character of a historic residential boulevard.

Toronto, ON

An exceptional mid-century modern school facing demolition.

Photo:OutdoorOttawa

Photo: Heritage Foundation of Newfoundland and Labrador

Mulgrave-et-Derry, QC

A stunning industrial landscape that became a beloved local asset is threatened with destruction.

St. John's, NL

A historic former summer home and local landmark.

Photo: RKH Architecture

Photo: Katrina Guerin

Lethbridge, AB

The oldest building in downtown Lethbridge's Chinatown district: empty, crumbling and awaiting reuse.

Ottawa, ON

Derelict for 10 years, this landmark downtown building is teetering on the brink.

Edmonton, AB

One of the last World World II hangars at the former Edmonton Municipal Airport.

Vancouver, BC

Four federal heritage buildings make up the Sinclair Centre, at risk from office tower development.