Welcome to locale, dedicated to the people and the places that bring heritage to life. Locale shares success stories of great buildings, sites and communities being regenerated and renewed, celebrates heritage champions and game changers, and features heritage destinations to visit and discover.
Never miss an issue! Become a National Trust member to get your personal copy of locale, plus free access to historic sites in Canada and National Trust properties in the U.K, the U.S., Australia, and more. All for only $40 a year!

Questions? For editorial: nationaltrust@nationaltrustcanada.ca.
Membership: membership@nationaltrustcanada.ca. Or phone 1-866-964-1066.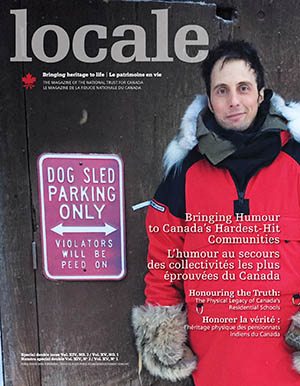 This issue of locale was erroneously numbered. For cataloguing purposes, please use the following: Vol. XIX, No. 4 / Vol. XX, No. 1.