You are here
Worst Losses Archive
Over the past 30 years, Canada has lost 23 percent of its historic building stock in urban areas and 21 percent in rural areas. This rate of destruction is disturbing both in terms of lost heritage and increased environmental waste. The following represent only a small number of buildings and structures that have disappeared from the Canadian landscape.
Worst Losses By Province
BC AB SK MB ON QC NB NS PEI NL Territories NU
Pantages Theatre, Vancouver, B.C. – [2011 List] —CURTAINS FOR CITY'S OLDEST VAUDEVILLE THEATRE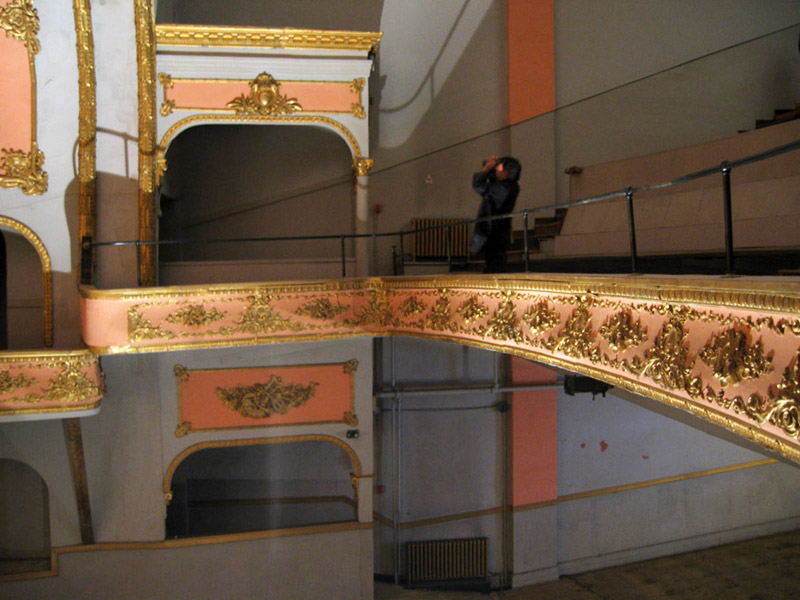 Last April, Vancouver's oldest vaudeville theatre and movie house was torn down. The landmark building on East Hastings and Main streets was the oldest remaining example of the renowned Pantages theatre chain. Vacant since 1994, the decorative and largely intact interior was suffering from water infiltration in a classic case of "demolition by neglect," despite exhaustive efforts by several groups to revive it. It was doomed by a number of political, social and economic forces preventing its salvage.
David Graham House, Vancouver, British Columbia – [2008 List] — LOST TO WEAK LEGISLATION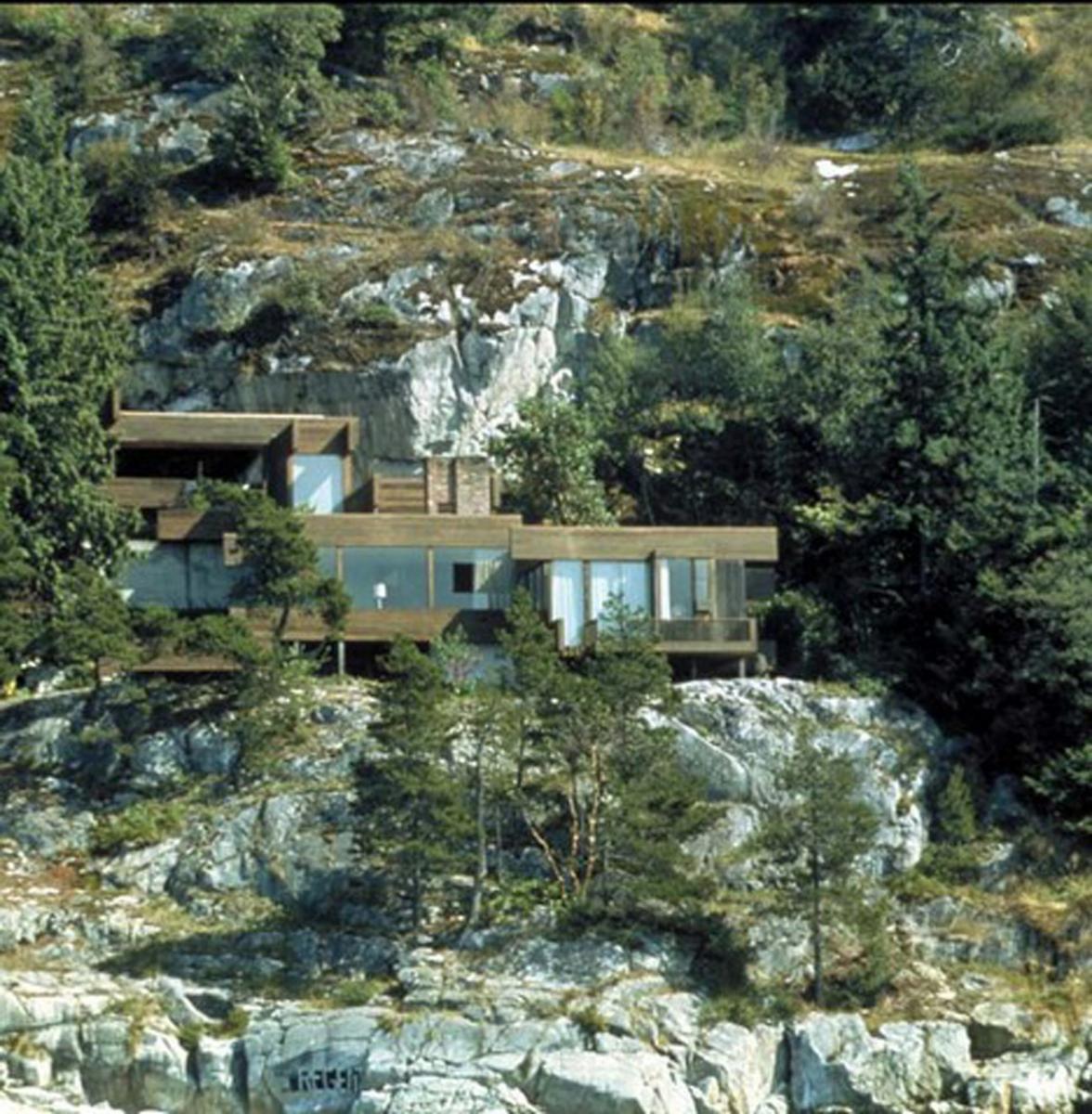 Designed by Canadian architecture icon Arthur Erickson in 1963, the stunning multi-storey wood-and-glass house overlooking the Pacific in West Vancouver was demolished in December 2007 due to lack of maintenance and the municipality's inability to enforce it.

Officer's Mess and Quarters, Work Point Military Base, Esquimalt, British Columbia – [2006 List]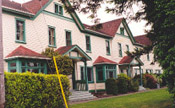 A federally "Recognized" heritage building, the Officer's Mess and Quarters was the last of its kind in Canada. It was listed as surplus to the needs of the Department of National Defence, and despite heritage and cultural groups working tirelessly to save the building with a possible conversion into a visual arts complex; it was "deconstructed" last spring.
---
Etzio Building, Edmonton, AB (10338 – Whyte Avenue) – [2015 List] – One of Old Strathcona's Oldest Torn Down.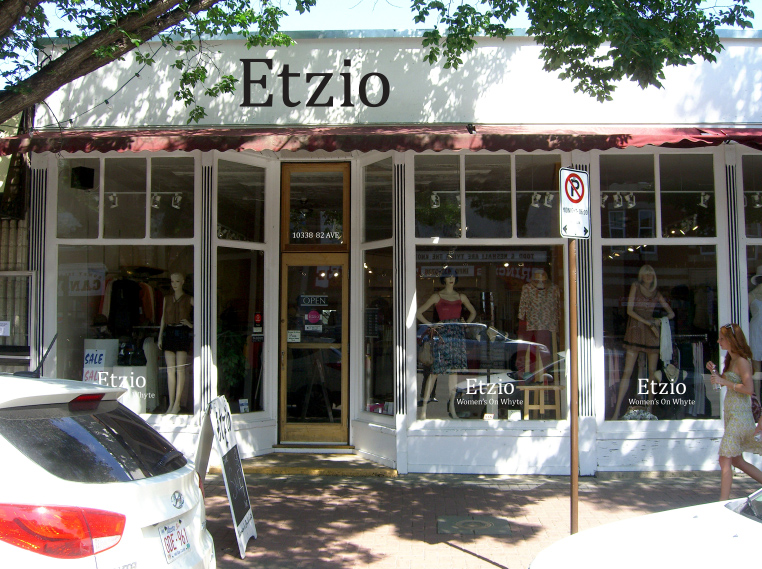 Built in 1898, and one of only three 19th-century buildings in the Old Strathcona Provincial Historic Area, it was demolished at the end of April to make way for a three-storey in a heritage style. The demolition crew said the wood-frame building had been immaculately maintained and their machinery had difficulty pulling the well-built structure down.
BMO Building, Edmonton, AB – [2012 List] –MODERN GEM LOST TO DEVELOPERS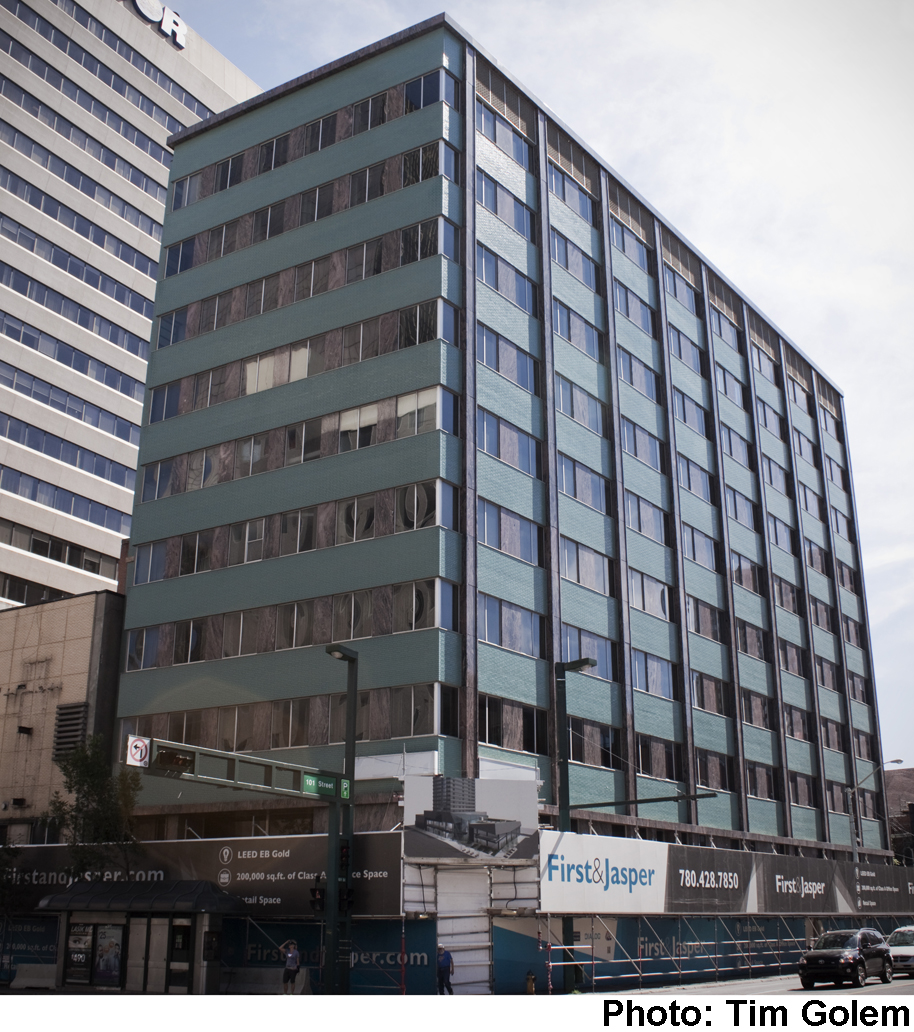 The Bank of Montreal Building, one of Edmonton's finest modern heritage office buildings, sat empty for more than a decade. Clad in custom green-glazed brick with vertical pillars of pink and black Morton gneiss from Minnesota (one of the oldest rocks on the planet), it was demolished in March of 2012 to make way for a parkade with a two-storey retail structure. The City voted down an attempt to postpone the pending demolition. In Alberta, provincial legislation requires full market value compensation if a property is listed as heritage without the owner's consent. In this case, it would have bankrupted the city's heritage conservation budget.
Arlington Apartments, Edmonton— [2009 List] — DEMOLISHED DUE TO NEGLECT AND BUREAUCRATIC WRANGLING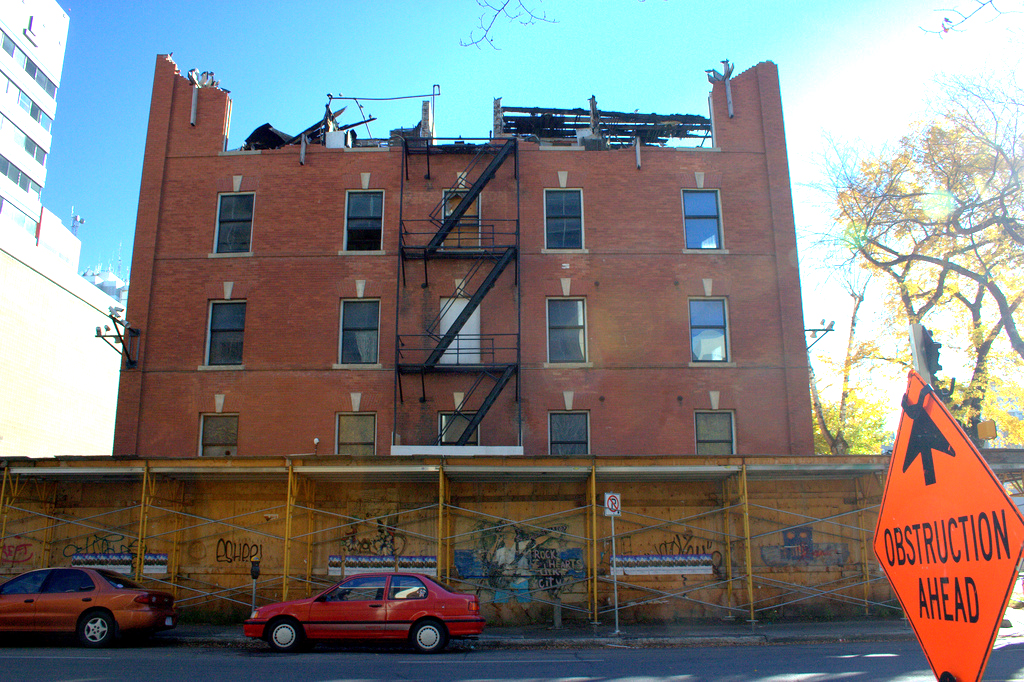 The 99-year-old Arlington, a provincially and municipally designated building, was damaged by arson in 2005. The following three years of negotiations to preserve parts of Edmonton's oldest apartment block, fell through and the owner was granted the demolition permit he had been seeking. None of the original brickwork will be used in the new condos planned for the site.
Central Pentecostal Tabernacle, Edmonton, Alberta – [2008 List] — LOST TO CONDO DEVELOPMENT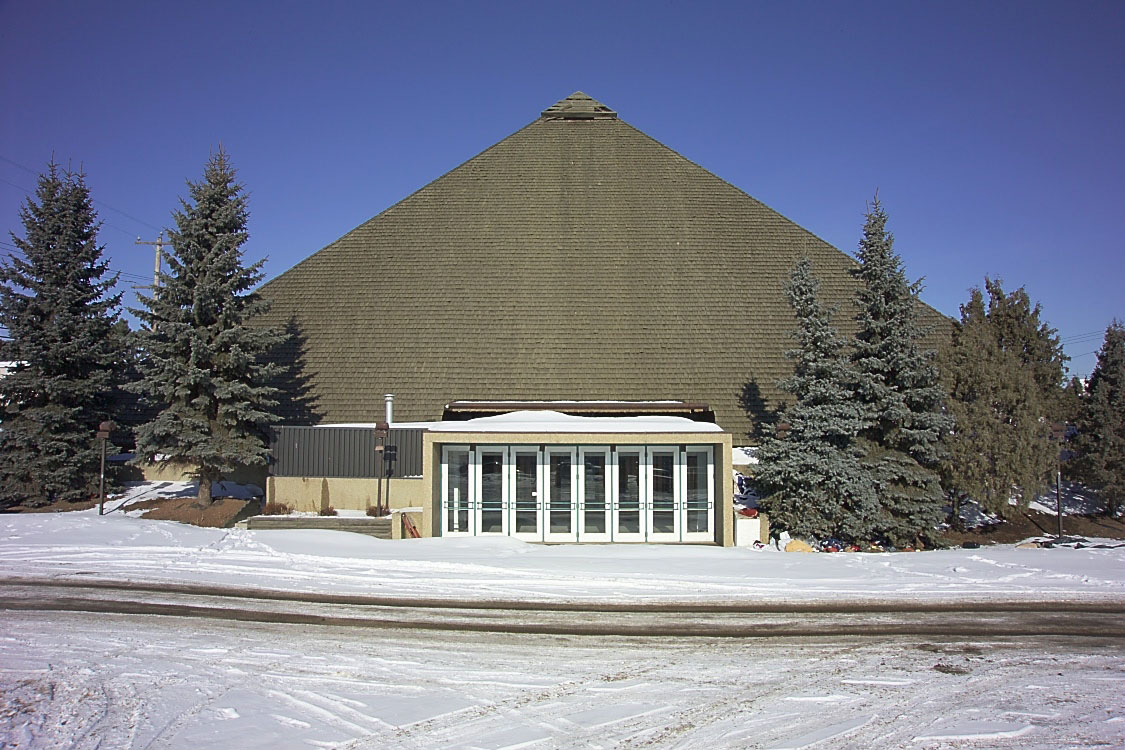 Included on the National Trust's 2007 Top Ten Endangered Places list, the landmark mid-century Modernist tabernacle, designed by award-winning Edmonton architect Peter Hemingway, was demolished in March 2007 to make way for a condominium development.
Lessard House, Edmonton, Alberta — [2007 List]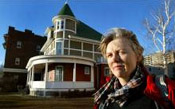 Demolished last June, this historic house associated with Prosper Edmond Lessard, a leader in the city's francophone community, was a victim of outdated planning decisions and zoning bylaws as well as weak heritage legislation. Although plans were under way to relocate the building, WAM Development Group demolished it without notice.
Clairmont Grain Elevator, Clairmont, Alberta — [2005 List]
The first and oldest grain elevator in the Peace River County could not be saved, despite efforts of the local Save the Clairmont Elevator group to convince the provincial government to conduct a heritage assessment of the structure. It was razed to make way for a new housing development.
Carstairs Grain Elevator, Carstairs, Alberta — [2004 List]
The demolition of Carstairs' last grain elevator, closed in 2002, represents one of several prairie sentinels which disappeared from the Canadian landscape this year. A local society had been striving to have it designated and restored as a heritage facility. Alberta once had 1,700 wooden elevators. Today, there are fewer than 200.
St. Mary's Catholic School (1909), Calgary, Alberta — [2003 List]
Almost as old as the province, it was demolished in favour of new construction.
---
Farnam Block, Saskatoon, SK (650 Broadway Avenue) – [2015 List] – Lost Due to Lack of Financial Incentives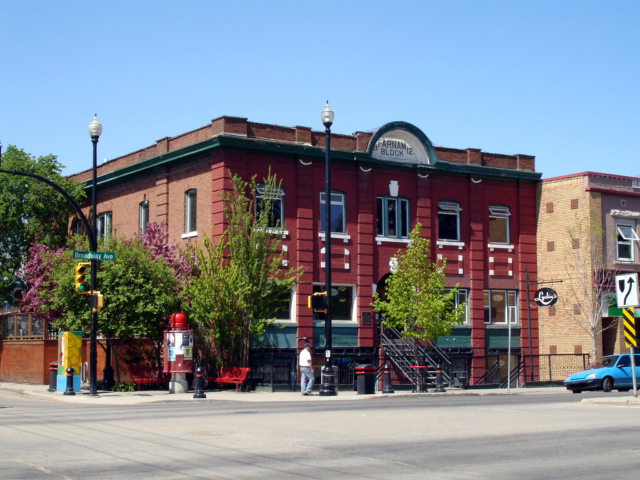 This iconic brick building (1912) on historic Broadway Avenue was demolished in March despite a last-minute bid by a group of local investors to save it. The building was on Saskatoon's heritage inventory, but was not designated. The Farnam Block's owners claimed structural repairs to the façade would have cost up to $700,000 to fix while the City's heritage conservation fund could only provide $150,000.
Photo by Daryl Mitchell
Fleming Grain Elevator, Fleming, SK – [2010 List]—PRAIRIE SENTINEL LOST TO FIRE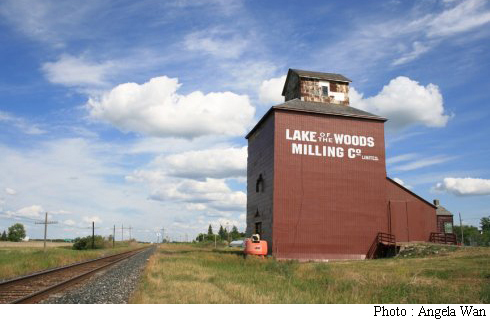 Built in 1895 and owned by the Lake of the Woods Milling Company Ltd, the Fleming grain elevator was the oldest remaining elevator on its original site in Canada. The 115-year-old wooden structure was used until 1999, when it was slated for demolition. Residents rallied to raise over $140,000 towards its restoration. The five-year project, which received an Architectural Heritage Society of Saskatchewan award, was set to be unveiled this summer. On a February morning the wooden landmark was destroyed by fire.
River Street, Moose Jaw, SK —[2010 List]—SQUANDERING A RICH HERITAGE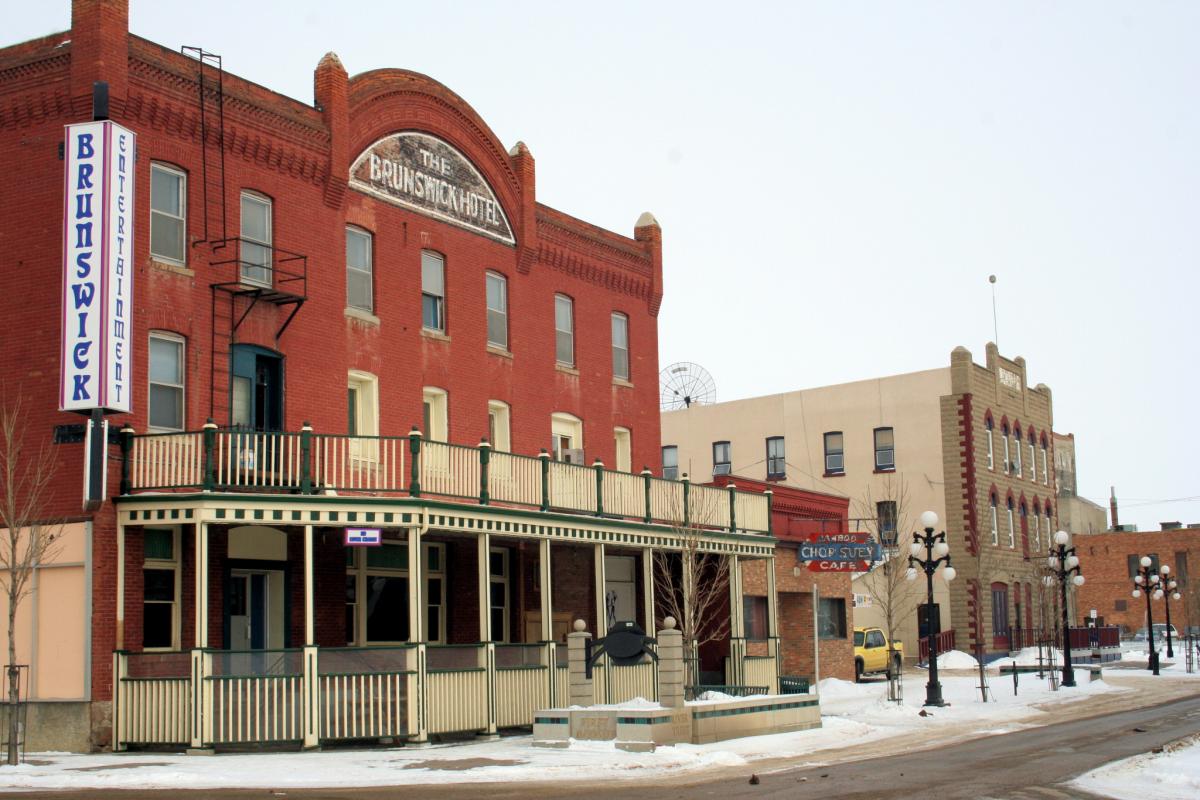 Moose Jaw's River Street—a collection of historic hotels and buildings made famous during the early 20th century—was systematically demolished for a municipal sports complex and a large commercial-hotel development, the latter now on hold. Buildings sent to landfill include the Royal Hotel (1909-1910) and the Brunswick Hotel (1903), a designated heritage building. Demolition of the 1905 City Hotel (now Nevada Nickels) is pending. Over a dozen more historic buildings were torn down to make way for the multiplex sports facility. Until recently, Moose Jaw boasted one of the most intact historic downtowns in Canada. In the past decade, fire and unchecked demolition have severely eroded much of its character.
Souris Valley Hospital, Weyburn, SK — [2009 List] — LOST TO LACK OF VISION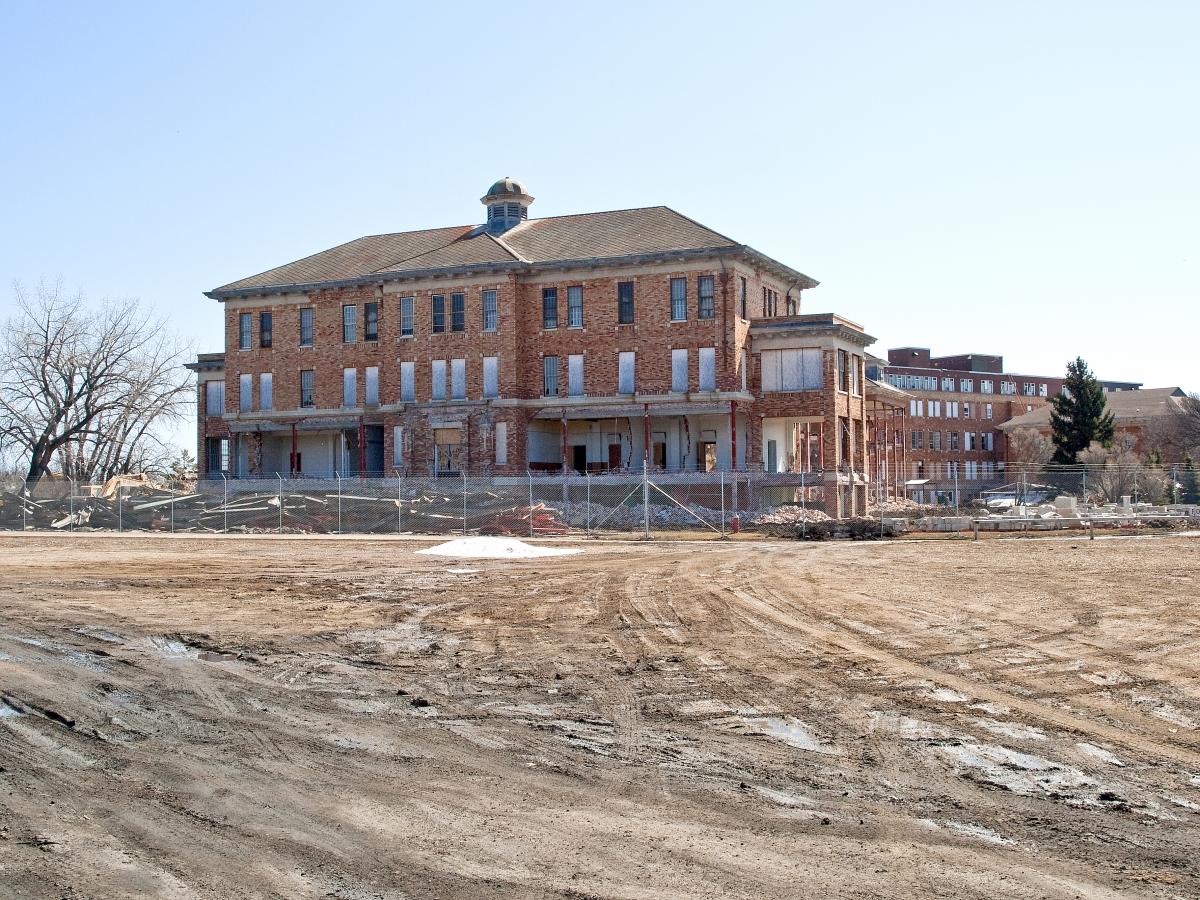 Dating from 1921, the massive 46,500-square-metre Souris Valley Hospital (formerly the Weyburn Mental Hospital) was consigned to landfill this year. Once said to be the largest building in the Commonwealth, it was the site of cutting-edge medical experimentation, including the use of LSD and insulin therapy. In 2005 the Province transferred ownership to the City of Weyburn with the caveat that a long-term solution for the site be found by September 2008, or it would pay for demolition. With heat and hydro shut off, the building succumbed to mould and vandalism, eroding its potential. Unable to finance its rehabilitation, Weyburn began demolition last year.
Legion Building, Saskatoon, SK – [2008 List] — DEMOLISHED FOR LACK OF VISION
Built in 1929 by veterans of the First World War, the Saskatoon Branch of the Royal Canadian Legion was demolished in June 2007 by developer Remai Ventures, shortly after announcing its decision not to go ahead with the hotel/spa complex development it had convinced Saskatoon city council would rejuvenate the area. This site was included on the National Trust's 2007 Top Ten Endangered Places list.
Gathercole Building (1931), Saskatoon, SK — [2004 List]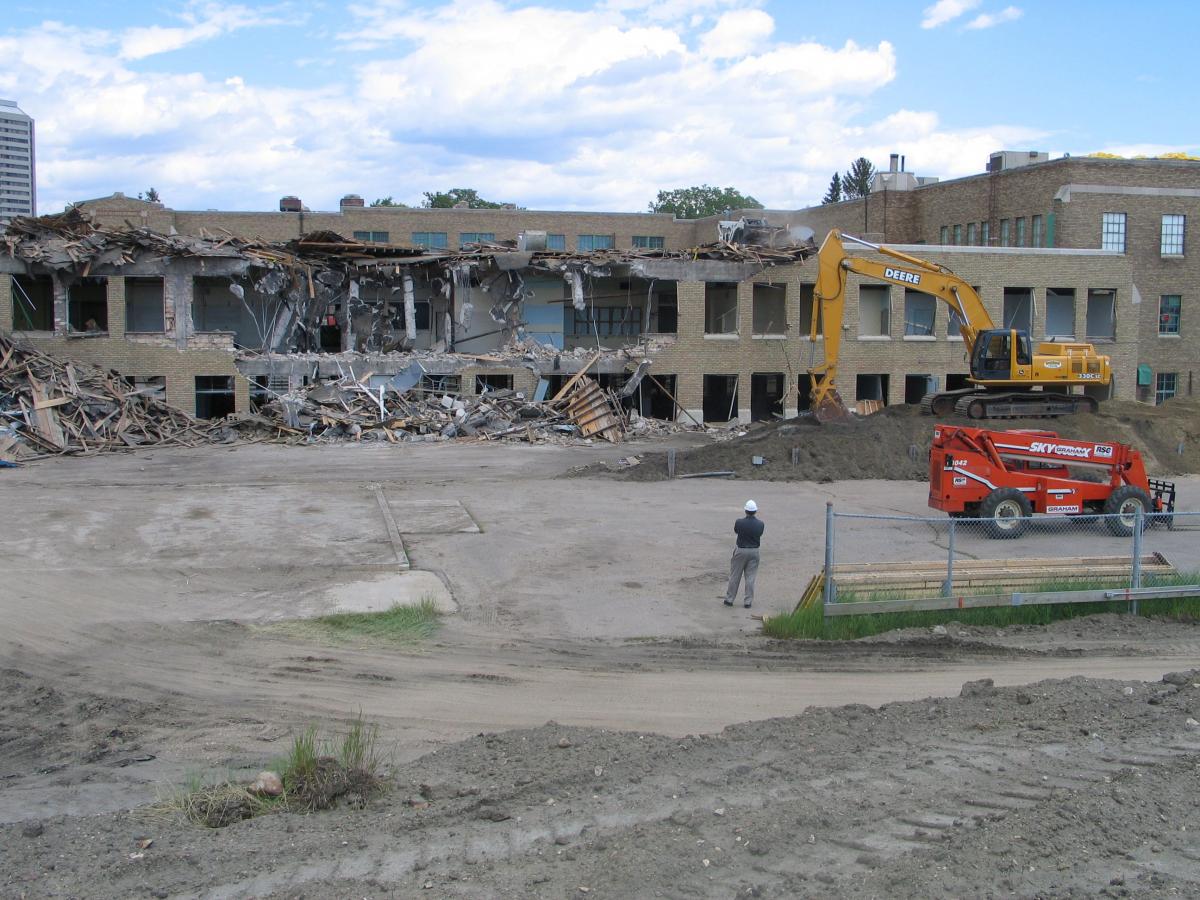 Despite the efforts of a coalition of cultural and heritage organizations to convert the historic Gathercole Building into a combined market and arts centre, City Council, led by the Mayor, chose to let the private sector redevelop the waterfront site by tearing down the landmark and using the ensuing property taxes to fund surrounding amenities.
---
Criddle/Vane House, near Shilo, MB [2014 List] – LOST TO ARSON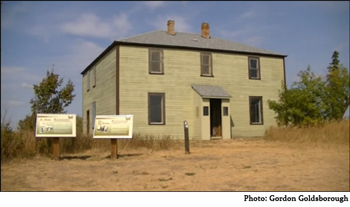 Built in 1906, this historic house was a key part of the provincially designated Criddle/Vane Homestead Park in a farming district south of Shilo. The Criddle and Vane families were prominent Manitoba pioneers, and the homestead was the site of the first entomological field station in Western Canada. Unoccupied since 1960, the house had suffered from escalating vandalism in recent years and was completely destroyed by fire on June 25, 2014.
Winnipeg International Airport, Winnipeg, MB [2008 List] – LACK OF IMAGINATION SET AIRPORT ON CRASH COURSE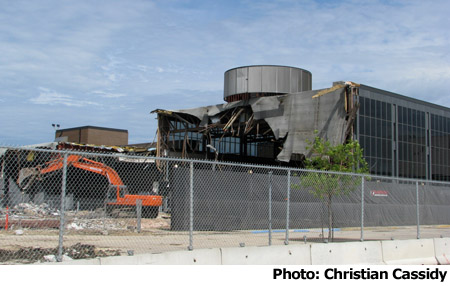 Built between 1961 and 1964, the Winnipeg James Armstrong Richardson International Airport is widely recognized as one of the finest examples of mid-century modern architecture in Canada. The airport was deemed out-of-date and will soon be replaced by a larger facility to accommodate the rise in air travel. Plans had been in the works to use the old terminal as the home of the Western Canada Aviation Museum, but the proposal was dropped. Despite a groundswell of protest at the local and national levels, the airport was demolished in June 2012, a victim of inadequate protective legislation at the federal level.
Eaton's Department Store, Winnipeg, Manitoba — [2003 List]
The 1904 building was destroyed to make way for a new sports and entertainment complex. The Save the Eaton's Building Coalition fought the demolition of this Portage Avenue landmark, successfully obtaining an injunction temporarily preventing the City issuing a final demolition permit. The legal case against the City of Winnipeg for not following proper procedure when it gave its approval to the project went all the way to the Supreme Court of Canada. In the end, the appeal was never heard and the building came down.
---
Stollery's Building, Toronto, ON (11 Bloor Street W.) – [2015 List] – Outcry as Iconic Building Hastily Demolished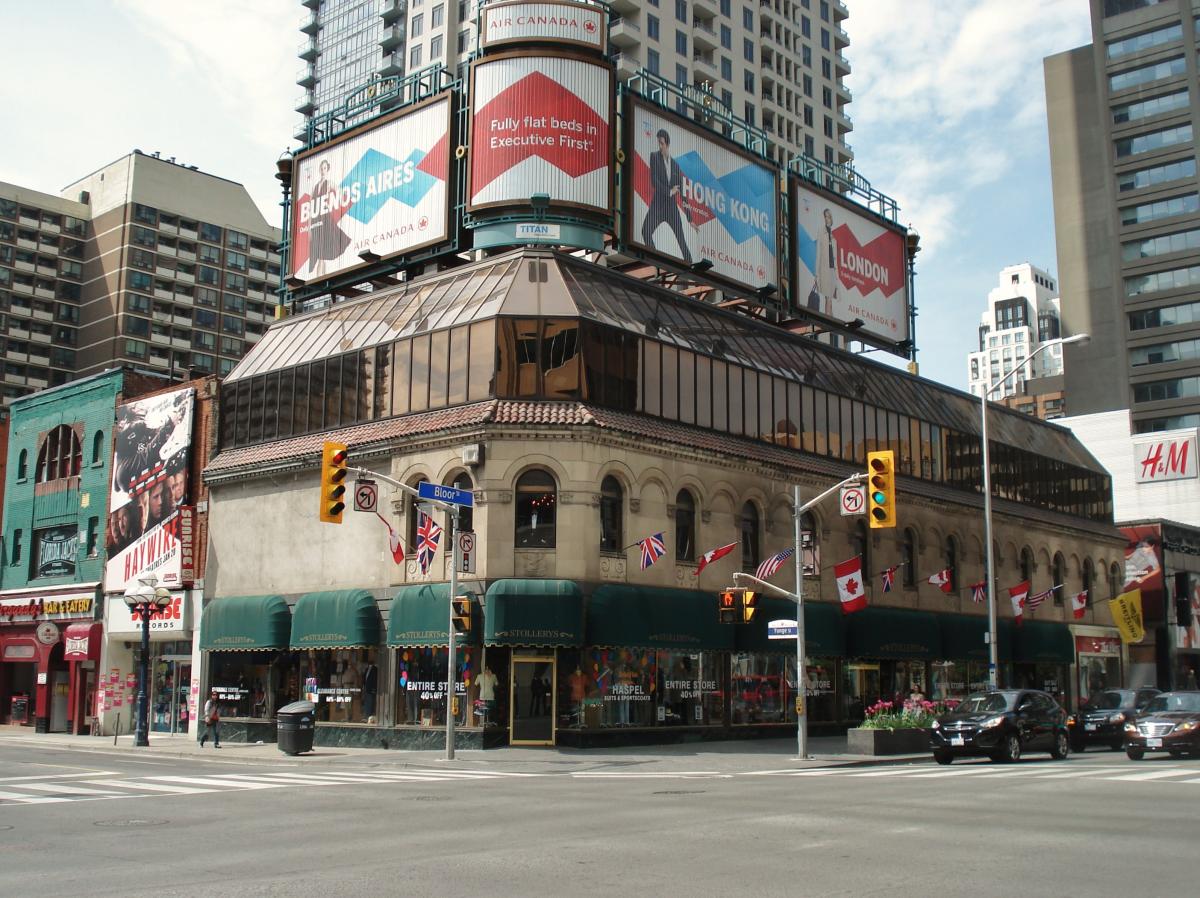 Built in 1901, the historic Stollery's Building on the corner of Yonge and Bloor was recently purchased by a developer with plans for an 80-storey condominium on the site. City officials and heritage advocates were shocked to learn of the landmark's demolition on Sunday, January 17—one day after a demolition permit was issued—seemingly in a move to circumvent City efforts to designate it.
Photo by Chris Barker under CC BY-NC-SA 2.0
Heritage Buildings, Goderich, ON — [2012 List] – SERIOUSLY FLAWED DISASTER RESPONSE CAUSES MORE DAMAGE THAN INITIAL TORNADO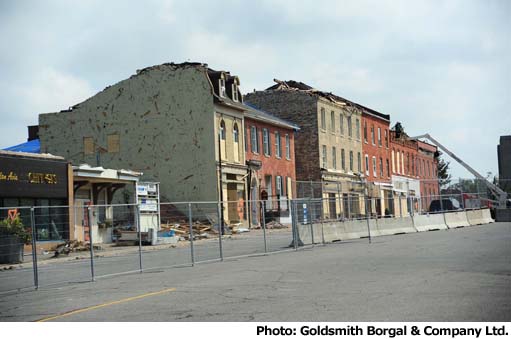 The damage wrought by the powerful tornado that hit "the prettiest town in Canada" August 21, 2011 was compounded by provincial and local officials who barred owners and insurance companies from tarping damaged, yet salvageable buildings due to the presence of asbestos. The heavy rains in the days following the tornado led to irreversible mould and water damage in roofless structures. Fourteen designated or heritage district buildings were ultimately demolished as a result, especially disfiguring Goderich's famous octagonal Courthouse Square. Heritage experts are now calling for the Ontario's Heritage Act to be given the same weight as the Health and Safety Act in disaster response protocols.
Brighton Public School, Brighton, ON [2012 List] – SHORT-SIGHTED DECISION BY SCHOOL BOARD WRITES END OF STORY FOR SCHOOL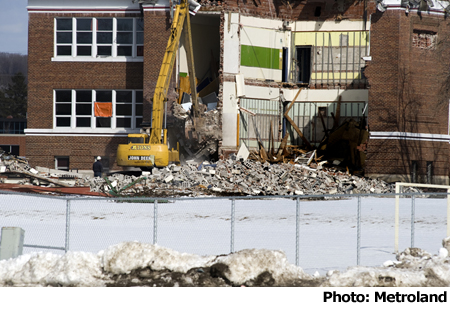 Despite a commissioned report that concluded the building was solid, and a local developer's tireless efforts to convince town council of its viability for conversion to seniors condos, council voted against an "intent to designate" that could have allowed more time for the community to consider options. The central area of the school dated to 1915 with the west wing added in 1964. A few pieces of the building were salvaged for possible use in a memorial, but the bulk went to landfill. Demolition took place March 2012. The historic school was lost due to an intractable regional school board and a lack of political will.
Edison (formerly Empress) Hotel, Toronto, Ont.— [ 2011 List] —LOSS OF LANDMARK A BURNING ISSUE
Built in 1888, the dignified red brick building with its landmark tower overlooking the corner of Yonge and Gould streets was destroyed by an arsonist's fire last February. It was included on the City of Toronto's Inventory of Heritage Properties in 1974, and was designated last year under the Ontario Heritage Act in response to a demolition application. It joins a long list of heritage buildings lost due to neglect, the lack of resources to enforce property standards bylaws and owners who considered it an obstacle to profitability.
Methodist Episcopal Picton Church, Picton, Ont — [2010 List] – BULLDOZED BY NEGLECT FROM CITY COUNCIL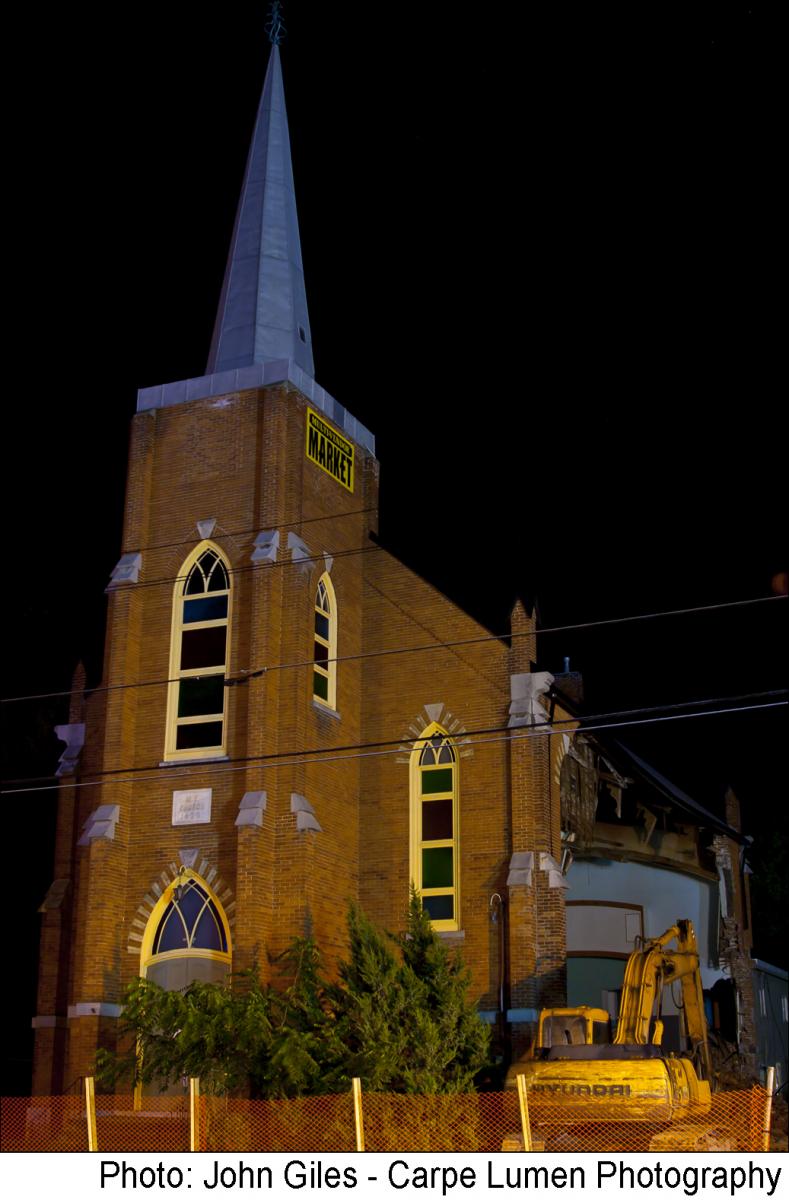 The 135-year-old landmark known as the "Brick Church" was not given a fighting chance last fall when a demolition permit was quickly issued. The owners said they attempted to sell it to someone who could convert the space for another use, but without success. As a shocked community looked on, the historic church was razed and a piece of Prince Edward County's history was lost. Members of Council in favour of giving 30 days for interested parties to apply for a heritage designation were outvoted before Council issued the demolition permit. The church's demise acted as a catalyst for change and for the first time, heritage became a municipal election issue.
Century Theatre, Hamilton, Ont. [2010 List]—ANOTHER DEMOLITION BY NEGLECT FOR HAMILTON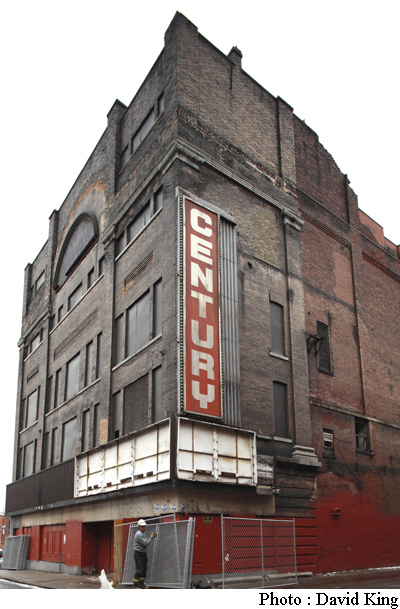 Opened in 1913, the 2,300-seat Lyric Theatre, as it was then called, was converted to Hamilton's first movie studio in 1920, and again renovated in 1922 as a vaudeville and movie house. The Renaissance Revival-style theatre was renamed the Century Theatre in 1940 when it was purchased by 20th Century Theatres. Modernized in 1952, it eventually closed in 1989, like many of Hamilton's grand movie houses. The now demolished theatre will be be replaced by a 59-unit condominium. After years of not enforcing its own property standards bylaws, the City declared the heritage designated façade unsafe, allowing the owner to demolish it.
35 - 151 Colborne Street, Brantford, Ont. —[2010 List]—CLEAR-CUTTING MAIN STREET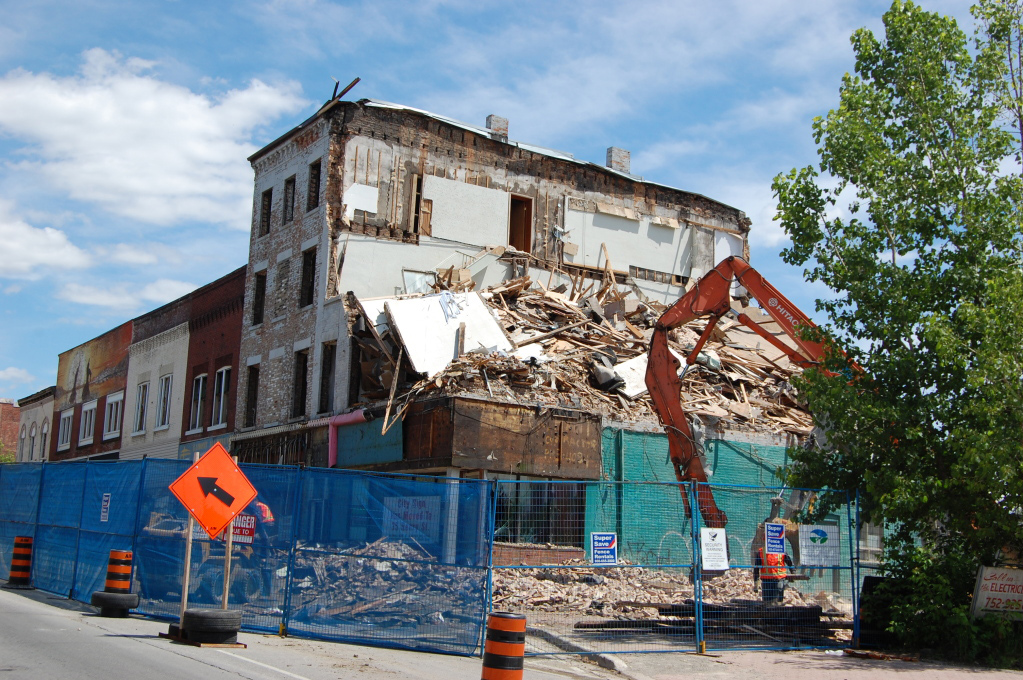 In one of Canada's most misguided "urban renewal" projects in recent decades, the City of Brantford is demolishing nearly three continuous city blocks— 41 predominantly mid-19th century commercial buildings, some of which pre-date Confederation. In city council's rush to demolish, viable opportunities to recycle and re-use the buildings were cast aside. With Colborne Street's demolition Brantford loses its traditional Main Street and puts its downtown revitalization in jeopardy.
Downsview Hangars (Buildings 55 and 58) [2010 List] - Former CFB Downsview, Toronto, Ont.— FEDERAL HERITAGE DESIGNATION NO BARRIER TO DEMOLITION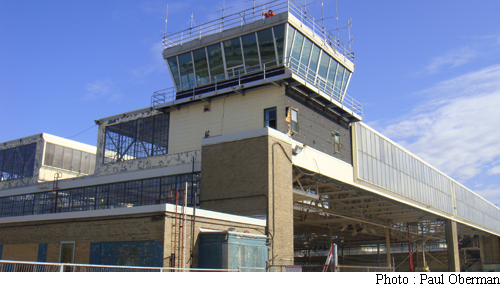 Built in 1943 by the De Havilland Aircraft Company of Canada, the two massive International-style hangars built of steel, glass and concrete were key to aircraft production at the Downsview site during World War II. Both were designated as federal heritage buildings in 1992, but federal heritage policy affords little real protection or opportunity for public consultation. A developer's inspired 11th hour offer to invest and recycle the buildings floundered due to the Department of National Defence's lack of will for a land exchange with the adjacent property owner, Parc Downsview Park. Both buildings were demolished by DND in March 2010.
Alma College, St. Thomas, Ont. – [2009 List] — HOPES OF PRESERVING GO UP IN FLAMES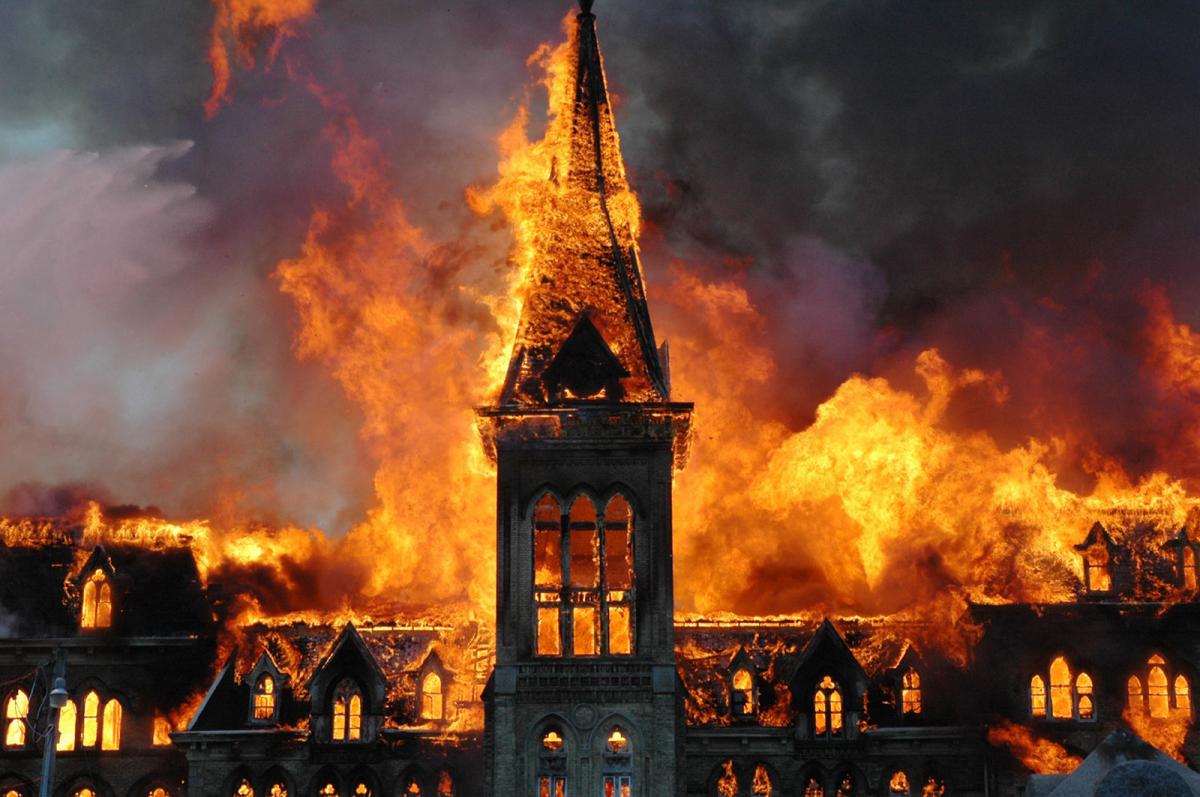 Included on the National Trust's 2006 Top Ten Endangered Places List, this heritage-designated Victorian landmark was as good as lost when the City's decision to disallow demolition was appealed to the Ontario Municipal Board by the owner. A negotiated settlement would have reduced the once remarkable building to its central tower. Local MPP and Speaker of the Legislature, Steve Peters, met with Premier McGuinty's chief of staff to press for preservation just hours before it was lost to arson.
Erie Street United Church, Ridgetown, Ont.— [2009 List] — LOST DUE TO INTRANSIGENT OFFICIALS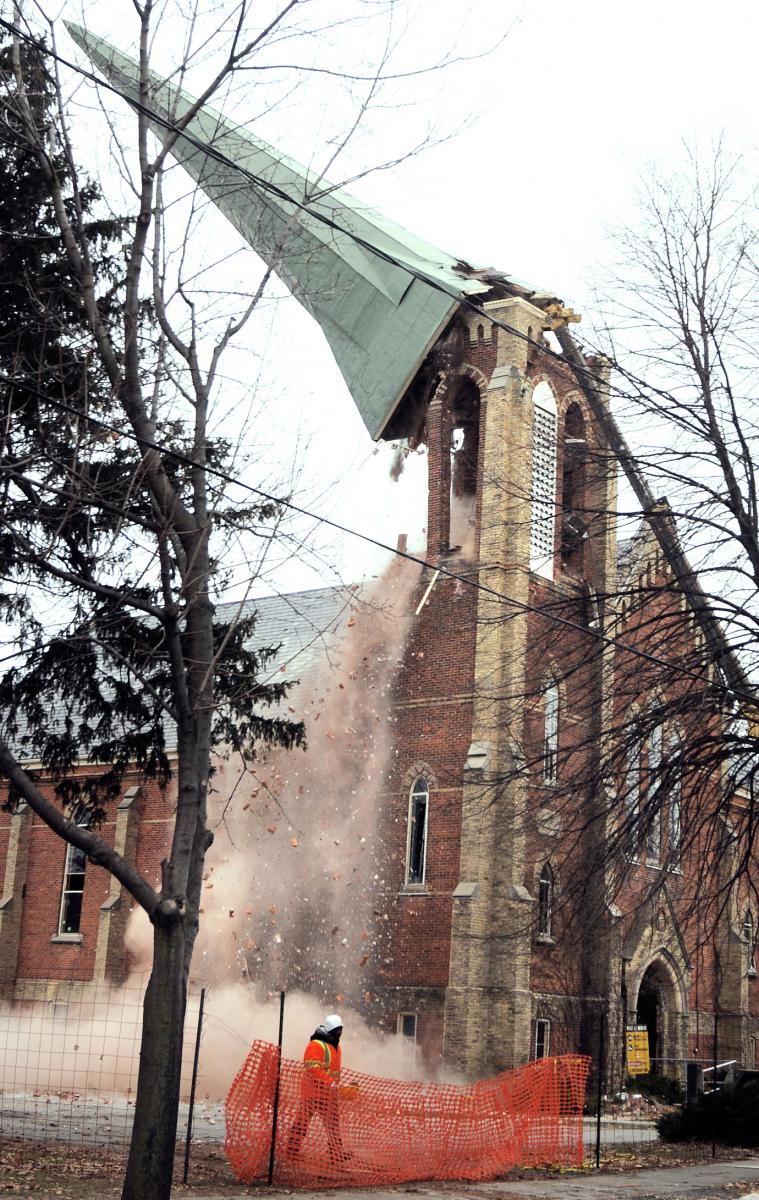 The 1876 heritage-designated Gothic Revival-style church was demolished due to unwilling trustees, a town council ignoring its own Municipal Heritage Committee, and the Minister of Culture refusing to issue a stop-work order that would allow time to consider its reuse as a local library. It took several failed attempts and five broken cables to pull the reportedly rotten steeple off its perch.
Marygrove Resort, Muskoka, Ont.— [2009 List] — SUCCUMBED TO DEVELOPMENT PRESSURES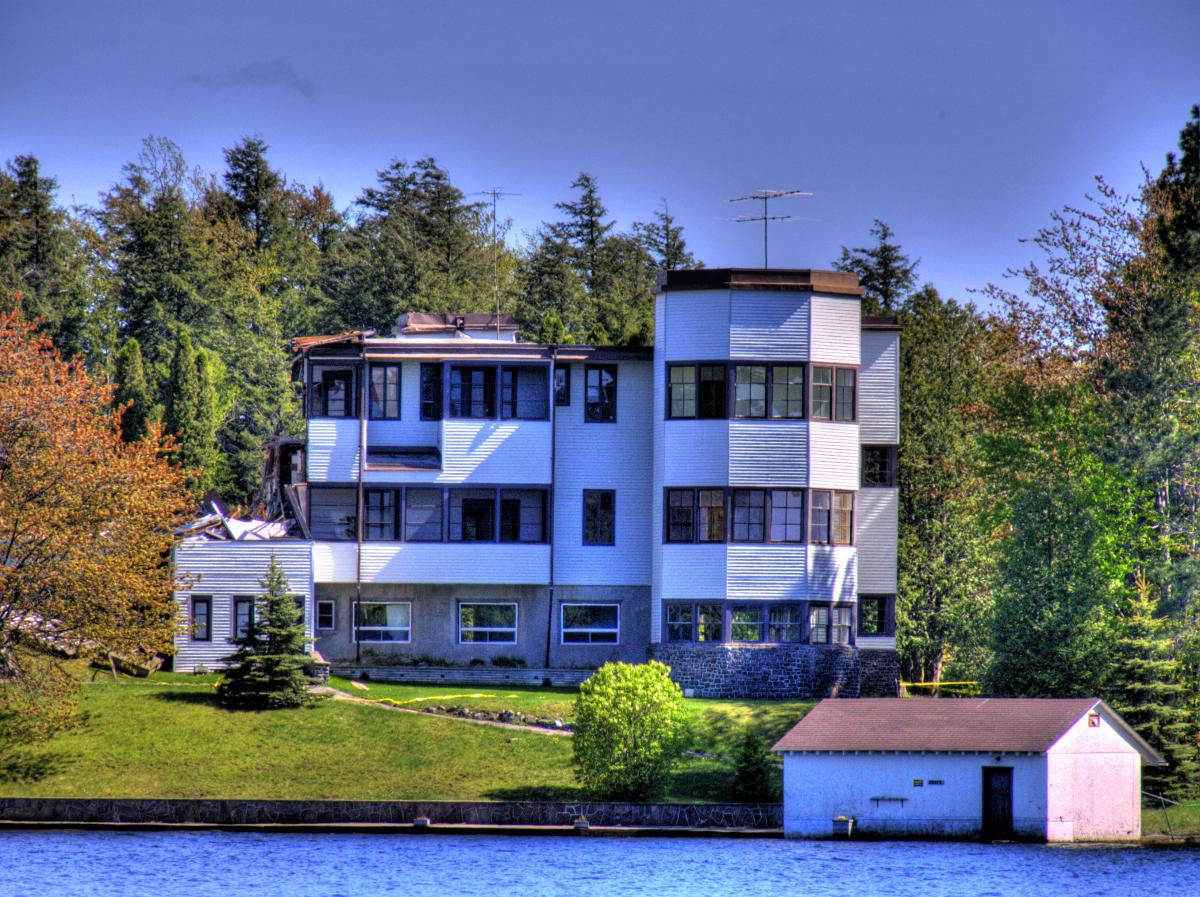 Formerly the Glen Home Hotel, Marygrove was demolished last May despite calls for its designation from the Muskoka Branch of the Architectural Conservancy of Ontario. All members of the Muskoka Lakes Heritage Committee resigned over municipal council's refusal to act. Designed in the Streamlined Modern style by Horwood and White in the 1930s, the landmark was one of the last remaining old resorts in the area. Subdivided into lots, it gave way to the pressures of skyrocketing land values and tax assessments.
Bata Shoe Headquarters, Toronto, Ontario – [2008 List] — DEMOLISHED IN THE NAME OF CULTURE
Included on the National Trust's 2006 Top Ten Endangered Places list, the former Bata Shoe Headquarters, a hallmark of Canadian Modernist architecture designed by John C. Parkin, was demolished in December 2007 to make way for the new Aga Khan Museum.
Walnut Hall, Toronto, Ontario – [2008 List] — A CASE OF ARCHITECTURAL EUTHANASIA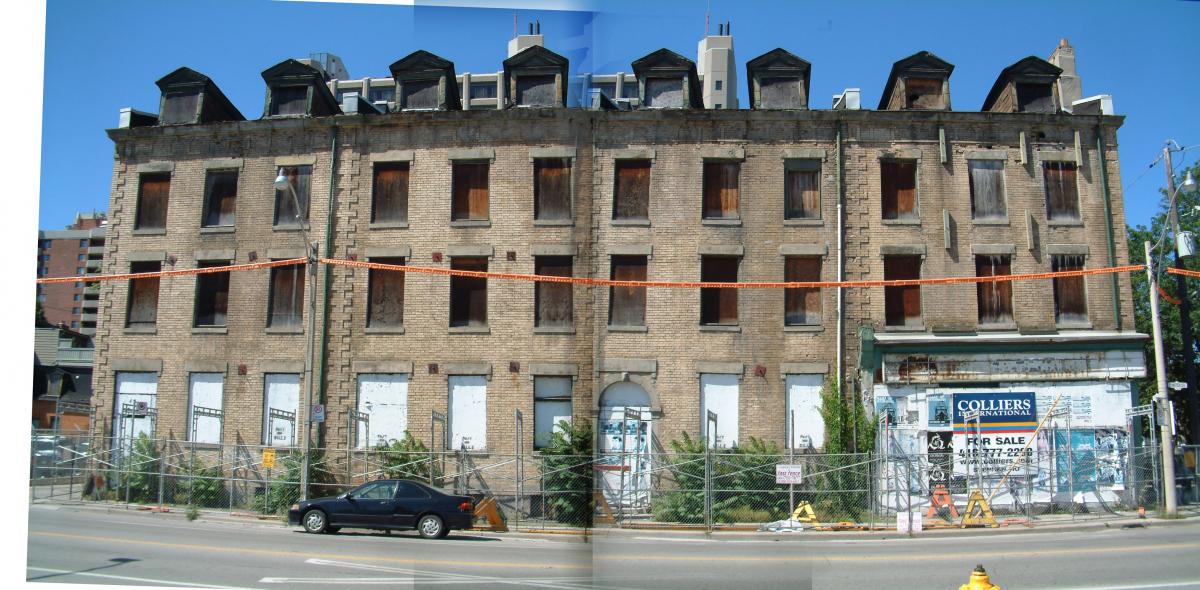 After being neglected for 35 years by land speculators who refused to maintain it, Toronto's once elegant row of Georgian townhouses on Shuter Street dating from 1856 began to crumble brick by brick in May 2007. A city work crew tore down the remaining structure—a classic case of demolition by neglect.
Seagraves Building, Windsor, Ontario – [2008 List] — LOST TO LANDFILL DUE TO PERMIT OFFICE OVERSIGHT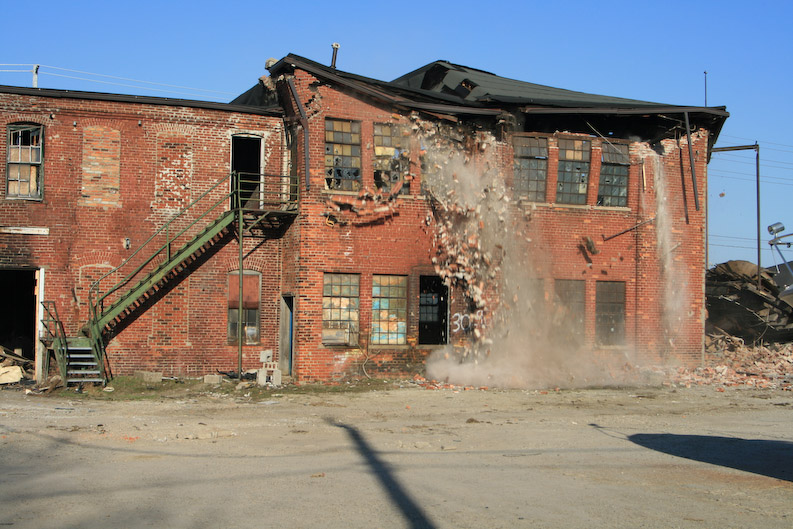 Included on Windsor's heritage inventory list, this 2-storey 1905 industrial red brick heritage building housed the Seagrave Fire Apparatus Company of Ohio that produced the first motorized fire engine in Canada. The City improperly issued a demolition permit without adhering to the required 60-day waiting period.
Balfour Building, Hamilton, Ontario – [2008 List] — COLLAPSED DUE TO NEGLECT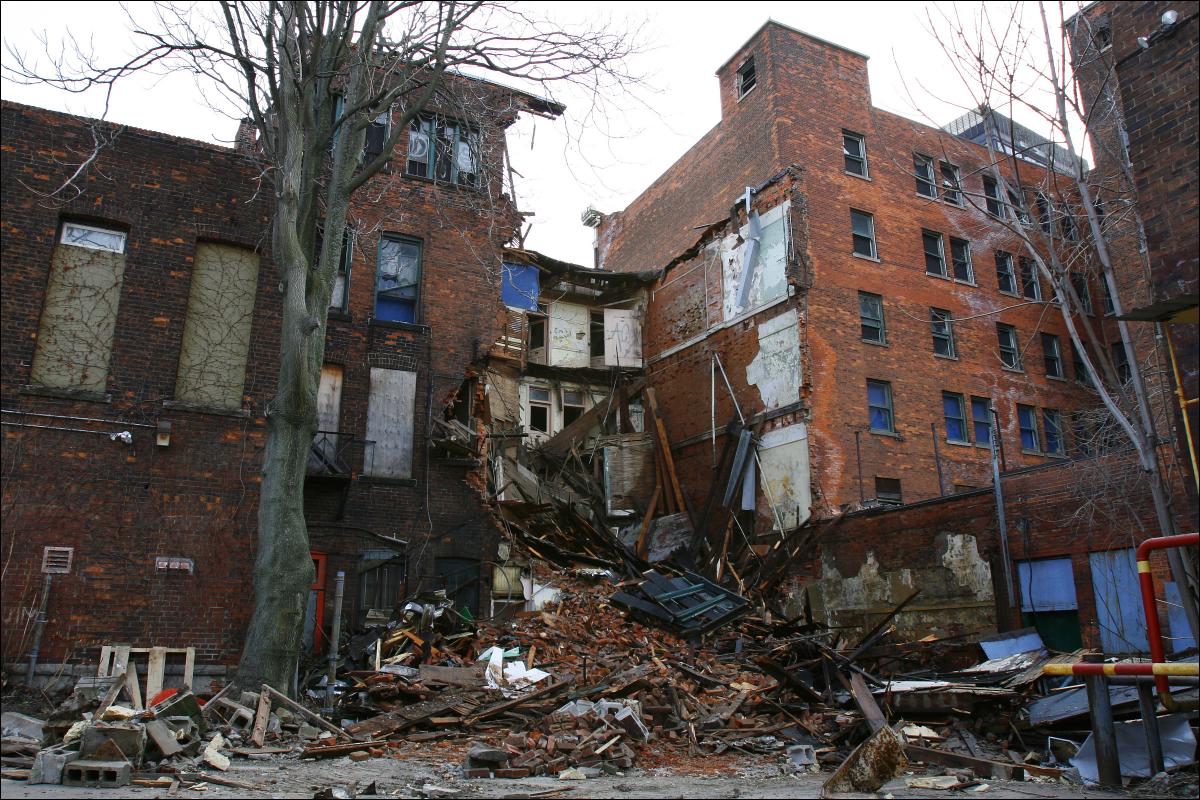 The partial collapse of the Balfour Building—part of the historic Lister Block in downtown Hamilton—resulted in a public outcry against the city for not enforcing property standards. The rest was demolished with only fragments remaining of the stone elements that were to be preserved for future use. The Lister Block was identified as endangered on the National Trust's 2007 Top Ten list, and its future still remains in danger.
Inn on the Park, Toronto, Ontario — [2007 List]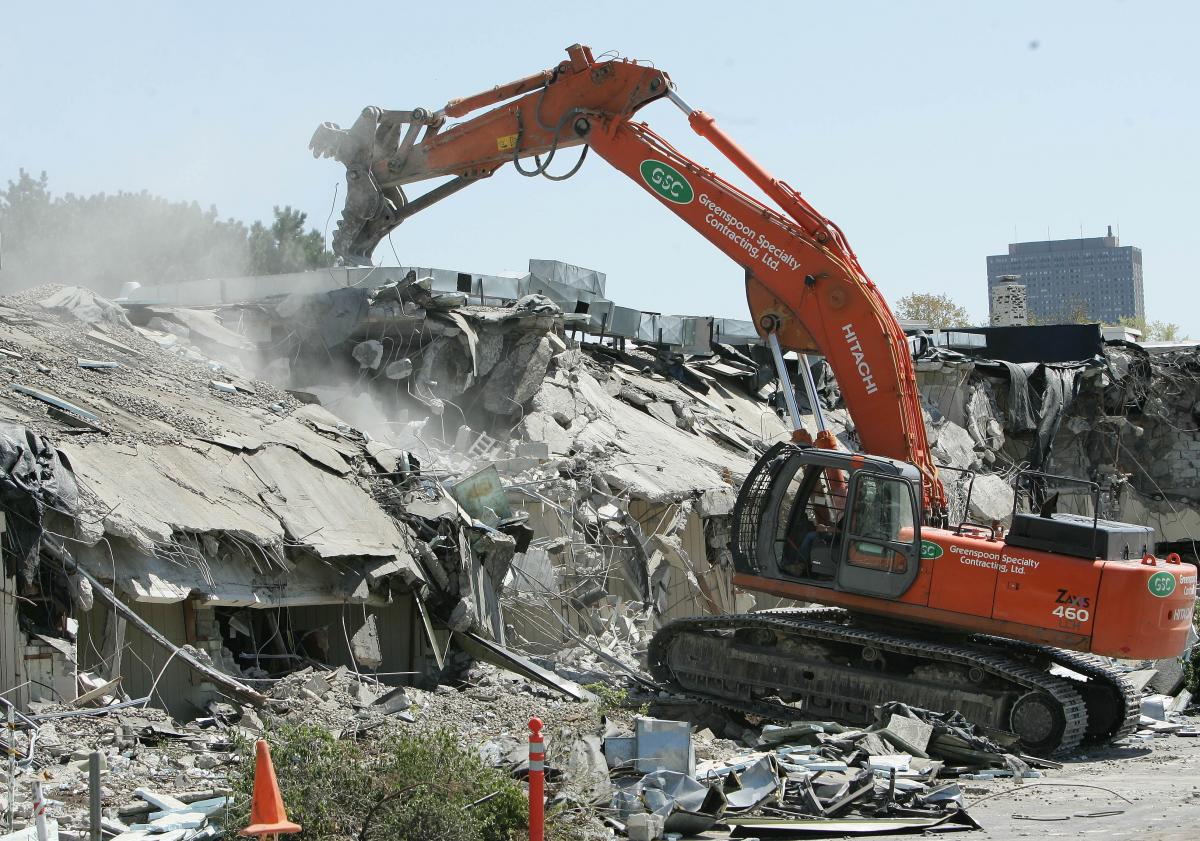 Opened in 1963, it quickly became a landmark along the Don Valley Parkway and one of the city's famous destinations. Demolition began the day before the modernist hotel's heritage designation was to be debated at North York's community council. The owner, Rowntree Automotive Ltd., is developing a car dealership on the site.
Forsyth Factory, Kitchener, Ontario — [2005 List]
Built between 1900 and 1937, the factory was designated under the Ontario Heritage Act in 1999. Despite repeated recommendations to city council by Heritage Kitchener to invest in its maintenance, leaks in the roof proved the major source of damage that eventually led to its demolition.
Rural Barns, North Gower, Ontario — [2005 List]
Increasingly susceptible to loss due to abandonment, Canada's rural barns are succumbing to demolition, fire, vandalism, neglect and urban sprawl.
Salmoni Building (1849), Amherstburg, Ontario — [2004 List]
Despite public protests and reports concluding that it was sound and suitable for reuse, Town Council voted to raze the provincially designated and vacant Salmoni Building. As one of Amherstburg's oldest properties, many heritage activists fear a precedent has been set regarding the fate its remaining heritage structures.
Avro Arrow Hangar (c. 1940), Mississauga, Ontario — [2003 List]
Despite the efforts of the community and the municipality, the hangars were demolished by Boeing in July of 2003.
Houses on Nicholas-Waller Triangle, Ottawa, Ontario — [2003 List]
Located in the historic district of Sandy Hill, one of the heritage homes located on the Triangle was allowed to collapse and a second was illegally demolished by developer Groupe Lepine despite their retention and rehabilitation being part of the Site Plan Control Approval.
---
Redpath Mansion, Montreal, QC [2014 List] – LOST TO NEGLECT AND UNENFORCED LEGISLATION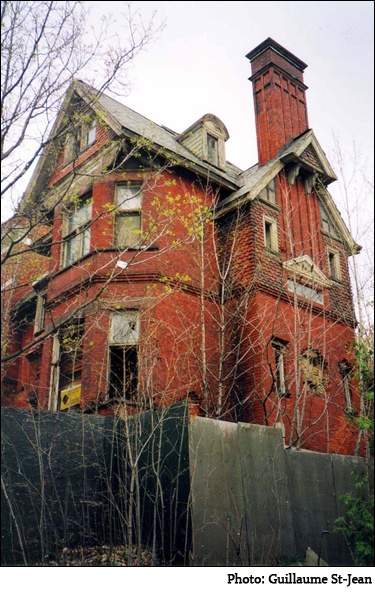 Brought back from the brink of demolition twice, this once majestic vestige of Montreal's fabled Square Mile (built in 1886) was demolished on March 14, 2014. With the city showing little interest in enforcing its property standards, the Borough of Ville-Marie issued the demolition permit without any public consultation.
BENS Deli Restaurant, Montréal— [2009 List] — DEMOLISHED FOR DEVELOPMENT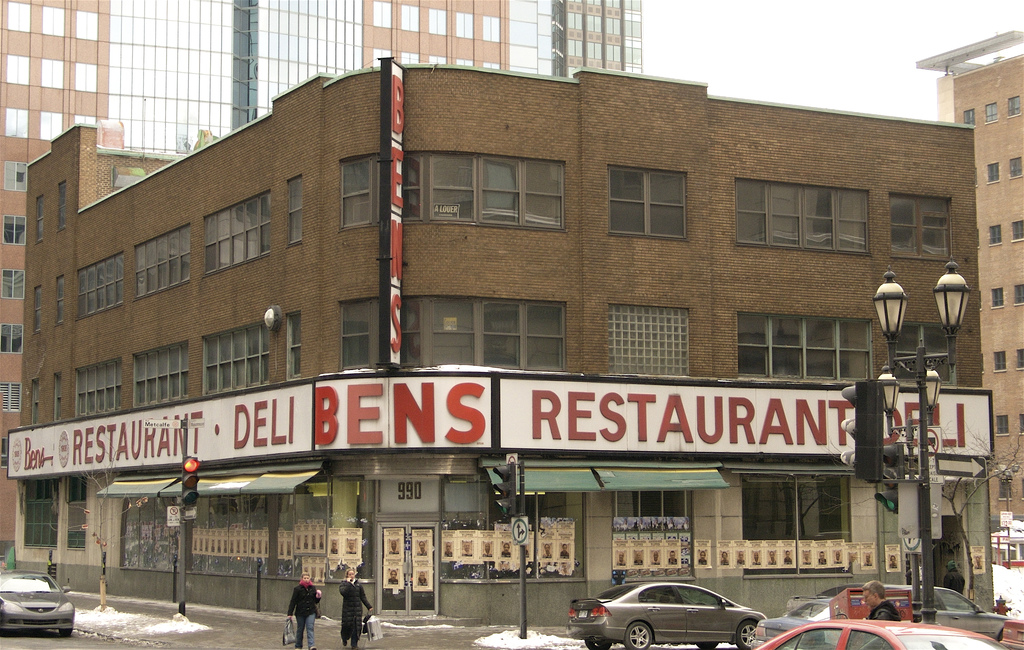 Included on the National Trust's 2008 Top Ten Endangered Places List, this classic example of Streamlined Modern Design was torn down in favour of a14-storey boutique hotel with, ironically, a restaurant on the ground floor. It was lost to rising real estate values and the inaction of the municipal council. Memorabilia from the famous restaurant are displayed at the McCord Museum.
Armoury, Québec City, Quebec – [2008 List] — LOST TO FIRE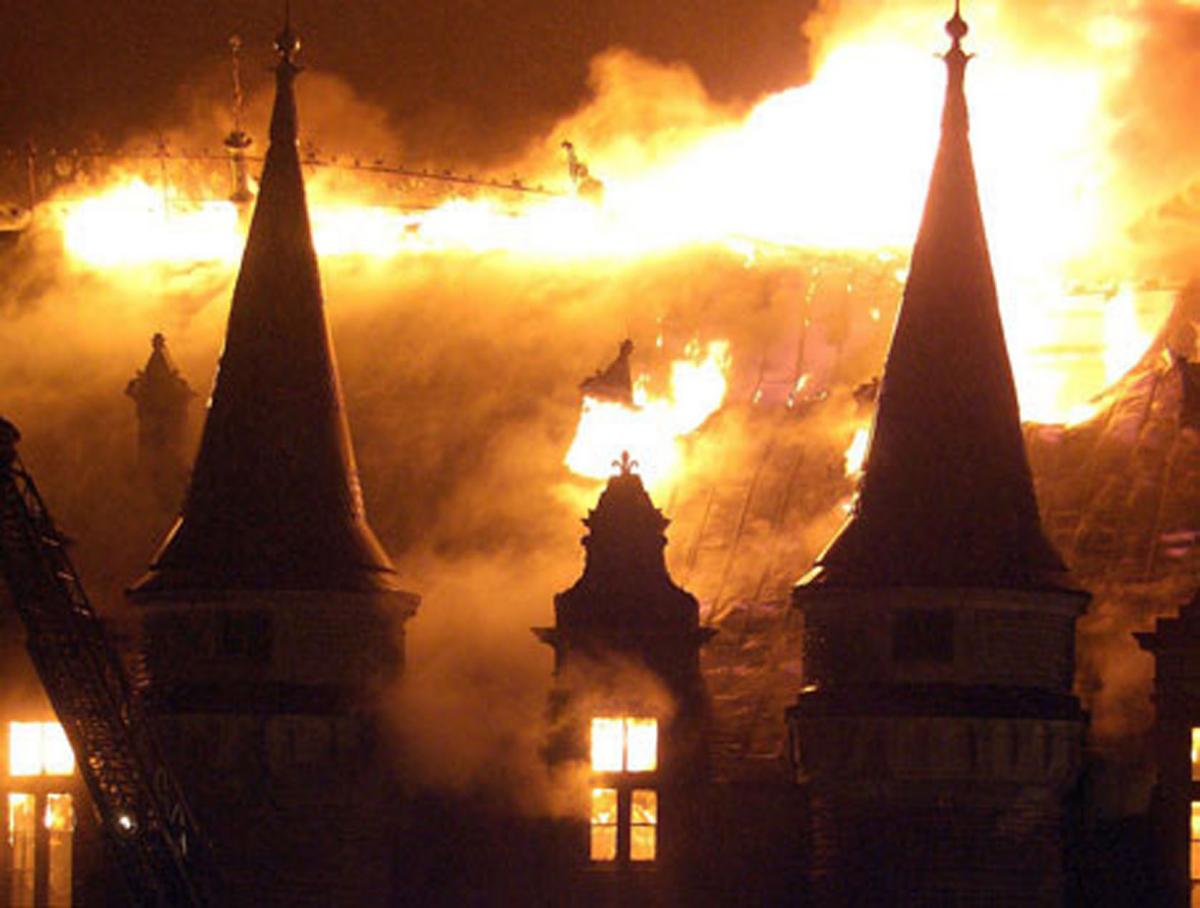 The historic armoury, built in 1884 and owned by the Department of National Defence, contained Canada's largest suspended wood ceiling. An investigation has been launched following the devastating fire that broke out during the night of April 4th. This is a sad outcome in the midst of the city's 400th anniversary celebrations.
---
Mount Allison Memorial Library, Sackville, NB [2011 List] – CAMPUS LANDMARK DEMOLISHED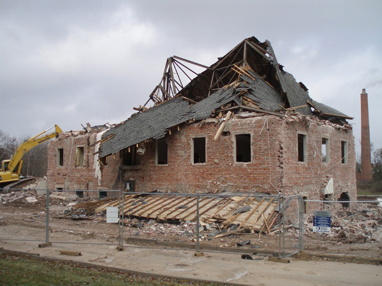 Opened in 1927, this Tudor-style library was dedicated to those who lost their lives in World War One. The red sandstone building, known as "the most beautiful building on campus," served as a library until the 1970s, becoming part of the student centre, a campus hub, housing the student union and radio station. The library was demolished in December 2011 to be replaced by a $30 million arts facility. The cost to save the building was estimated at $5 million, and this amount was pledged by a generous Mount Alison alumna. Other Alumni had also pledged cash to retain and restore this building. Learn more.
Church of Our Lady of Perpetual Help, Rothesay, New Brunswick – [2008 List] — PAVED PARADISE FOR A PARKING LOT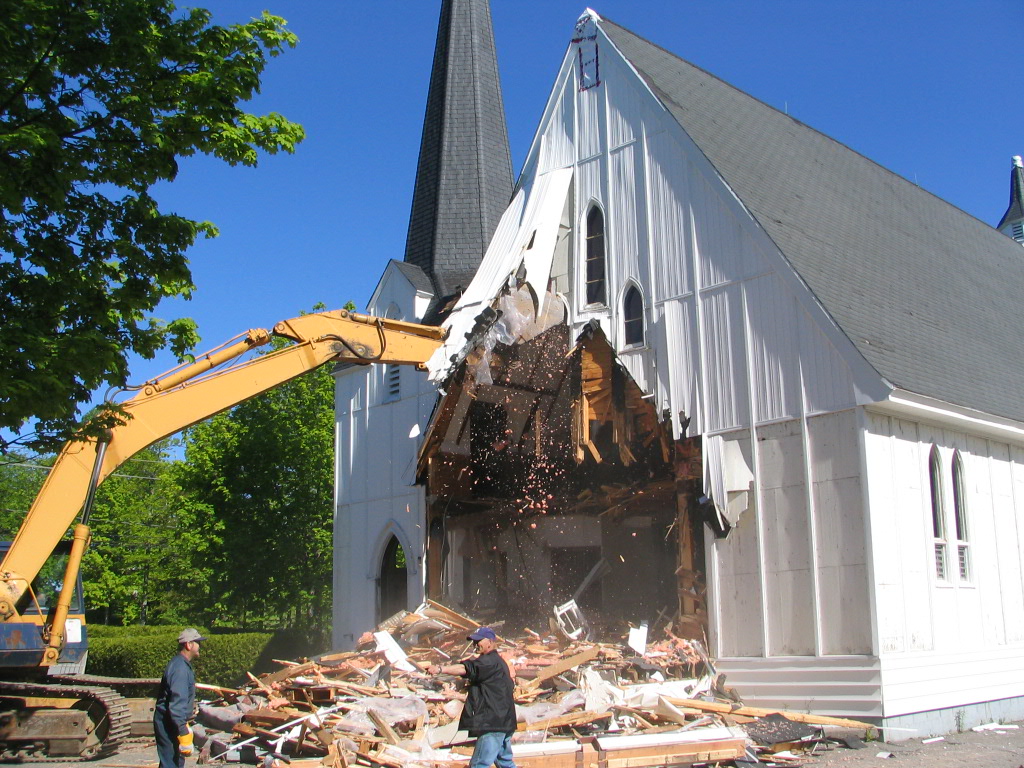 After more than 60 years of service, the old church was torn down last June to make way for a parking lot to service the new church built across the street. "We need more parking so we decided that it might be a better use of the space," explained Rev. Michel LeBlanc. Historic places of faith are in danger across North America.
Hotel Shediac (1855), Shediac, New Brunswick — [2004 List]
After two years of debate, the Town of Shediac marked the end of an era with the demolition of one of the oldest hotels in Eastern Canada. While in its heyday, the famed hotel's guest list included Prime Minister John A. Macdonald, in the end, it all came down to money with the Town arguing that it could not afford the escalating restoration costs.
---
Nova Scotia
Former Halifax Infants' Home, Halifax, NS [2014 List] – UNIVERSITY TURNS ITS BACK ON HISTORY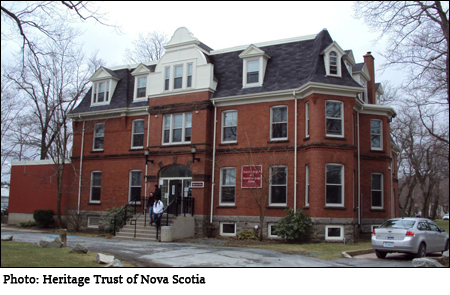 Built in 1899 with funds raised by the Local Council of Women, this important historic institution once gave shelter and medical support to single women and their infants. It stood as a remarkable testament to the emerging role of women in late-19th-century Halifax. St. Mary's University demolished the building in June 2014, claiming that costs to rehabilitate for classroom use were too high.
Point Aconi Lighthouse, Capstick, Cape Breton, NS [2014 List] – DESTROYED BY FIRE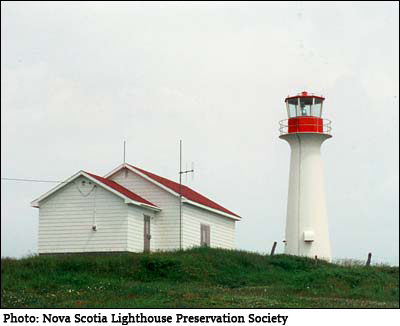 This remote Cape Breton landmark was completely destroyed by fire in February 2014. The operational light of the 11-metre glass fibre tower, built in 1989, was visible for 13 nautical miles. There had been a lighthouse in the area since 1874.
The Violet Clark Building (Sweet Basil Restaurant), Halifax— [2009 List] — SCAPEGOAT IN DEVELOPMENT DISPUTE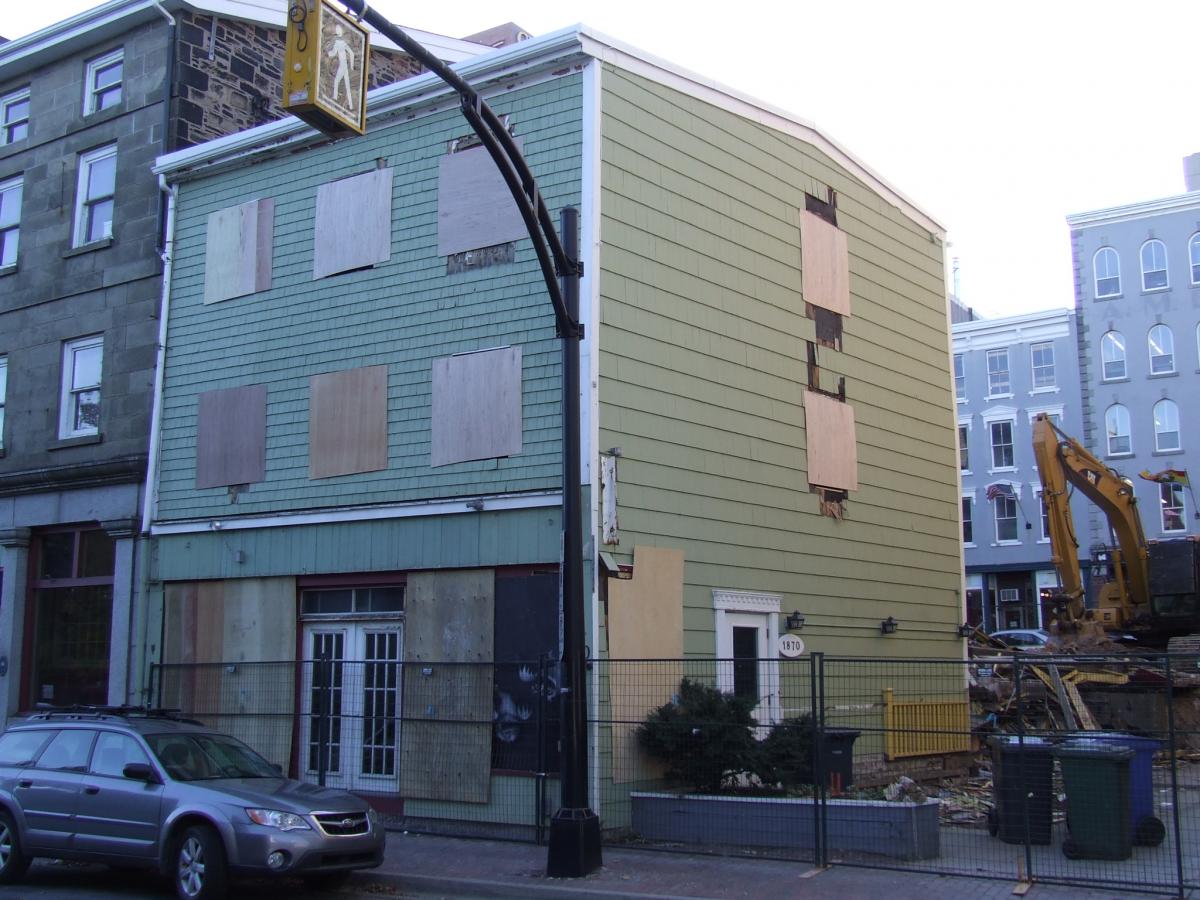 The last wooden "sailortown" structure on Water Street was part of a grouping of historic properties at risk from new development. After city council disallowed a demolition that would leave only the façades intact, the owner, Armour Group, unearthed a clerical error in the building's registration process that resulted in a court ruling entitling Armour to declare that it had not been registered as a Heritage Property under the provincial Act. Down it came. The building was lost because city council was unable to enforce its own planning code that allows it to determine standards for scale and compatibility of new construction around registered historic sites.
Dominion Atlantic Railway Roundhouse, Kentville, Nova Scotia – [2008 List] — SHORT-SIGHTED DEMOLITION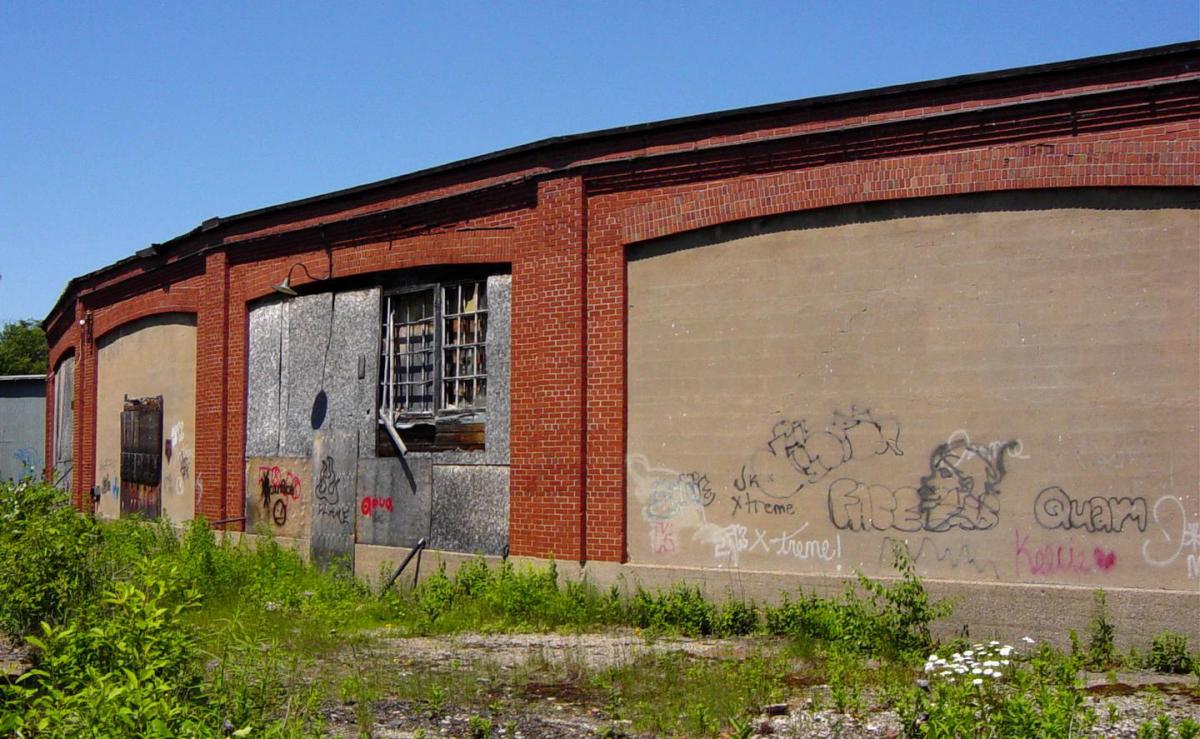 The demolition of Nova Scotia's last roundhouse, still housing its large turntable, was approved by Kentville town council in July 2007 despite calls for delays to allow for time to consider options that would integrate the structure into new development plans and to pursue possible funding sources.
Pictou Bar Lighthouse (1903), Pictou, Nova Scotia — [2004 List]
Shocked Pictou County residents will probably never know the cause of the blaze that destroyed their cherished Pictou Bar lighthouse. Often left vacant and neglected, these maritime towers are increasingly susceptible to this kind of loss. An interest group has explored the possibilities of rebuilding.
The Civic Building, Truro, Nova Scotia — [2003 List]
City Council voted in favour of demolition, despite a structural engineering report that concluded the 1911 building was structurally sound and the objections of residents who saw it as key to the revitalization of the downtown.
---
Watson Lake Hotel, Watson Lake, Yukon [2010 List]—LOST TO FIRE
Considered the oldest building in Watson Lake, this landmark log hotel was built soon after the Alaska Highway came through the area in the 1940s. At the time, it was the only hotel in the region and was a residence to miners and other single men working there. An important part of the local community, the historic hotel was bought by the Liard First Nation Development Corporation in 2007 as a residence for elders, but was boarded up soon after purchase. It was lost to fire this winter due to suspected arson.
St. Jude's Anglican Cathedral, Iqualuit, Nunavut — [2007 List]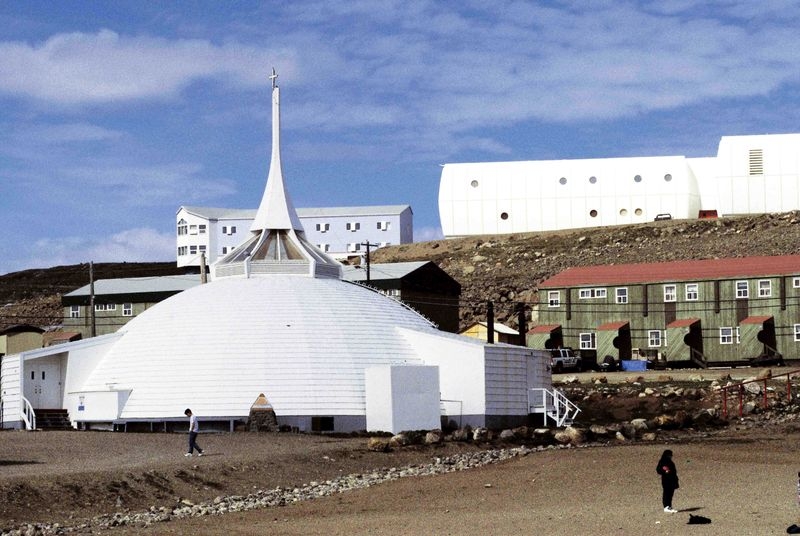 Damaged by arson in November 2005, St. Jude's—one of the best known buildings in Nunavut—was demolished June 1, 2006. Engineers determined it to be structurally unsound and irreparable. Designed by Toronto architect Ron Thom in 1970, it was built in 1972 using volunteer labour.
St. Jude's was the second loss of built heritage in Nunavut this past year. Igloolik's St. Stephen's Catholic Church, one of the oldest buildings in the territory, was demolished in August for safety reasons.