You are here
Église du Très-Saint-Nom-de-Jésus
4215 rue Adam, Montreal, QC – THREATENED WITH DEMOLITION IN 2010, THE CHURCH REOPENS IN TIME FOR CHRISTMAS IN 2014
Thanks to a dedicated group of concerned citizens, nearly five years after the doors were closed on the church due to high maintenance costs, the Archdiocese of Montreal committed to investing in the building and it's ongoing function as a place of worship.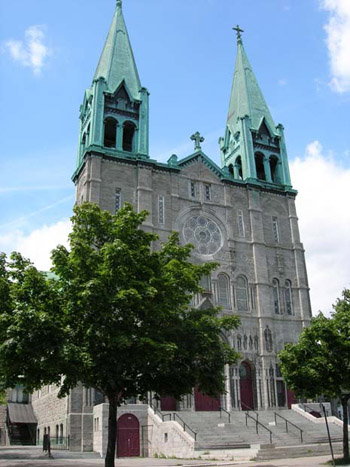 Why it matters
This massive church built in 1903-1906 was long the heart and soul of the working-class Maisonneuve-Hochelaga district of Montreal, known once as the Pittsburgh of Canada. Built with the intention of becoming a cathedral, the Roman and Byzantine inspired stone structure with copper roofing is marked by a light ornamental treatment and two imposing steeples. The church houses two Casavant Frères organs dating from 1914. The main one, restored in 1985, is one of the largest and most important pipe organs in North America. With its grand presbytery, today converted to meet community needs, the church remains a key element in the heart of an institutional urban core that has maintained its character and place in community life.
Why it's endangered
The church closed its doors to its congregation in June 2009, when the archbishop of Montreal declared that the archdiocese could no longer assume the $100,000 in annual heating and maintenance costs or the cost of repairing the masonry. Closed and barricaded, the church has been suffering a steady decline. In September of 2010, the Montreal Fire Department declared the building a danger to public safety. Although an active group of concerned citizens, the Comité de sauvegarde, had been working with church representatives to find a solution to save the church, the archbishop short-circuited their efforts when he declared his intention to give the organs to any interested church in Quebec, as long as the estimated $700,000 moving costs are paid. The archdiocese has also proposed demolishing the church to make way for public housing. The church's heritage classification is a level "C" and the provincial Minister of Culture has refused to provide emergency funding for the building or its world-class organ.
Where it stands
In 2012, Mgr Christian Lépine, the new Archbishop of Montreal, puts a stop to the sale of churches, reversing the Comité de sauvegarde's plan to purchase the building for $1. Instead, emergency repairs to secure the building began in the winter of 2014 with work under way on the roof repairs, asbestos removal and repairs to the plaster walls and ceiling. Works of art have been sent for restoration. The celebrated Casavant organ remains in place. The Archbishop has committed to refurbishing the electrics, masonry and interior decorations. The estimated $6 million cost will be funded from the Archdiocese's building maintenance budget and a fundraising campaign. The church has reopened for religious services as well as community activities in December, 2014.