You are here
Southwest Point Lighthouse
Anticosti Island, Quebec
Dating from 1831, this magnificent 24 m. tall stone tower with lantern and gallery originally painted white with two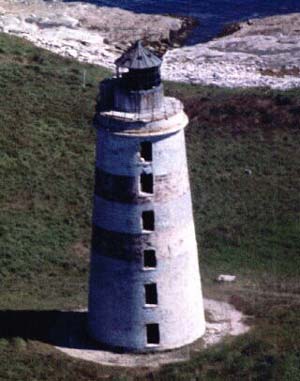 horizontal red bands is falling quickly into ruin. It is easily a match to scores of stone towers now preserved in the United States.
Inactive since the early 1990s, this endangered lighthouse offers a textbook example of the inadequacy of Canadian government lighthouse preservation. Only 3 % of Canadian lighthouses have genuine heritage protection and only 12% have even partial protection.
The Coast Guard abandoned the Southwest Point historic lighthouse and razed its keepers houses. Action is needed now to prevent the loss of the lighthouse later.
In August 2011, the top of the lighthouse collapsed.