You are here
Vogue Theatre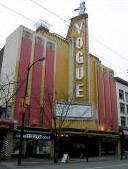 Vancouver, British Columbia
Built in 1940, the Vogue Theatre--a landmark on downtown Vancouver's Granville Street and a magnificent example of the Art Deco style--is both a Vancouver Heritage Register A-listed building and a National Historic Site. Of particular note in its streamlined interior is the auditorium ceiling, an undulating swirl of stepped tiers back-lit with neon tubing. The auditorium's walls are finished in padded fabric mounted with stylized Diana silhouettes and flanked by painted murals.
The Vogue has remained essentially unchanged, serving as a live music, performance and film venue.
In 2010 Gibbons Hospitality Group, the new owners, invested in a rehabilitation plan for the 1,000-seat supper/entertainment club, that included repainting the theatre in its original colours, restoring the landmark neon sign, refurbishing seats, extending the stage, and installing a new boiler and high-definition projector.