You are here
Main Post Office
349 West Georgia Street, Vancouver, BC – VANCOUVER'S POSTAL TEMPLE DESTINED TO BE "LOST IN THE MAIL"
Sold by Canada Post with no heritage protection to an investment firm, Vancouver's massive mid-century modern "Taj Mahal with escalators" faces demolition for new development.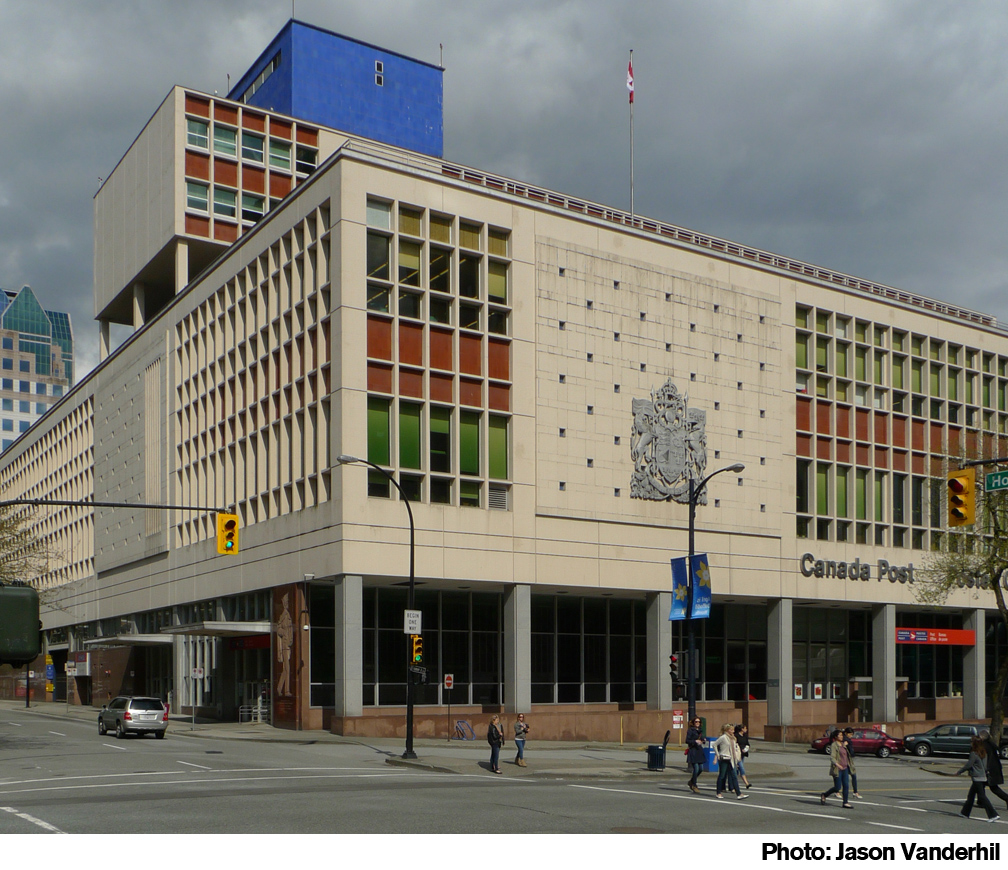 Why it Matters
Built in 1953-1958, this monumental downtown Vancouver property is the finest example of International Style architecture in the city and one of the federal government's most distinguished post-war buildings. The 5-storey structure—capped with an oblong 3-storey slab—covers an entire city block (1.2 hectares) and encloses a total floor area of almost 16 acres (686,000sq ft). Designed by the firm McCarter Nairne & Partners, the building was constructed of sumptuous materials, used state of the art technology, and contains numerous commissioned artworks. It was called a "Taj Mahal with escalators" when built.
Why It's Endangered
The Main Post Office was sold in January 2013 to the British Columbia Investment Management Corporation (bcIMC). Canada Post will be moving all operations to a new processing plant in Richmond scheduled to open in 2014.
The building is listed on Vancouver's "Recent Landmarks" inventory, and Heritage Vancouver included it on its Top Ten Endangered Sites in 2012 and 2013. Unfortunately, the Main Post Office has never been afforded the protection of municipal heritage designation, as municipal bylaws have no legal standing for properties owned by a higher level of government. Moreover, as Canada Post is a crown corporation and not a federal department, there was no obligation for it to participate in federal heritage processes overseen by the Federal Heritage Buildings Review Office (FHBRO), which could have helped put heritage conditions on the sale of the building. In fact, no FHBRO evaluation of the property's heritage significance was conducted, as it requires the owner's consent.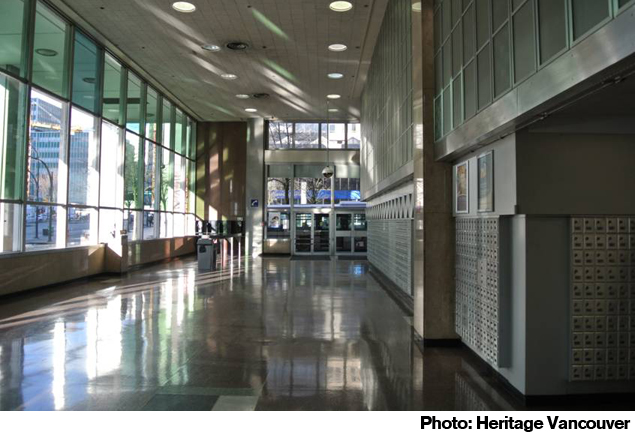 Real estate insiders say the Main Post Office is one of the few remaining sites in downtown Vancouver that can accommodate large format retailers and that demolition and a new, mixed-use residential development is the likely outcome without government intervention.
Where it Stands
A January 2013 newspaper article bcIMC said that, "the status of the existing building will be considered as part of the whole development planning process." The immense size, large open floor plates, and above average ceiling heights would seem to bode well for adaptively reusing the building, but the temptation to demolish the building, rezone, and maximize the height will be strong. To date, no redevelopment plan has been tendered by the developer.
UPDATE: In May 2015, Bentall Kennedy, a representative of bcIMC submitted preliminary plans for the building to City Council. Brian Jackson, the city's planning director told the Vancouver Sun that the plan proposes to add "office, hotel and a mix of "for-profit affordable rental" and condominium housing above the existing building." Heritage aspects would be retained, however, red granite slabs at street level would be removed to create retail space. They would reused elsewhere in the building. Negotiations with the city have not yet began and construction is not expected to begin for at least two years.