You are here
Burrard Bridge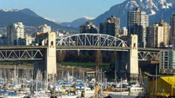 Vancouver, British Columbia
Vancouver's newly elected city council wasted no time in overturning the previous council's decision which called for a 12-month trial that would reallocate cyclist and pedestrian traffic on the city's historic Burrard Bridge to the curb lanes between Cornwall Street and Pacific Avenue. If successful, the trial would have avoided the need to widen the bridge, saving taxpayers at least $25 million in current estimated construction costs. Now, however, the new council has instructed city staff to prepare final plans for the construction of massive outrigger structures that would radically alter the appearance of this important Art Deco landmark.
Completed in 1932 to provide a high-level crossing to western Vancouver neighbourhoods, the bridge is considered a triumph of civic architecture and a key gateway structure. Architects Sharp and Thompson embellished the utilitarian steel superstructure with imposing concrete towers, torch-like entrance pylons and art deco sculptural details. Unifying the parts are heavy concrete railings which were originally topped by decorative street lamps. Regrettably, the city's current decision would result in their removal to make way for new ones that would be pushed out to the edges of the new sidewalks. Heritage groups fear that without its original railings, the bridge would lose its strong edges and its defining architectural features would be isolated.
Heritage Vancouver is urging city councillors to consider viable alternatives before rushing to implement a plan that will permanently disfigure this landmark. One possible solution – a structure retrofitted underneath the bridge – previously made the city's shortlist.
UPDATE: After a 2008 report by city engineers pegged the actual cost of the original expansion plan at a minimum of $57 million, the idea was nixed. In 2009, the City reallocated one of the bridge's southbound lanes to cyclists in a trial project to determine the viability of further lane reallocations.
In June 2015, the City released a new plan for the bridge, which includes $20 million in repairs. The latest iteration would see a second traffic lane reallocated to make room for pedestrian walkways and bicycle lanes on both sides of the bridge. The plan also proposes a widening of the final 100 metres of the north end of the bridge, necessitating a portion of the walkway to be cantilevered out from the structure. In addition, original concrete railings will be replaced by replicas, which the city says will respect the bridge's heritage significance. Following two open houses for public consultation in June 2015, the City amended the plan to include suicide-prevention fencing. It's unclear how the new fencing will affect the bridge's heritage character. The City indicated that staff will work with the heritage community to mitigate the impact. City Council approved the plan, with the fencing in July. Construction will begin in early 2016.