You are here
Vancouver West Side Character Homes and Gardens
Vancouver West Side Character Homes and Gardens – Shaughnessy, Kerrisdale, Point Grey and Dunbar Neighbourhoods, Vancouver, BC – DEMOLITION OF ORGINAL HOUSING STOCK IN FAVOUR OF "MONSTER" HOUSES DECIMATING AFFORDABLE HOUSING AND CHARACTER OF VANCOUVER NEIGHBOURHOODS
Unfavourable zoning, high land prices and investor speculation are turning West Side Vancouver's historic homes into "demo bait."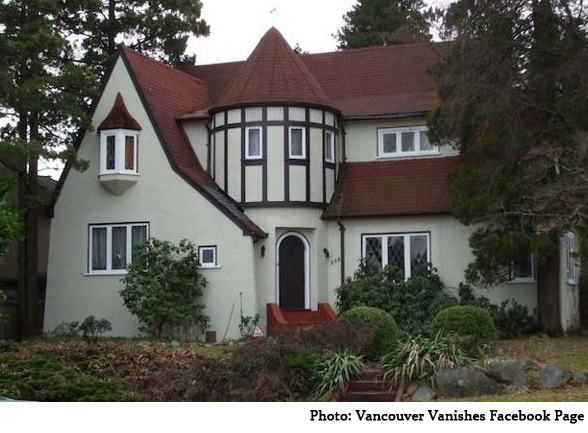 Why they matter
Vancouver's West Side character homes were built with a high degree of craftsmanship using quality materials, including first growth timber. These pre-1940s residences were home to a variety of occupants, from carpenters and teachers to vice-presidents and architects. The loss of so many original houses—some with A- or B-level status on the Heritage Register—erases a tangible link to the city's past and obliterates the character of Vancouver's historic neighbourhoods.
These demolitions have also meant the loss of affordable rental housing, as is the case with the Legg Mansion, an 1899 A-level heritage building slated to be demolished and replaced with a 17-storey luxury tower.
Why they're endangered
According to a 2014 property tax report on new houses by University of B.C. planning professor Andy Yan, 2,243 West Side houses were torn down and replaced over a three-year period, and that figure did not include the already besieged Shaughnessy neighbourhood. Last year alone, over 1,000 demolition permits were approved by the City, with the majority impacting single family homes. Many are being replaced by "monster" houses ranging from 5,000 to 8,000 square feet, which often remain unoccupied.
Unfavourable zoning bylaws that allow for greater height and floor space—turning old houses into "demo bait"—along with very high land prices, and an "investment" mentality have resulted in the demolition of an unprecedented number of West Side character homes and gardens, regardless of their condition.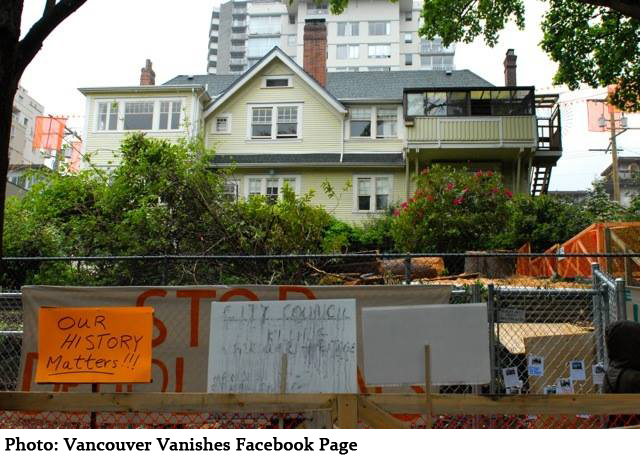 Where things stand
With numerous heritage advocacy groups leading the way, there has been a groundswell of protest in Vancouver against the loss of these attractive pre-1940s character homes that define the city's oldest neighbourhoods. Vancouver's Character House Network has set up an online petition asking the City to modify its zoning and building code bylaws, which now has close to 4,000 signatures. The group's Vanishing Vancouver Facebook page (with over 4,000 followers) posts a photo and brief history of a demolished character home in the city almost daily to emphasize the urgency of the issue.
A new municipal housing report for the historic area of Shaughnessy recommends that new regulations be adopted to slow down the demolition of character homes.
In July, the City announced the creation of the Vancouver Affordable Housing Agency to act as a research hub to examine investor speculation and unnecessary vacancies in the housing market.
UPDATE: In June 2014, City Council adopted a series of measures meant to discourage the destruction of character homes while the City updates its heritage register. These include a one year prohibition on demolition of character homes in the First Shaughnessy District and a "green demolition bylaw" requiring that 90 percent of materials from character homes be reused and recycled. In addition, all pre-1940s homes must have their character merit assessed before demolition can be considered. However, critics claim that the new measures are not a strong enough deterrent and do little to preserve heritage. Instead, they've called for relaxed building codes to make renovation of character homes more affordable and attractive.
In response to public pressure, the City of Vancouver launched a review of its Heritage Action Plan and has sought public input in a series of open houses. Among the changes being considered are new rules recommended by city staff, such as neighbourhood-based restrictions on the size of new homes. The City will also begin the process of updating its heritage register in May 2015, with plans to allow the public to nominate sites in the fall.
In the meantime, Vancouver's character homes continue to come down at an alarming rate.
UPDATE: The City of Vancouver is updating its Heritage Register for the first time since its creation in 1986 and has released a call for nominations. Make a nomination today to help protect an historic site you love!
UPDATE: In September 2015, Vancouver City Council voted to make the First Shaugnessy District the city's first Heritage Conservation District.