You are here
St Mary's Community School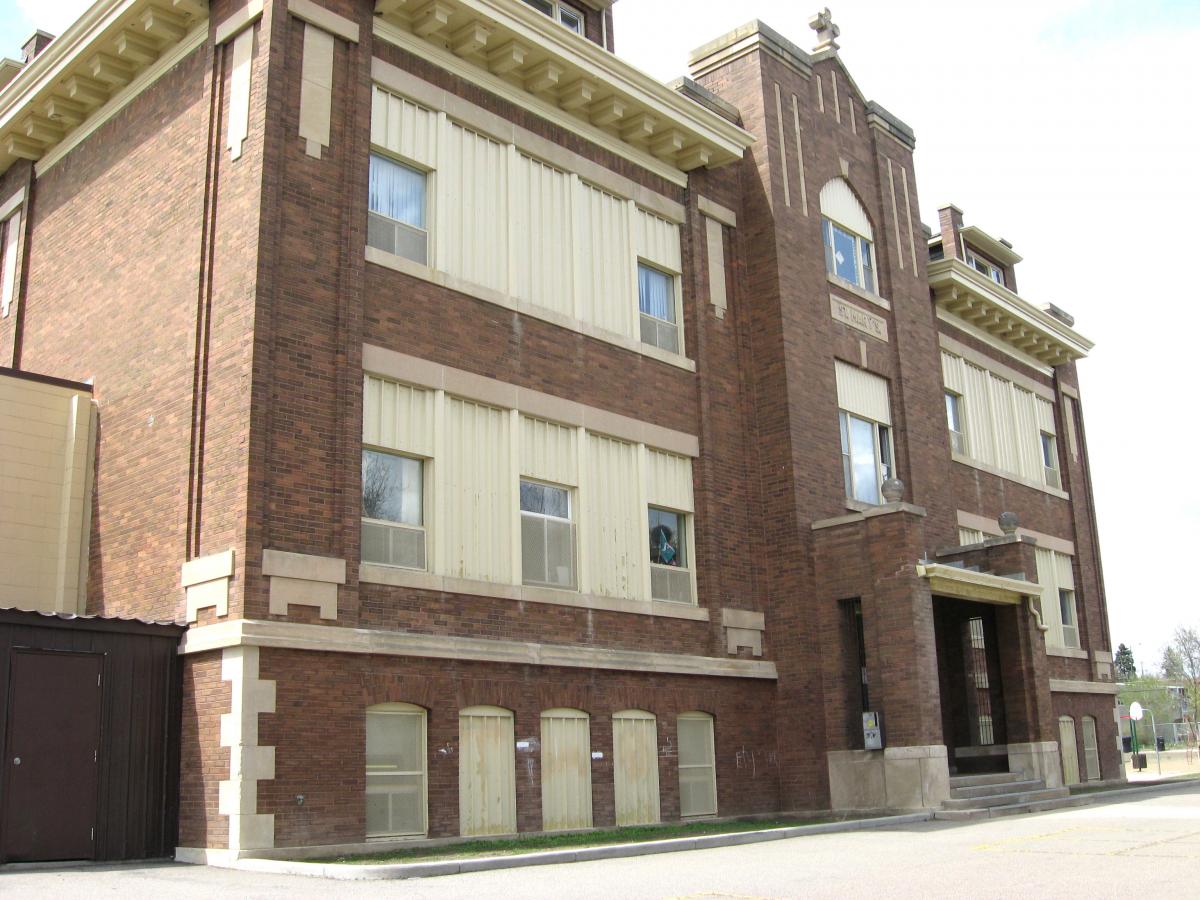 St. Mary's Community School, Saskatoon, Saskatchewan—DEMOLISHED
St. Mary's is one of hundreds of historic community schools from the first half of the 20th century that are under siege in communities across Canada. Despite robust public opposition, it is slated for demolition as part of a neighborhood rejuvenation plan approved by the City of Saskatoon and the Catholic School Board.
The decision runs contrary to Saskatoon's policies related to waste and recycling, greenhouse gas management, community consultation and civic heritage. The demolition of this 96-year-old functional building is environmentally irresponsible.
Why it matters
Located in Saskatoon's multicultural central neighbourhood of Pleasant Hill, St. Mary's Community School is the oldest Catholic school in the city. It is a three-storey load bearing masonry structure built in 1913. The school was designed in the Collegiate style by renowned local architect David Webster (1884-1952) who also designed the historic Legion Building in downtown Saskatoon demolished in 2007 after much protest.
Although the community welcomes the Greater Saskatoon Catholic Board of Education's decision to build a new school across the street, residents have indicated a strong desire to see St. Mary's retained, recognized for its important municipal heritage value, and adapted to a new community use.
Why it's endangered The school is slated for landfill in order to create a green space as part of the Pleasant Park Revitalization Project.
The decision-making about the fate of the school has been marked by lack of transparency and respect for public consultation. Despite robust public support for retention of the school by area residents, the Saskatoon Heritage Society and even Tourism Saskatchewan, both Saskatoon City Council and the school board have endorsed a concept plan that includes demolition of the school.
Where things stand
At least two independent groups have approached the City about reusing the school: one proposed transforming it into a rental complex serving the Filipino community, and the other converting it to affordable office space.
Despite this, at its May, 2009 meeting city council voted to keep moving forward with development plans that include demolishing the school.
Since then, a fire between the main school and an attached classroom was deliberately set, according to Saskatoon Fire and Protective Services, forcing a temporary school closure.
Demolition of the historic school began on August 1, 2012.