You are here
Fort Qu'Appelle Sanitorium
Fort Qu'Appelle Sanatorium – Resort Village of Fort San, SK – SASKATCHEWAN'S LAST TUBERCULOSIS SANATORIUM: A SOLUTION FOR ITS FUTURE NEEDED BADLY
Sold by the Province in 2007, the once beautiful "Fort San" complex is in need of a redevelopment plan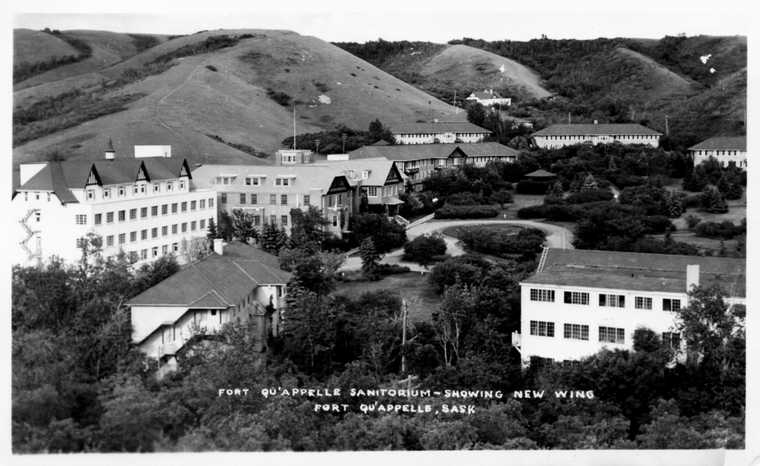 Credit: "Henry "Harry" Saville (1886-1948), Saskatchewan Bureau of Publications, 1928."
Why it matters
Picturesquely situated in a coulee on Echo Lake a few kilometres from the town of Fort Qu'Appelle, the Sanatorium (known as "Fort San") operated as a tuberculosis sanatorium from 1912 to 1971. The 184-acre property contained numerous Tudor Revival and Arts and Crafts-style buildings designed by two of Saskatchewan's most distinguished architects on a beautiful, uplifting campus containing a bandstand and pleasant pathways. At its peak, Fort San was the primary tuberculosis treatment centre in the province accommodating over 350 patients at one time. The property was later adapted for other uses: from 1967-1991 it hosted the Saskatchewan Summer School of the Arts and from 1992-2004, the provincially operated Echo Valley Conference Centre.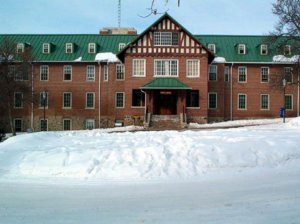 Why it's endangered
In 2007, the Saskatchewan Property Management Corporation sold Fort San to Echo Valley Resorts Ltd. The Qu'Appelle Valley community has long recognized and supported the heritage value of Fort San. That same year, the Resort Village of Fort San designated four sanatorium buildings – the Main Lodge, Dr. Jenner's Residence, Administration Building, and Nurse's Residence – and the broad, landscaped front lawn as Municipal Heritage Property. The undesignated buildings on the property have since been demolished. In the intervening years, there have been concerns from the surrounding community about the slow pace and transparency of redevelopment efforts on the property, as well as concerns that the site has not been properly secured and suffered from vandalism and lack of maintenance.
Where it stands
The Resort Village of Fort San has identified the retention and redevelopment of the historic Fort San property as a key policy objective for 2012-2016.
UPDATE: As of 2015, the Sanatorium remains vacant and in serious risk of demolition by neglect. In the summer of 2013, the Village of Fort San issued a maintenance order to Echo Valley Resorts Limited requiring repairs to the Sanatorium buildings. In violation of the Heritage Property Act, however, the site's owner as repeatedly refused entry to Village inspection teams. Forced to complete inspections from the public road, the team has observed serious deterioration to the property's remaining heritage buildings.