You are here
Cape Jourimain Lighthouse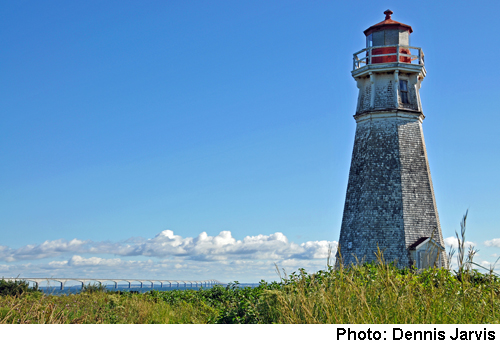 Cape Jourimain Lighthouse, Jourimain Island, Bayfield, New Brunswick—A FEDERALLY "RECOGNIZED" HERITAGE LIGHTHOUSE ABANDONNED TO THE ELEMENTS
Declared surplus in 2010 by the Department of Fisheries and Oceans (DFO) and abandoned to the harsh elements of the Northumberland Strait, the clock is ticking as local groups attempt to raise funds to save this iconic lighthouse.
Why it matters
Built in 1870, Cape Jourimain lighthouse sits on the northern tip of the Jourimain Islands in the Northumberland Strait with a full view of the Confederation Bridge, making it one of the most photographed lighthouses in Canada. Located on the grounds of the Cape Jourimain Nature Centre, the federally-owned historic structure guided ships through the Strait for 120 years.
Cape Jourimain Lighthouse was automated in 1970, and then was decommissioned in 1997 with the opening of the Confederation Bridge. The wooden, octagonal lighthouse with decorative cornices and ornate trim was designated a Recognized Heritage Building by the federal government in 1991.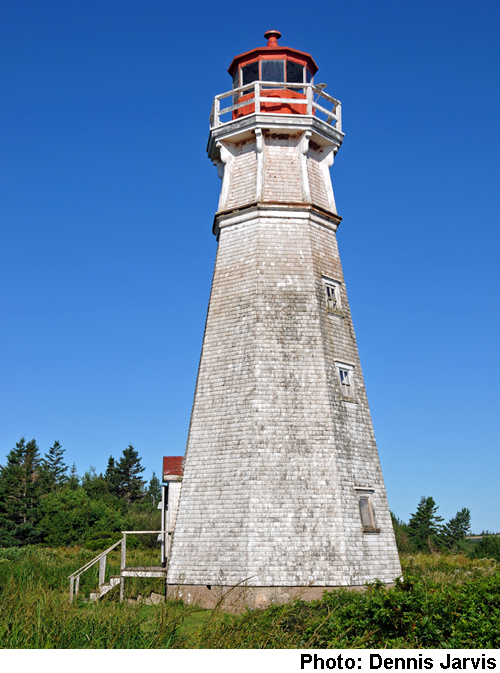 Why it's endangered
Shoreline erosion is a serious threat to the building. The lighthouse has been moved several times before, but further erosion has been escalating over the past five years.
While the lighthouse appears to be structurally sound, maintenance has not been kept up by DFO: exterior paint is peeling, the shingles need repairing and signs of mould are present in the interior. Some remediation of the site
has taken place, but much has been left until larger decisions about its future are made. In May 2010, DFO declared almost all of its active and inactive lighthouses—including Cape Jourimain—as "surplus" to its needs. It is unlikely DFO will invest in its preservation.
Where things stand
Following the provisions of the Heritage Lighthouse Protection Act, the Cape Jourimain Nature Centre applied to take over ownership of the lighthouse and to move it 50-60 feet back from the eroding shoreline. A structural engineering firm is assessing what damage could result from moving it. The road that leads to the island was built over 100 years ago and needs to be upgraded before heavy machinery can travel on it. The Nature Centre thinks the most sensible plan is to re-paint, re-shingle and clean up the site, then move the building back from the shore. Those wanting to keep it from slipping into the ocean, want to see it saved as a reminder of the area's marine heritage for years to come. The centre is calling for donations to its Lighthouse Rescue Fund—either by giving time, expertise or materials to affect the necessary repairs and maintenance.
As a result of DFO's disposal of its lighthouses, local groups and communities are under pressure to assume the financial responsibility for maintenance and protection of almost all of Canada's iconic lighthouses. There is currently no federal funding set aside to assist communities with the stewardship of these structures.