Main Street®

"Main Street is the glory of Canada. If a community has no heart, it has no soul; and its heart should beat faster at the core. For here is the glory of the past, the symbol of stability, the structures that our fathers and their fathers erected, the visual reminder of another time that gives every small town a sense of continuity." Pierre Berton, Reviving Main Street.
A downtown commercial district is the most visible indicator of a community's economic and social health. Its vitality and commercial success is an asset when recruiting new residents, enticing tourists, and stimulating new investment, businesses and industries.
Reversing the long term effects of depopulation and service decline experienced by many smaller communities is what Main Street® is all about. Our approach to downtown revitalization focuses on results: generating economic and cultural activity that justifies renewed interest and investment. It is about people working together to revitalize the economic health of their communities, while preserving the character of their downtowns.
The National Trust Partnership Approach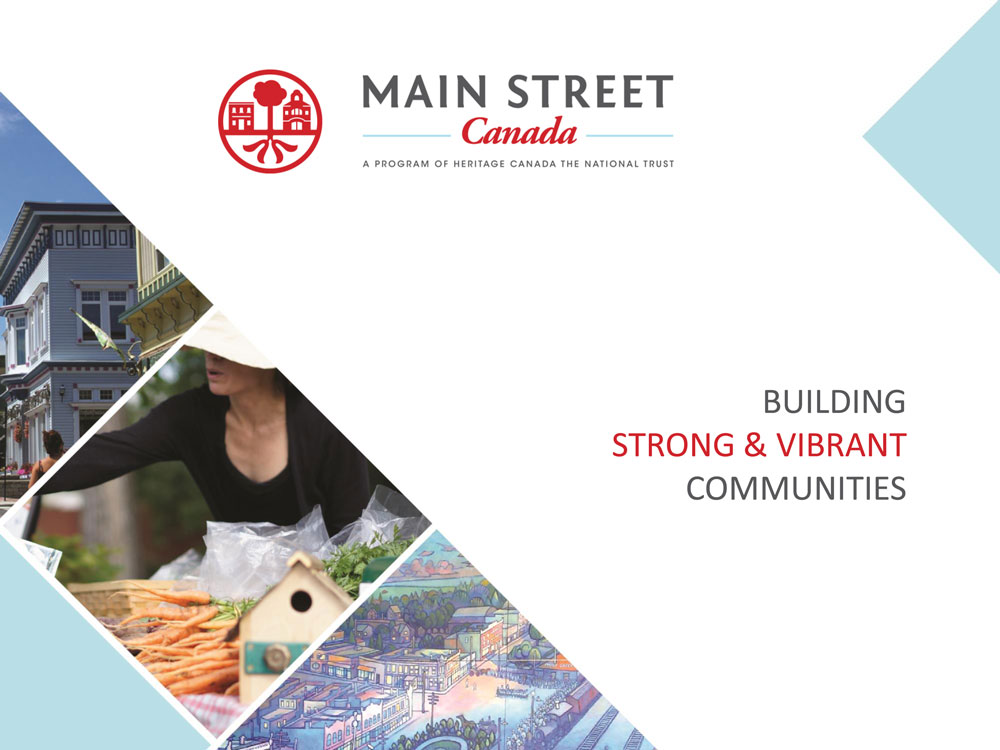 We can work in partnership with provinces, regions, municipalities, or rural regions delivering expertise in implementing the comprehensive Main Street Regeneration Approach through:
Opportunity Assessment
Project Planning and Organization
Training, mentoring and coaching in Organization, Design, Economic Restructuring, Cultural Mapping and Planning, Marketing, Cultural Tourism, and Heritage Conservation
Fundraising support for communities to develop and operate a Main Street Regeneration initiative
Resource Teams -- Visioning and Action Planning
We provide support services and training on a fee-for-service basis throughout the development and implementation of a Main Street project. We call on a national stable of experts who have years of experience to draw on and share with Canadian communities.
Launched in 1980, the program has benefited hundreds of Canadian communities, and spawned longstanding active programs in Alberta and Quebec. Since 2009, we have been working with the province of Saskatchewan piloting a renewed revitalization strategy in four Saskatchewan communities.
Main Street® is a registered trademark of the National Trust for Canada.
For more information contact Jim Mountain, Director of Regeneration Projects, at jmountain@nationaltrustcanada.ca or 613-237-1066 ext. 226.