You are here
Hot Off the Press! A New Issue of Hēritage Magazine
Our Latest Issue of Hēritage Magazine is Now Available!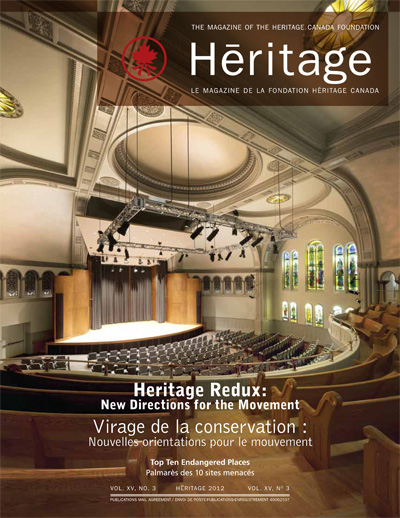 Our most recent issue has been released and you don't want to miss it. Here are some highlights:
Heritage Redux: New Directions for the Movement asks if heritage conservationists need to broaden their scope to encompass wider ecological, economic and social issues. The article looks at how preservation has worked hand-in-hand with three Quebec-based ecological and social initiatives.
The Old with the Now! Montreal Museum of Fine Arts converts heritage church takes readers through the remarkable transformation of the former Erskine and American Church into a new concert hall along with the addition of the pavilion for Quebec and Canadian art.
Canada's Top Ten Endangered Places – Find out why and how a total of 15 architectural and heritage sites ended up on the Top Ten and Worst Losses lists.
And don't miss our regular articles appearing under Faces & Places,Heritage Canada Works, and more!
SUBSCRIBE! To obtain a copy of this issue of Canada's only national magazine dedicated to the conservation of heritage buildings and historic places, or to give a gift subscription, visit www.heritagecanada.org or email Kevin Parker at kparker@heritagecanada.org or call toll free 1-866-964-1066 ext. 240.
Hēritage Magazine is a bilingual quarterly published by the Heritage Canada Foundation. Its readers include heritage property owners, conservation specialists, advocates, elected officials and others who are committed to keeping historic places alive.
For further information contact:
Carolyn Quinn
Director, Communications and Editor, Hēritage Magazine
613-237-1066 ext. 229; cell 613-797-7206.