You are here
2016 Award Recipients
Prince of Wales Prize for Municipal Heritage Leadership
Gabrielle Léger Medal for Lifetime Achievement
Lieutenant Governor's Award for Heritage Conservation
Ecclesiastical Insurance Cornerstone Awards for Building Heritage
---
Prince of Wales Prize for Municipal Heritage Leadership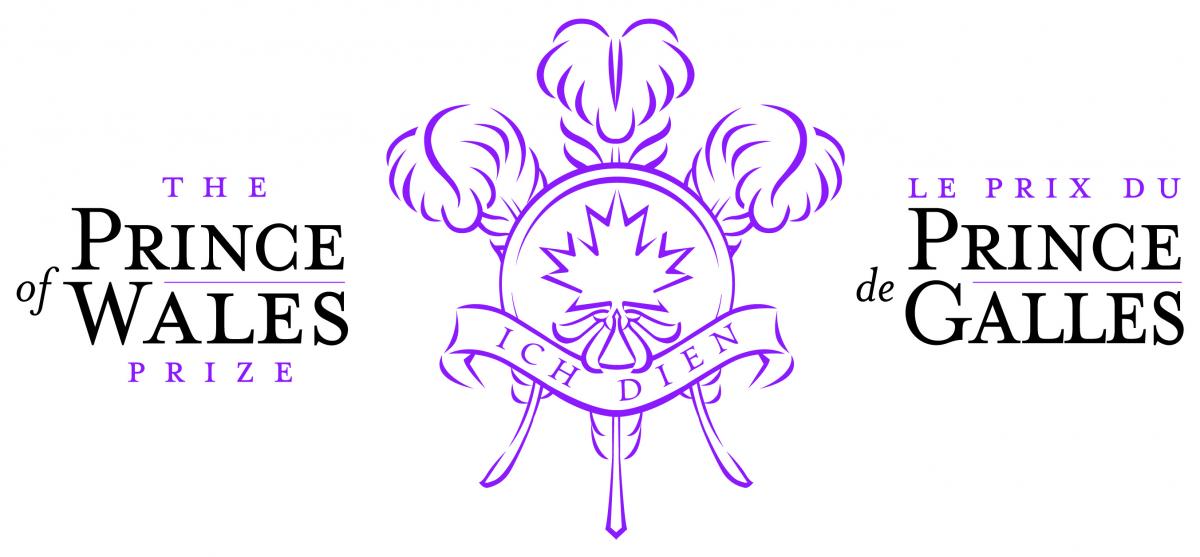 City of Richmond, Bristish Columbia

Richmond's richness of place and its long history of celebrating and protecting its heritage assets positively reflect this municipality's sustained commitment to heritage conservation. The City of Richmond's approach to heritage conservation is described by the Prince of Wales Prize Jury as "holistic" and "forward-looking" in its principles, policies, and practices.
An island community at the mouth of the Fraser River, the City of Richmond is a place rich in cultural diversity and includes within its boundaries the Vancouver International Airport, the International Buddhist Temple and, in the village of Steveston, the historic Gulf of Georgia Cannery.
Steveston, incorporated as a village in 1889, peaked as a salmon canning centre prior to World War I and was central to the economy for many years. Built in 1894, the Gulf of Georgia Cannery was once the largest salmon cannery in British Columbia and is now a National Historic Site devoted to interpreting the salmon canning industry and embodying a legacy of economic and intangible benefits. Meanwhile the Britannia Shipyards, with its 19th century restored homes, bunkhouses and boatworks, features old fishing vessels and the lifestyles of Japanese, Chinese and European immigrants who co-existed along the scenic waterfront area.
Since the 1980s, the City has made a commitment to the documentation and conservation of cultural landscapes, archaeological sites, vegetation and heritage areas, and to accommodating these in development and in park and open space projects. Natural history values are protected in sites such as the Sturgeon Bank (a significant habitat for year-round, migrating and wintering waterfowl populations, and important fish habitat).
From the 1980's onward, the City of Richmond has made strong efforts in the conservation and interpretation of its rich maritime and agricultural history. In 1981, a study entitled Richmond's Heritage Resources was prepared, which reiterated that heritage was a fundamental part of the city's community and deserved more consideration in municipal policy and planning. This report served as a catalyst for the city's future heritage policy and programs. In 1986, Richmond embedded heritage conservation into its first official community plan, serving as a commitment to conservation of cultural landscapes, archaeological sites and vegetation and heritage areas.
Richmond has had considerable success in the integration of heritage conservation and interpretation into park planning and design projects. These include the Terra Nova Rural Park and the Railway Avenue Corridor along the historic BC Electric Railway route and the Garden City Lands, an open space with a unique history and considerable ecological value. Traces of the past are brought to life through landscape design in places such as Minoru Park, Terra Nova and River Green Village. The city advocates funding solutions, innovative partnerships, creative interpretation of policy with astute negotiation, and a general willingness among all partners and stakeholders to achieve consensus and work collaboratively.
The City of Richmond was nominated by Jane Fernyhough, Director of Arts, Culture and Heritage Services.
Gabrielle Léger Medal for Lifetime Achievement
Professor Thomas H.B. Symons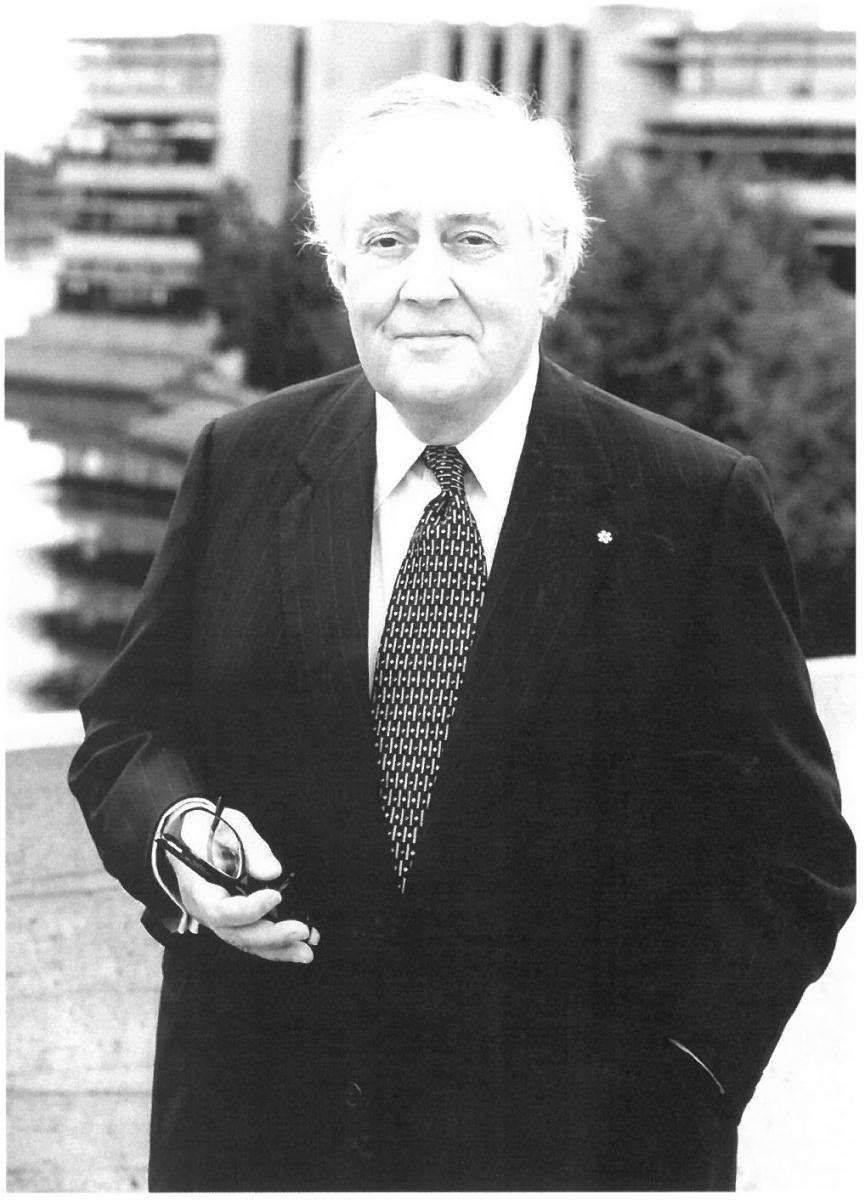 For more than six decades, Thomas H.B. Symons has contributed to heritage conservation and public policy across Canada. He is awarded the Gabrielle Léger Medal for individual outstanding service to the country advancing the cause of heritage conservation.
Thomas Symons's extraordinary contributions to Canada involve a lifetime of work. His achievements in education, human rights, social justice, language rights, heritage, culture, and international affairs have been widely recognized through honours from Governors General, Lieutenant Governors, the Vatican, universities and colleges, and innumerable organizations. Within a body of work and thought characterized by breadth of vision and deep conviction, Thomas Symons has also made a profound and substantial contribution to heritage conservation in Canada. He has a strong sense not just of history and culture, but also of place.
A key element was the decade he served as chair of the Historic Sites and Monuments Board of Canada (1986-1996). Under his leadership, the HSMBC was dramatically transformed in both its relevance and orientation/philosophy. Symons held the view that heritage was the business of everyone, and by extension it had to be relevant. The board began to deal with less iconic, more representative often vernacular sites. At a 1994 symposium, he bluntly told a mainly expert audience that heritage should not be allowed to become "a sort of middle-class conspiracy that promotes a cozy cream tea culture" and that it needed to be pried loose "from the sometimes dead hand of antiquarians and professional historians" who had tended to monopolize the field, however good their intentions. Indigenous heritage, cultural landscapes, historic districts and sites associated with women and Canada's cultural communities became an important part of the Board's focus under his leadership.
In addition to his heritage conservation activities, Professor Symons established and led a number of institutions that are central to our understanding of Canadian identity and Canadian values. He was a founding member of the Editorial Board of the Journal of Canadian Studies from 1965-1991 and a member of the Board of Trustees of the Canadian Studies Foundation from 1979 – 1985. As the founding President of Trent University, he fostered the Canadian Studies program in the early '70s and in 1969 the first Indigenous Studies program in Canada. His research and writing in the field of Canadian Studies has added immensely to our understanding of Canada as a nation and of its peoples. He has taught and mentored three generations of historians with encouragement and respect for new ideas and approaches.
He led the National Statistics Council from 1986 – 2005, the Canadian Polar Research Commission Study in 1988 and served on the Prime Minister's Advisory Committee on Confederation (1965-72) and the Applebaum-Hébert Commission on culture and heritage (1983). He served as a member of the Panel on the Future of the Trent-Severn Waterway.
He currently serves on the Advisory Board of Canada's History Society, the Board of the Frost Centre for Canadian Studies and Native Studies at Trent University and the Historica Foundation of Canada. After serving on the Board of Directors of the Ontario Heritage Trust since 2007, he assumed the chair in 2010, setting direction and providing his wisdom and expertise. He is a director of the Carnegie Institution in Canada, a founding director of the Bata Shoe Museum, a Governor of the Fathers of Confederation Buildings Trust, and a member of the Council of Advisors of the National Trust for Canada.
With this stellar record of service to Canada, Thomas Symons is indeed a most worthy recipient of the Gabrielle Léger Medal for Lifetime Achievement in Conservation in Canada.
Thomas Symons was nominated by Beth Hanna, Chief Executive Officer, Ontario Heritage Trust.
---
Lieutenant Governor's Award for Heritage Conservation
Harry Barrett, Oakville, Ontario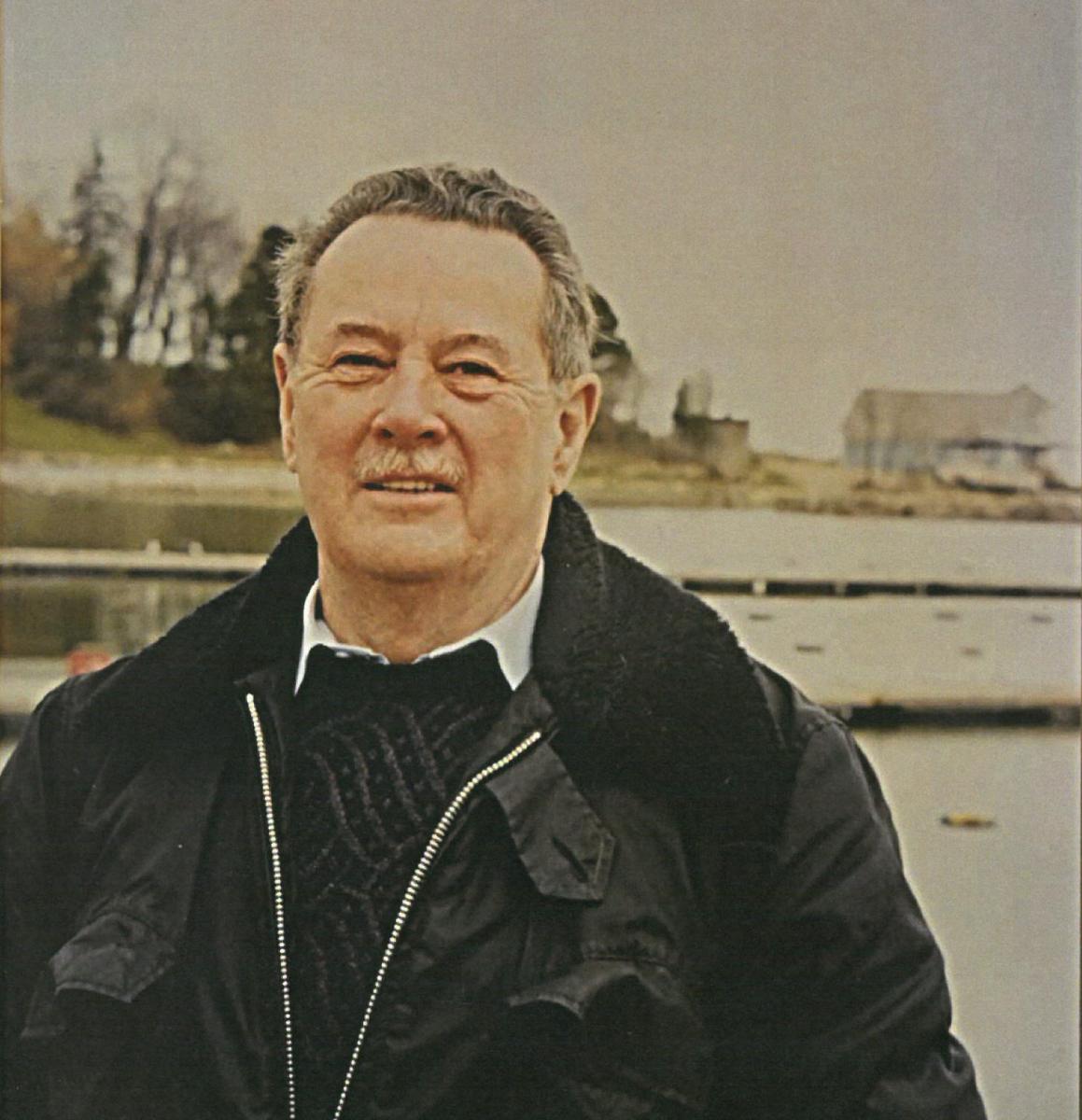 Harry Barrett is the recipient of the 2016 Lieutenant Governor's Award, recognizing his individual outstanding achievement in heritage conservation in Ontario, for his work in the preservation of Oakville's cultural, natural and built heritage over the past sixty years.
Born in Oakville, Ontario in 1925, Harry Barrett spent his early years in an 1830's Ontario Gothic Revival residence at the edge of downtown Oakville. After serving in the Royal Canadian Artillery in Europe in 1943, Mr. Barrett returned home to Oakville and joined his father in the family plumbing and heating business, working on local homes, which proved invaluable during his later work with the local municipal heritage committee.
Mr. Barrett was largely responsible for the Town of Oakville by-law passed in 1961 that allows the town to take ownership of waterfront lands when those lands become available for sale and development. The waterfront trail system links lands stretching along Lake Ontario from Brockville, through Toronto, to Niagara On The Lake, and have become a large part of Mr. Barrett's legacy to the town.
During Mr. Barrett's time as mayor, from 1973 to 1985, he supported a number of heritage preservation initiatives. From saving historic buildings through renovations, to assisting with the renovations of other historical properties, he has been at the forefront of the preservation and enhancement of his community. Well past his retirement, and even past his 90th birthday, Mr. Barrett continues to serve as a volunteer and advocate in his lifelong commitment to the Town of Oakville, and is an inspiration to all of its residents.
Harry Barrett was nominated by Susan Schappert, Heritage Planner, Planning Services, Town of Oakville, Ontario.
---
Ecclesiastical Insurance Cornerstone Awards for Building Heritage

Category: Adaptive Reuse/Rehabilitation
McInnes Cooper Building, formerly the Dawson Hardware Building, Charlottetown, Prince Edward Island
La gare historique de la MRC d'Argenteuil, Lachute, Québec
La Maison de la littérature, Québec City, Québec
Marilyn I. Walker School of Fine and Performing Arts Building Renewal, St. Catharines, Ontario
The Post Office Rehabilitation, Thorold, Ontario
McInnes Cooper Building, formerly the Dawson Hardware Building, Charlottetown, Prince Edward Island
141 Kent Street, Charlottetown, Prince Edward Island
Owner: TweelCo Commercial
Architects: Christopher Tweel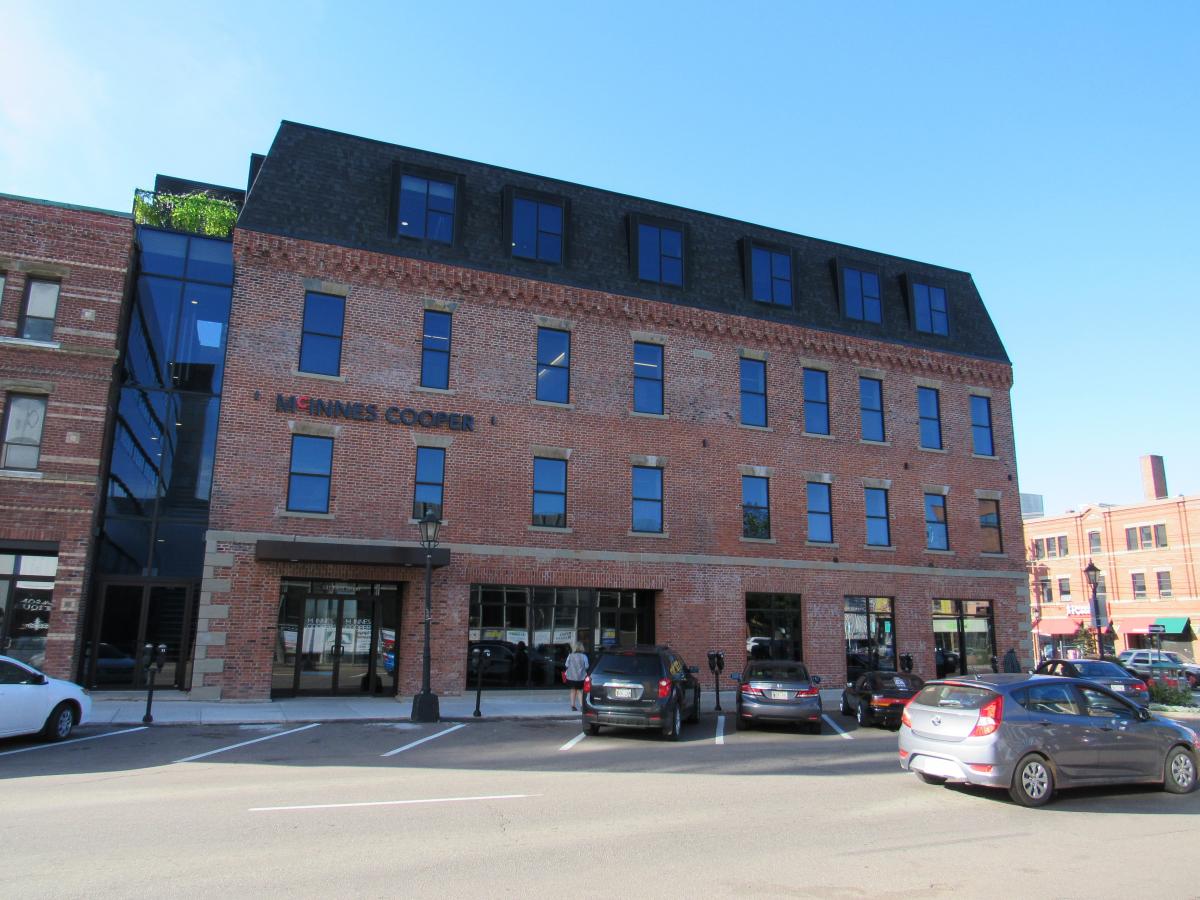 This remarkable transformation has had an immediate positive impact on the character of the street, and is already enhancing and sustaining the social and economic vitality of the downtown core. The strong architectural character of the area has been revived with a series of conservation projects in recent years, and was significantly bolstered by this dramatic project.
In 1881, the Dawson Hardware building was built on the corner of University and Kent streets for W.E. Dawson, merchant and former Mayor of Charlottetown. Originally serving as a hardware store and warehouse, the building has since been home to a number of prominent businesses and has been a landmark on this important commercial intersection.
In 1975 the historic building underwent controversial modernization, which resulted in stucco and steel elements covering up the landmark Victorian commercial building. It wasn't until 2014, however, when the modernized siding was pulled off to reveal the original brickwork.
In 2014, developer and architect Chris Tweel led the project to remove the earlier concealments and took painstaking care to restore building elements to their former glory. He used bricks from England to match the originals in order to rebuild the cornice, and new Wallace sandstone was quarried to repair and replace decorative details.
The Dawson Hardware Building project was nominated by Christopher Tweel.
La Gare historique de la MRC d'Argenteuil, Lachute, Québec
430 rue Grace, Lachute, Quebec
Owner: MRC d'Argenteuil
Architects: Jean-Marc Coursol et Pascal Létourneau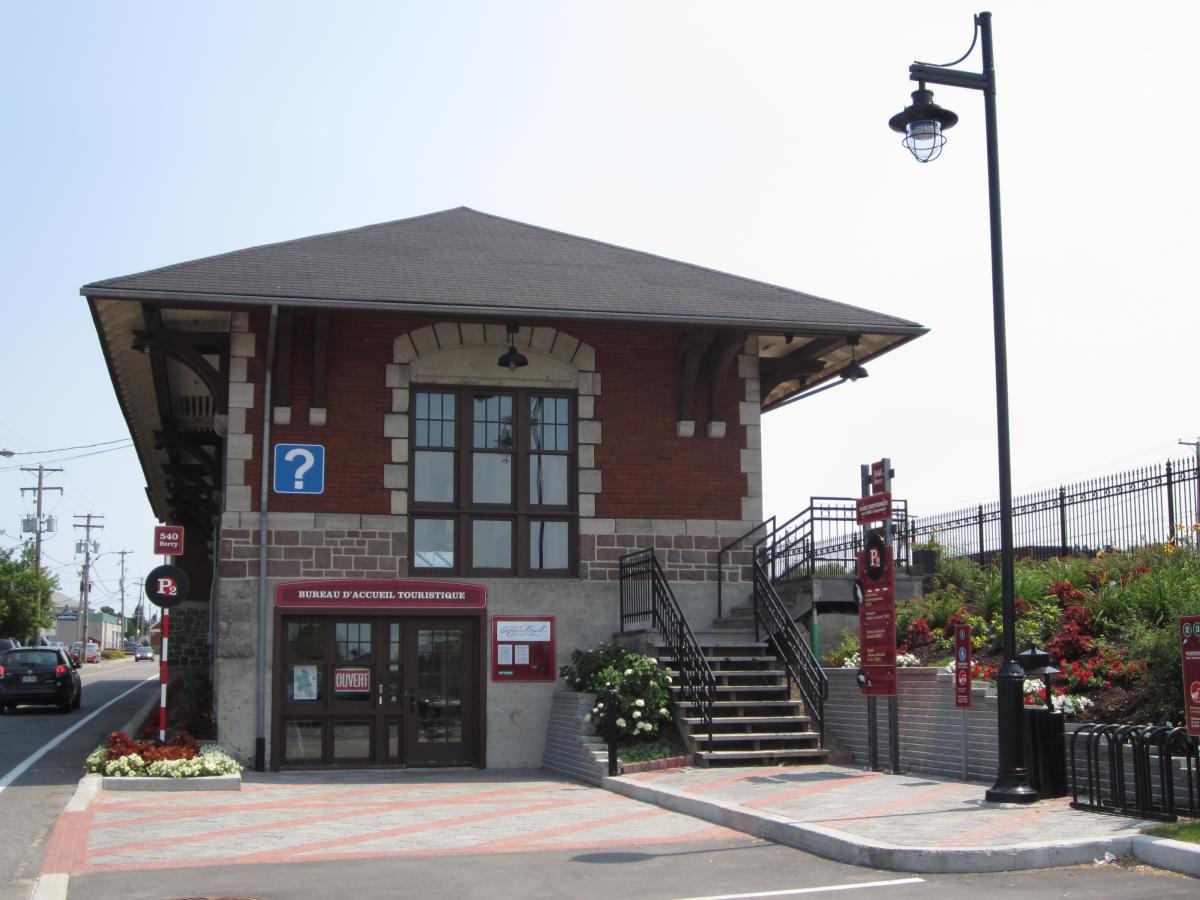 The project has successfully created a community-centered hub, where municipal and community services are offered, and where events and exhibitions can take place. By housing these activities in the historic train station, the municipal government has demonstrated great vision and determination to create this dynamic future-looking centre in their historic train station.
Built in 1929 to replace an earlier station, this larger, more prestigious station reflects the status as an important railway hub that the Town of Lachute had held for over fifty years. Its generous proportions are matched by the high level of craftsmanship demonstrated in its brick and stone detailing.
Closed in 1981, the building was abandoned for nearly thirty years – but it was not forgotten. In 1991, the citizens of Lachute formed a preservation committee, and a year later the building was designated under the Federal Heritage Railway Stations Protection Act. In 2007, it was recognized as an historic monument by the city of Lachute.
That same year, the MRC d'Argenteuil acquired Lachute Station and began planning the phased conservation of the building over the next several years. The project team took great care to preserve the important historic elements of the building, and restored interior spaces to their former glory, while accommodating entirely new functions.
The Lachute Station project was executed by Jean-Marc Coursol et Pascal Létourneau and was nominated by M. Carrière, MRC d'Argenteuil.
La Maison de la littérature, Québec City, Québec
40 Rue Saint-Stanislas, Ville de Québec
Owner: Ville de Québec
Project Team: Chevalier Morales Architectes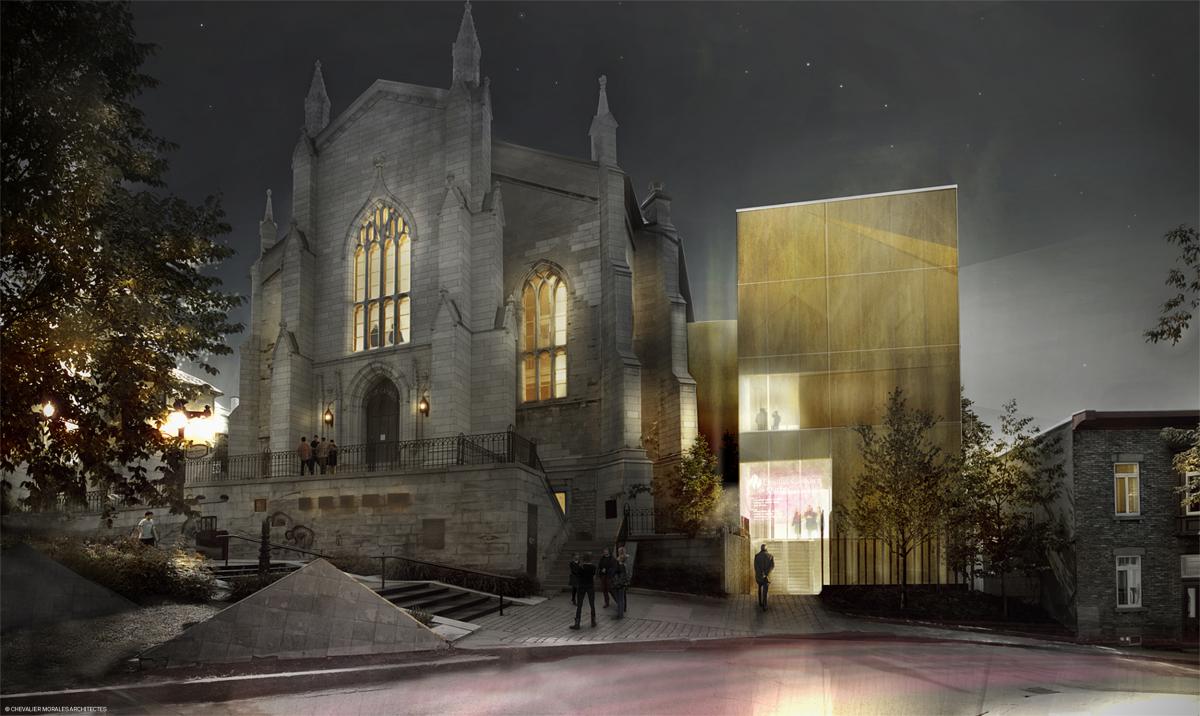 The project to create la Maison de la littérature successfully builds on the rich history of a former place of faith, continuing its cultural role with a new mission to advance the literary arts in a boldly rehabilitated facility. The public use of the building has been maintained – not only as a library but also as a meeting space and café. The treatment of the historic interior with all-white finishes and a very modern aesthetic creates a contemplative atmosphere appropriate for a library while also subtly acknowledging the original religious function of the building.
Built in 1948 as the Wesleyan Methodist Temple to the designs of Edward Stanley, the building is celebrated for its rich architectural and social history. It was the first church in Quebec in the neo-gothic style of architecture, and since the 1940s, it has been a prominent cultural center serving as meeting space, café and library. The building is a landmark in the Old Town of Quebec, a UNESCO designated World Heritage Site.
This major rehabilitation project carefully conserved the exterior masonry and windows that define the historic church's architectural character. The scope also included a new entrance addition that consolidated the modern functions away from the historic building. The careful placement of the site and bold contemporary design of the new addition are highly accomplished, while respecting the original building.
La Maison de la Littérature project was executed by the Chevalier Morales Architectes and was nominated by Denis Jean, Ville de Québec.
Marilyn I. Walker School of Fine and Performing Arts Building Renewal, St. Catharines, Ontario
5 Artists' Common, St. Catharines
Owner: Brock University
Architects: Diamond Schmitt Architects
Project Team: Read Jones Christoffersen Consulting Engineers Ltd., GOAL Engineering Ltd., Thurber Engineering Ltd., Knappett Projects Inc., and Vintage Woodworks Inc.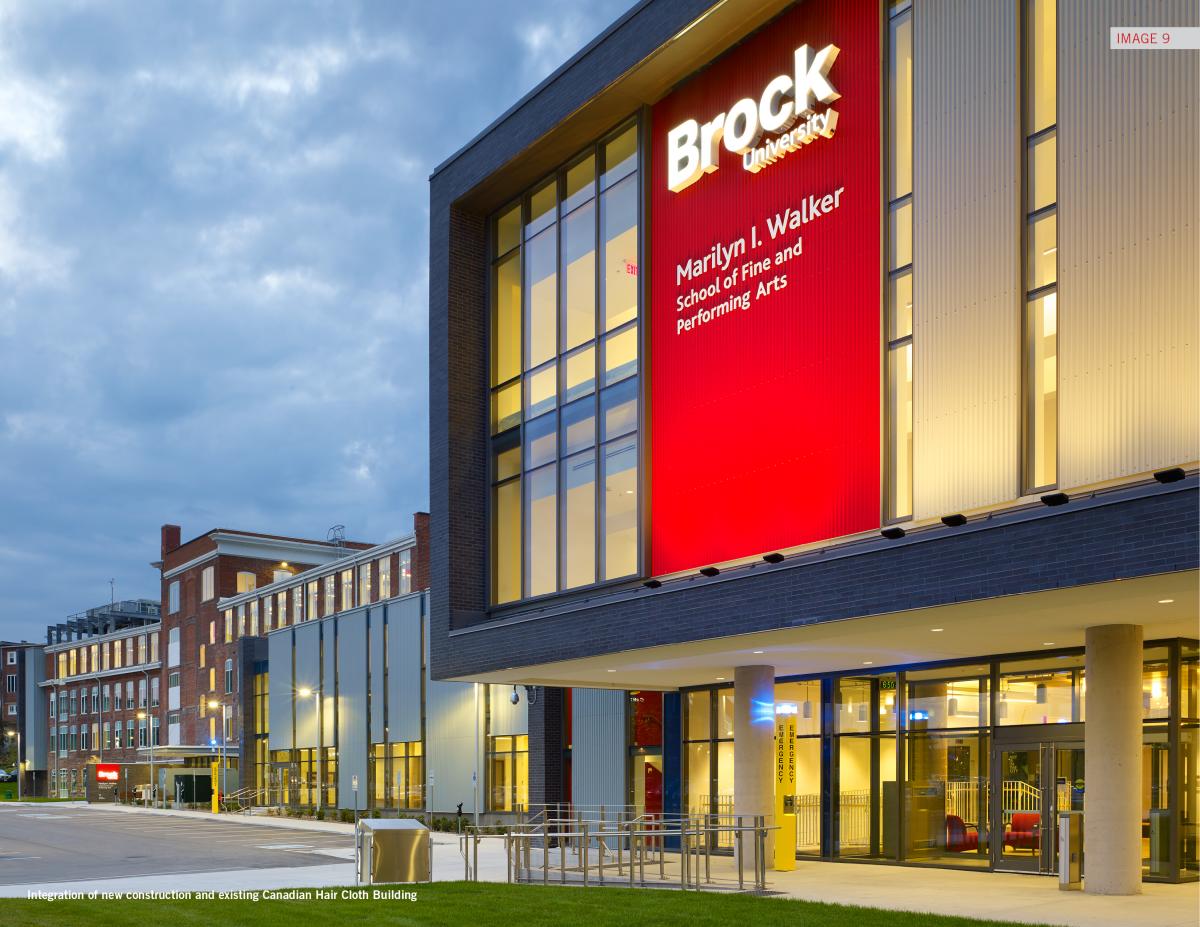 As a key element of a broader downtown revitalization plan, the Marilyn I. Walker School of Fine and Performing Arts Building project was a close collaboration between Brock University and the City of St. Catharines. As the first satellite campus in St. Catharines for Brock University, the cultural mandate of the building will make a positive contribution to the character and vitality of the downtown area.
By consolidating the University's arts program off-campus in the downtown core, the project was able to successfully combine academic, community and professional arts facilities into a very dynamic centre. The project not only rehabilitated the 70,000 square foot original building, it also included a dramatic new 25,000 square foot addition for a theater and gallery. This new building clearly affirms its own identity while achieving a respectful balance between old and new.
Built in 1888 as the Canadian Hair Cloth Factory, this building near the Welland Canal served as a textile factory for over one-hundred and twenty five years. Within its handsome five-story timber frame structure, successive companies manufactured fabrics for coat liners, parachute silks, and suits.
It is very fitting that the building is now named after Marilyn Isabelle Walker, a prominent Canadian fibre artist, author, teacher and philanthropist. She contributed significantly to the arts and fine arts in Canada, having dedicated significant time and resources to the revitalization of the arts in the Niagara area. In 2009, she donated fifteen million dollars to Brock University for the development of a fine and performing arts building.
The project's ambitious scope required many creative solutions to accommodate arts education functions such as classrooms and rehearsal spaces. Many elements of the historic building's interior were retained, such as the wooden floor beams, metal columns and stone and masonry walls.
The Marilyn I. Walker School of Fine and Performing Arts project was executed by Diamond Schmitt Architects and nominated by Elizabeth Gyde, Diamond Schmitt Architects.
The Post Office Rehabilitation, Thorold, Ontario
18 Front St N, Thorold
Owner: Shannon Passero
Architects:Shannon Passero and her husband's company Silvergate Homes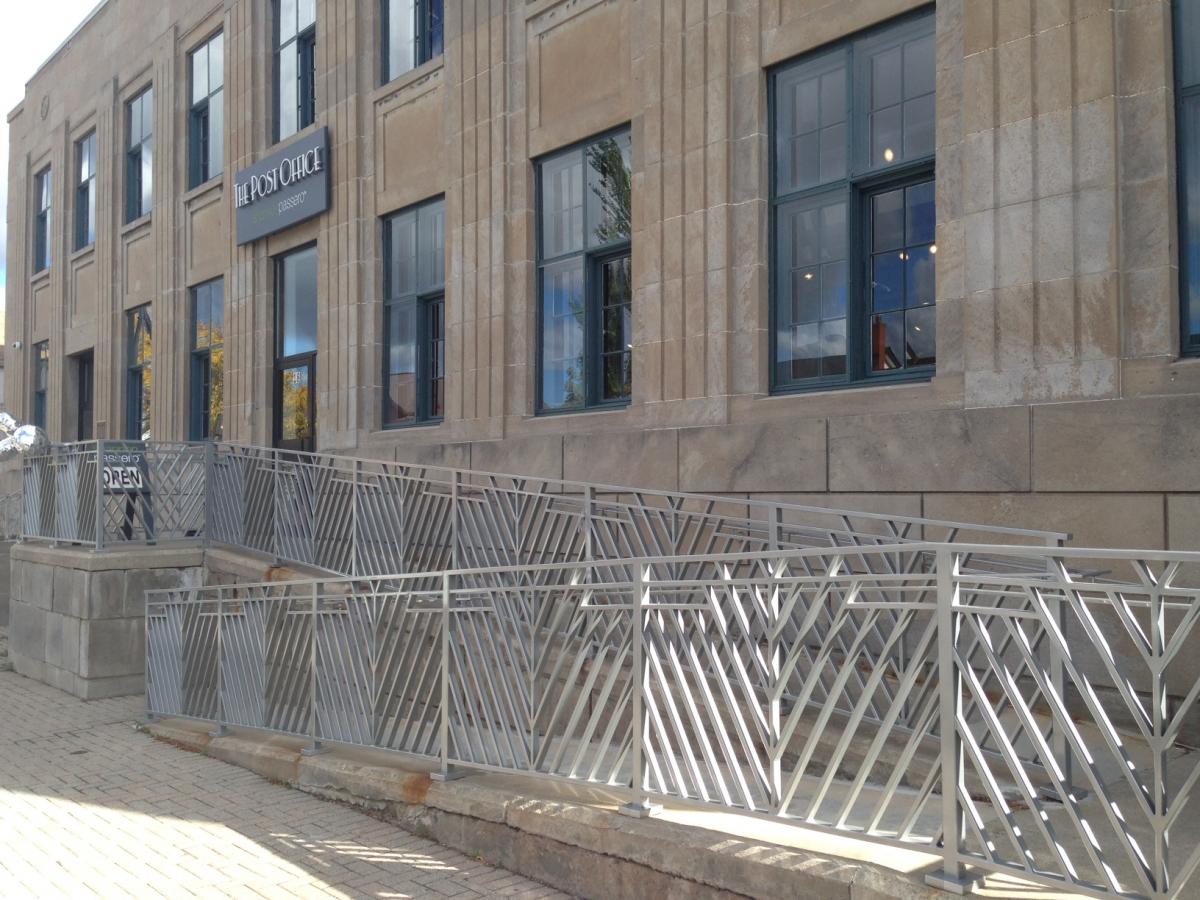 This project reflects a successful integration of many goals, including heritage conservation, smart growth and energy efficiency, and a desire on the part of the owner to contribute to the ongoing vitality of the Thorold's main street. The owner made a conscious decision to reuse an existing historic building instead of other options, and demonstrated that successful conservation projects can be carried out with modest budgets.
Officially opened in May 1936, the Post Office remains an impressive landmark on Thorold's Front Street. Originally housing several federal services, including the customs and post offices, it served as a focal point and meeting place for residents of the community. The building was designated in 2003 under the Ontario Heritage Act.
The historic building was empty for nearly a decade when Shannon Passero saw its potential, purchased the building and initiated the rehabilitation project in 2014. Working closely with the Heritage Thorold Local Architectural Conservation Advisory Committee, Passero approached the conservation of the original features with care and sensitivity. The project re-used the original pane windows and restored and refinished the terrazzo flooring in the bathrooms. New interior and exterior lighting elements were duplicated to reflect the period of the building and a new art deco inspired drop ceiling was included to maintain the design features consistent with the 1930s.
The Post Office project was executed by Shannon Passero and her husband's company Silvergate Homes and nominated by Lola Emberson, City of Thorold.