You are here
Prix du XXe siècle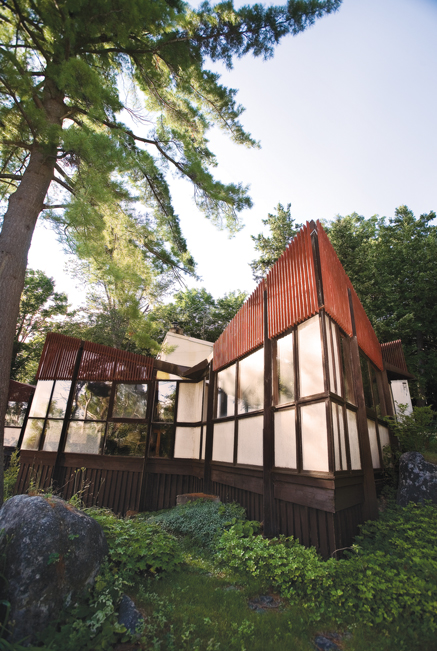 Courvette/Ottawa
Strutt House, Aylmer, PQ – 1955-1956
Architect: James W. Strutt
Canadian architect James W. Strutt, is one of many architects who consider his own house to be a "signature piece" of his long and distinguished career.
Located in Aylmer, Quebec, the building is a deceptively simple integration of structure, building science and planning. The house is one of the first in Canada to utilize a "curtain wall" as the building envelope. The wooden hyperbolic paraboloid roof was not only the first in the country, but of its particular construction anywhere.
Strutt knew Frank Lloyd Wright, and the latter's influence on his education is evident in the detailing of the building construction. The siting below the crest of the most southerly slope of the Gatineau Hills, the integration of the house with its site, the use of natural materials and the core as hearth surrounded by service and served areas, all reflect aspects of a "Wrightian" influence.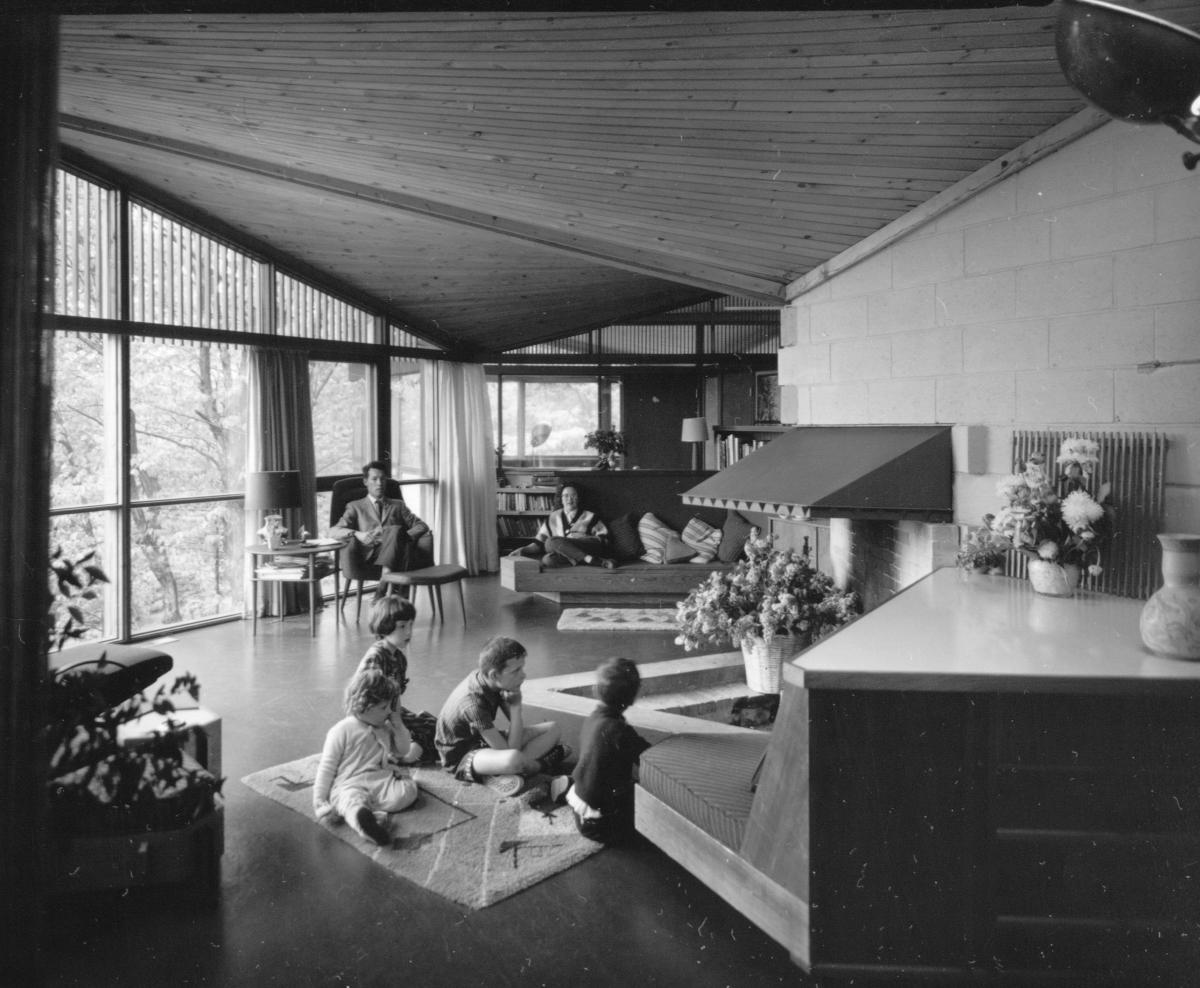 James W. Strutt Estate Collection
However, Strutt's friend Buckminster Fuller had a far greater impact on the building design and structure. The overall shape of the house results from the intersection of eight rhombic volumes, each based on a grid generated from the same geometry.
This design, and the minimal use of structural material, reflects the growing interest Strutt had in Fuller's work in geometry and weight efficiencies.
The building was built by a carpenter and helper in about six weeks in 1955-1956. For the most part, it is not attached to its footings. It did not comply with applicable building codes when constructed, and does not do so today.
(Excerpt from a presentation by Titania Truesdale.)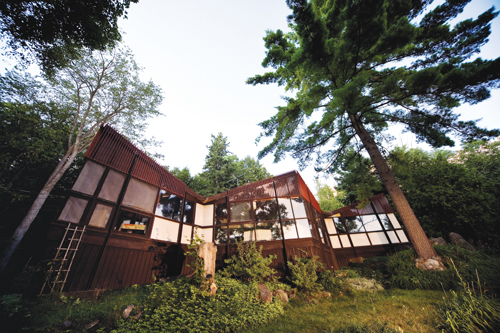 Courvette/Ottawa
Jury Comments
"A rare and extraordinary example of Canadian modern architecture which remains a defining work of a significant post war Architect. Jim Strutt designed his 1956 home, experimenting with the first wooden hyperbolic paraboloid roof in Canada, which enabled him to create large expanses of glass and undulating ceilings, simplified lines and a refined esthetic quality. At the same time it led the way in demonstrating how to build a low impact, low cost structure which could be sensitively and lightly integrated into the natural environment."
---
Toronto City Hall and Civic Square, Toronto, ON – 1965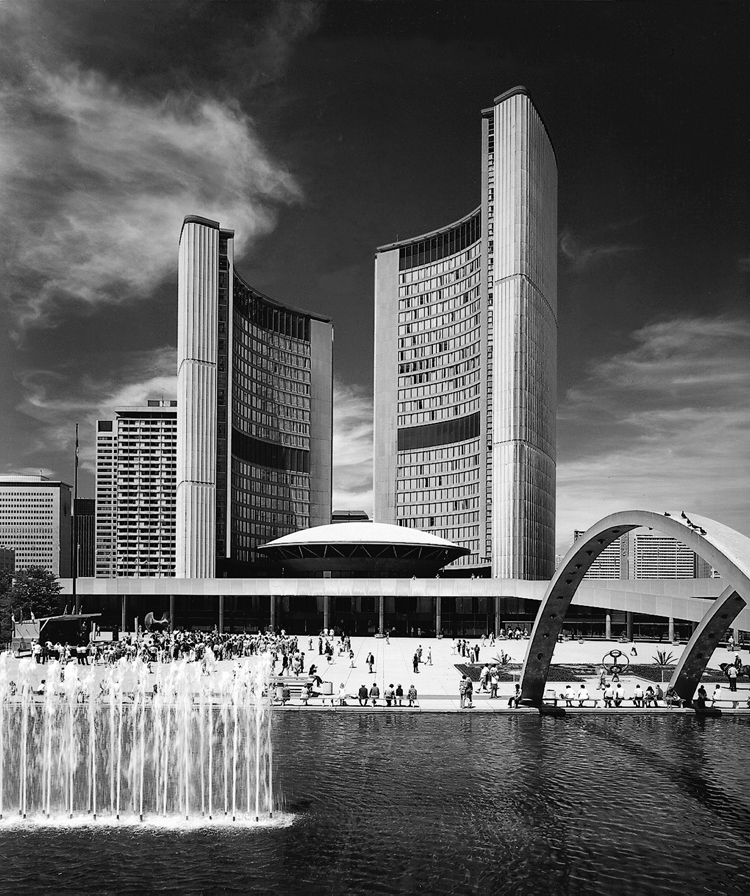 Photo credit: Applied Photography Ltd.
Architects: Viljo Revell and John B. Parkin Associates
In 1958, Toronto Mayor Nathan Phillips supported an international competition for a new city hall that put the city and Canada at the center of global architectural interest.
The competition attracted 520 entries from 44 countries and was won by a team led by the Finnish architect Viljo Revell. He affiliated with John B. Parkin Associates and the building was completed by 1965.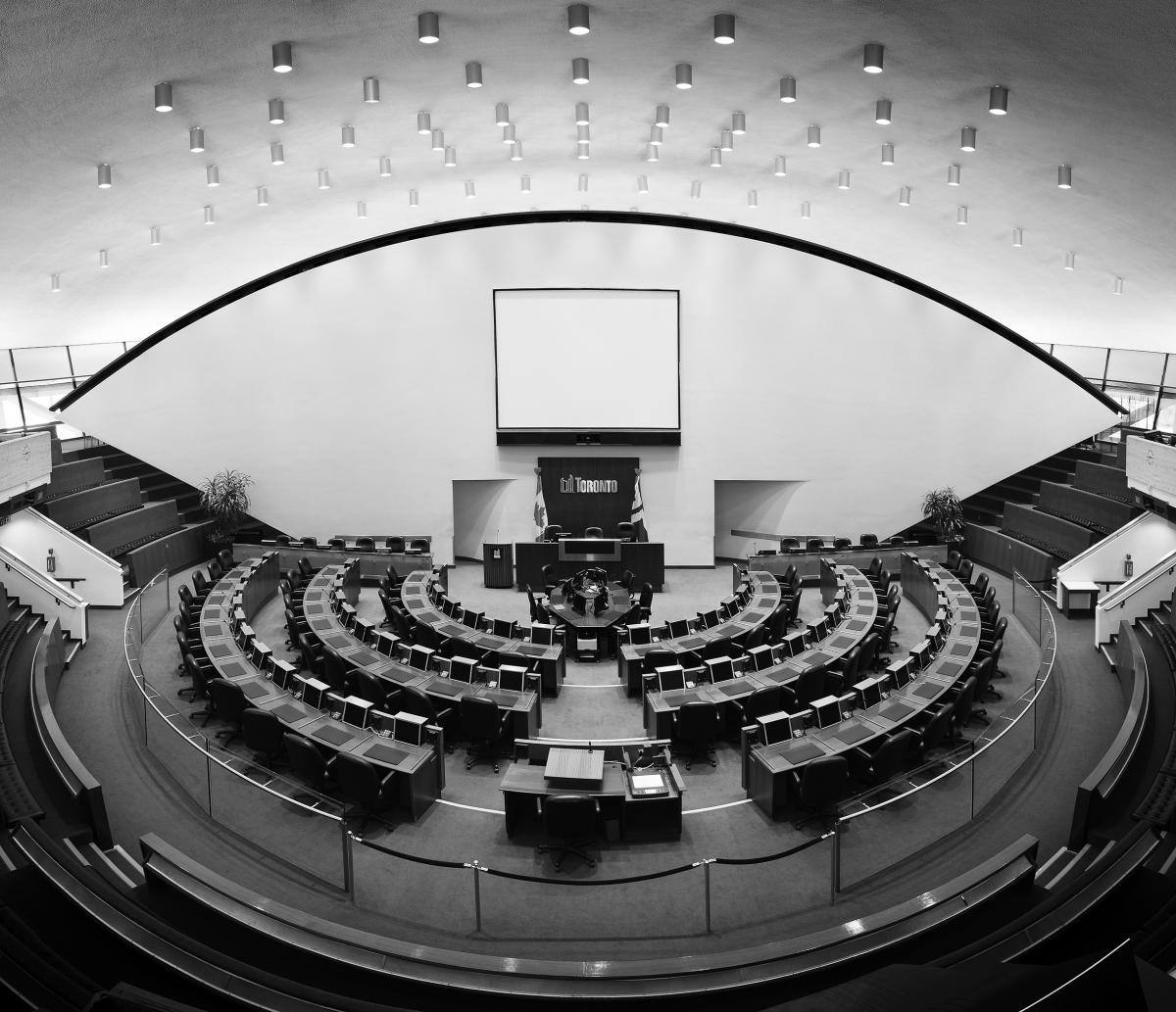 Photo Credit: Vahagn Stepanian NORR Ltd.
The modern sculptural design features two curving office administration towers of unequal height, which partially surround the central council chambers in the form of a domed saucer. These elements rise out of a 2-storey podium block facing onto a large civic square to the south. The square is an integral part of the design composition, a modern piazza defined by a surrounding raised walkway. The plaza contains a reflective pool/ ice rink spanned by three concrete arches; a sloping ramp that rises to the roof of the podium; as well as a large central hardscape plaza that provides a venue for major public events. It was a forward looking vision that spoke to the city that Toronto would become, and was a powerful symbol of democratic municipal governance.
As we approach the 50th anniversary of its opening, the City Hall remains a landmark and internationally recognized symbol of modern Toronto.
Jury Comments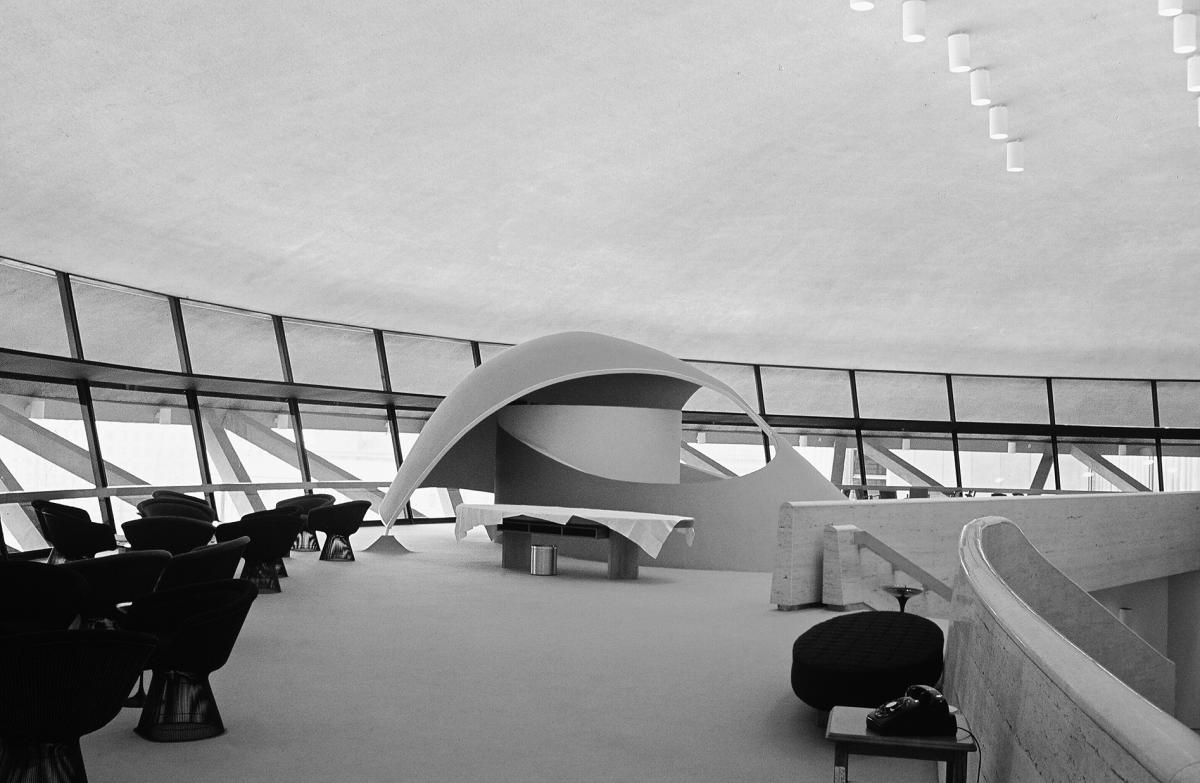 Photo credit: Toronto City Archives
"Toronto City Hall and its civic square are an iconic work of Canadian modern architecture. Together the highly symbolic yet functional building complex, and the eminently public space, provides an important centre to the downtown. The result of a critical international competition, which introduced the influence of the Finnish architect Revell to Canada at a key moment in the city's development, it is perhaps the most enduring Canadian example of the 20th century municipal public space and building. It has continued to serve its original purpose, and is well loved by the community it serves. Its generous public spaces, lyrical forms, dignified materials and refined details serve as a constant reminder to citizens of the value of greater civic vision. Recent rehabilitation work has generally embodied the spirit of stewardship required to maintain our significant public heritage."
---
Photo: ERA Architects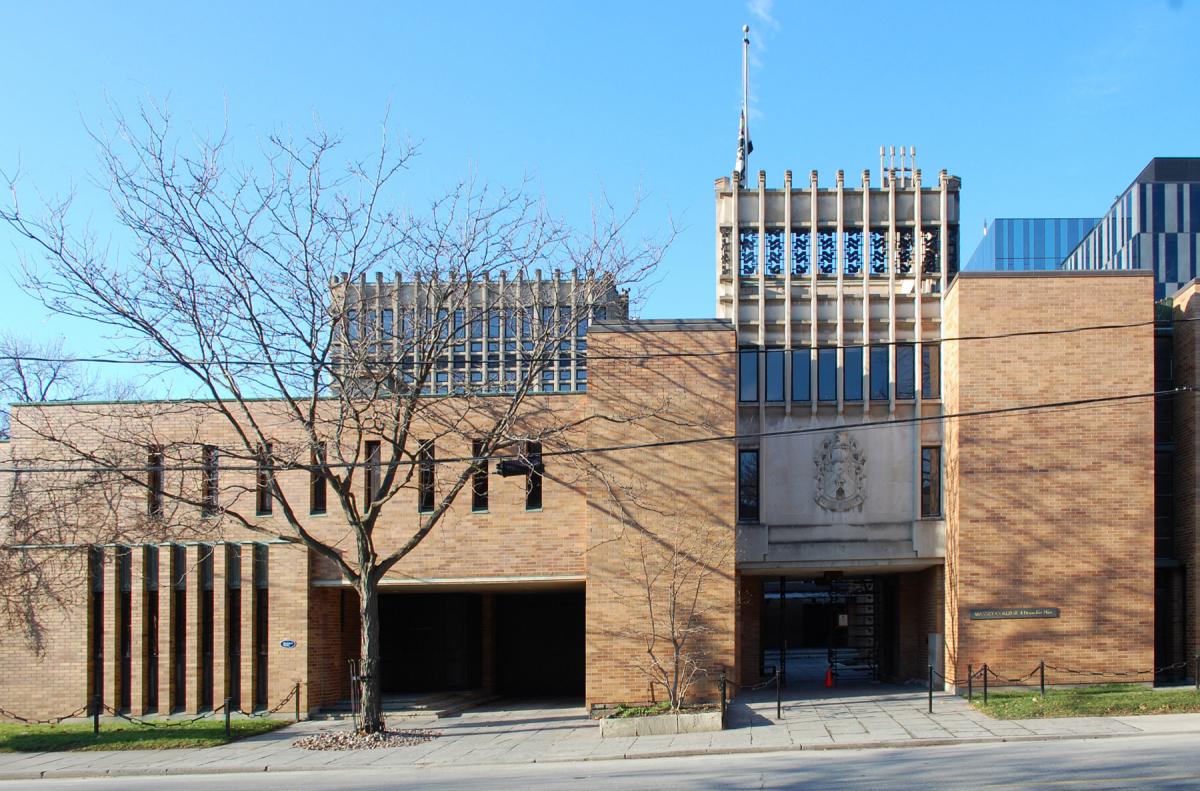 Massey College, Toronto, ON - 1962
Architect: Ron Thom (with Thompson, Berwick & Pratt)
Currently celebrating its 50th anniversary, University of Toronto's Massey College (1963) is one of the most admired buildings on a campus rich with admired buildings. Designed by renowned Canadian architect Ron Thom, the College successfully achieves its project requirements, responds thoughtfully to its architectural context, breaks with trends of the day by folding several historical forms into a single form, and creates a stunning precedent anticipating design trends in Canada and internationally.
To this day Massey College remains a resilient, much-loved building that has required few changes, even a half-decade after its construction.
Photo: ERA Architects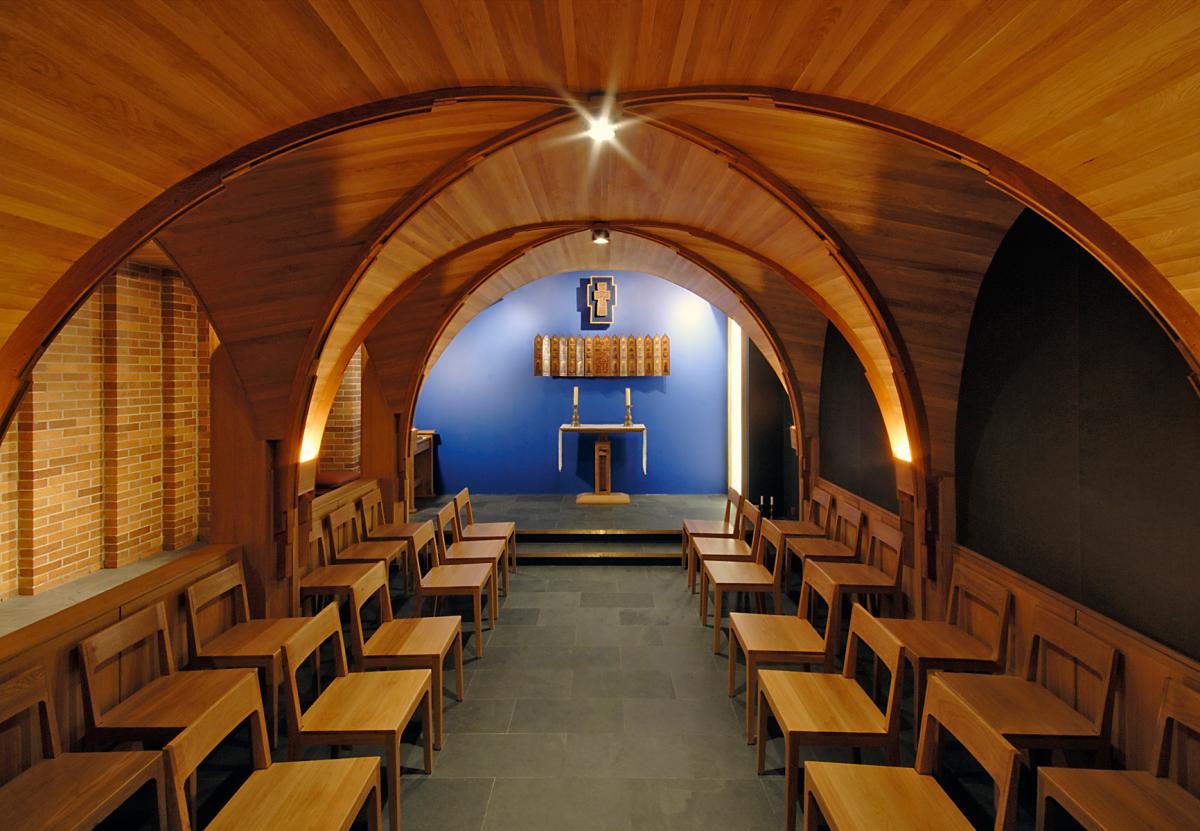 The College was a gift from the Massey Foundation intended to create a special place to nurture learning, the intellect, and the public good. Thom's design was chosen in a competition that did not specify style, but which called for an arrangement recalling the English colleges of Oxford and Cambridge.
In response to this call for academic dignity and intimacy, Thom created a cloistered, inward facing plan similar to the "Oxbridge" tradition. The plan is an open rectangular courtyard surrounded by three three-storey residential wings and one four-storey wing.
In 1989, in recognition of its architectural significance, Massey College was designated under Part IV of the Ontario Heritage Act.
Jury Comments
"Massey College is a skillful and humane interpretation of Arts and Crafts sensibilities in a modernist idiom. It is remarkable for its seamless integration of exterior and interior design, including the rich detailing of its custom furnishings and fittings. It has aged well, and is one of the University of Toronto's most treasured modern buildings."
---
Grande Prairie Regional College, Grande Prairie, AB - 1974
Architect: Douglas Cardinal, FRAIC
Photo: Rob Ganzeveld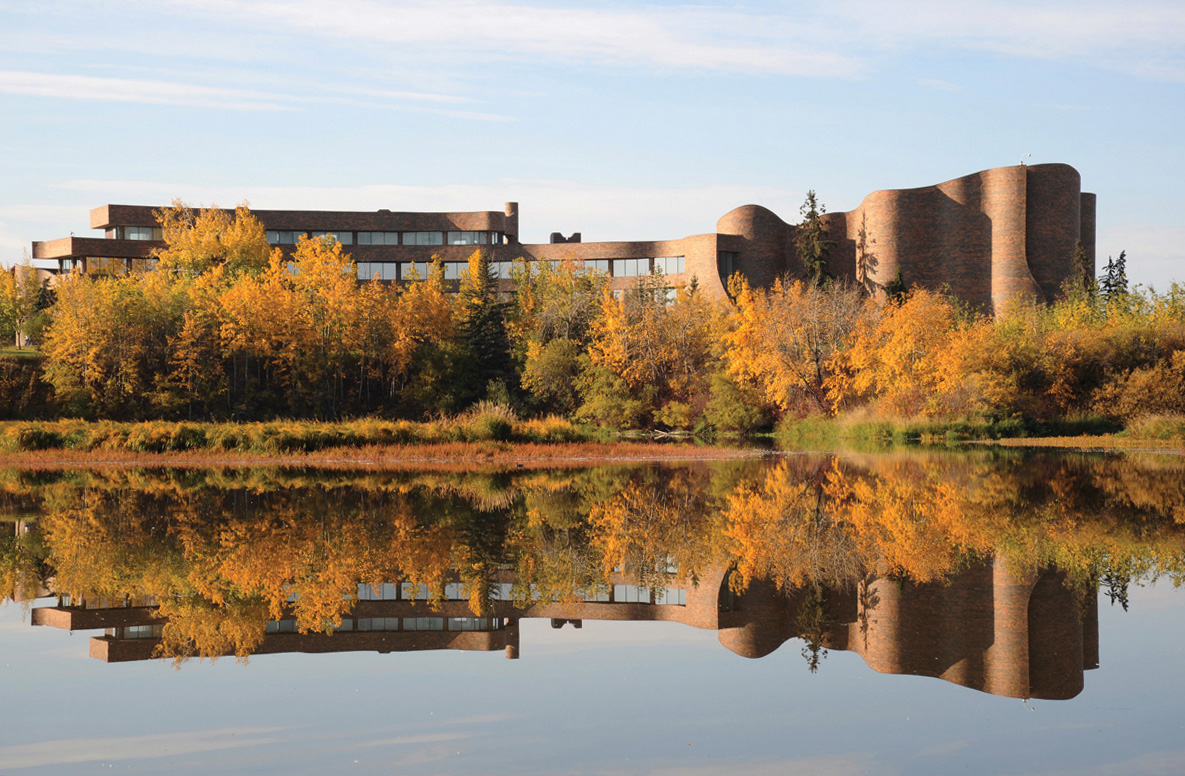 Grande Prairie Regional College is an early representative work of a prominent Canadian architect, an instantly recognizable structure which is a significant landmark in Northwestern Alberta, and a building which for more than three decades has helped build the sense of community in Grande Prairie.
When it opened its doors in 1974, it was one of only three Canadian post-secondary institutions located north of 55 degrees latitude. Since its completion, the Grande Prairie Regional College designed by then young, maverick architect, Douglas Cardinal, FRAIC, has become a landmark.
Cardinal blended his structure into the landscape to achieve a striking aesthetic, and the building is equally striking from within. The curved classroom walls and open spaces are special, particularly compared to the utilitarian style which dominates so many campuses. But its role goes beyond campus to community building. It was long the largest public space in the city and the amphitheater routinely hosts community and travelling theatre, public lectures, and a range of musicians and comedians.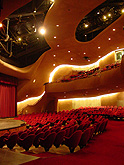 Photo: Rob Ganzeveld
On any given day, the campus reverberates with the sound of its classes, its students and also its community. This is a place where the people of this region come together to create, celebrate and share cultural moments.
Jury Comments
"This is a strong example of Cardinal's early work and his first institutional building. His highly individual approach has shaped a building that has become a regional landmark. It is valued highly by the College as a working environment and an embodiment of a distinctive understanding of place and people."
---
Hemingway Fitness and Leisure Centre, Edmonton, AB - 1970
Architect: Peter Hemingway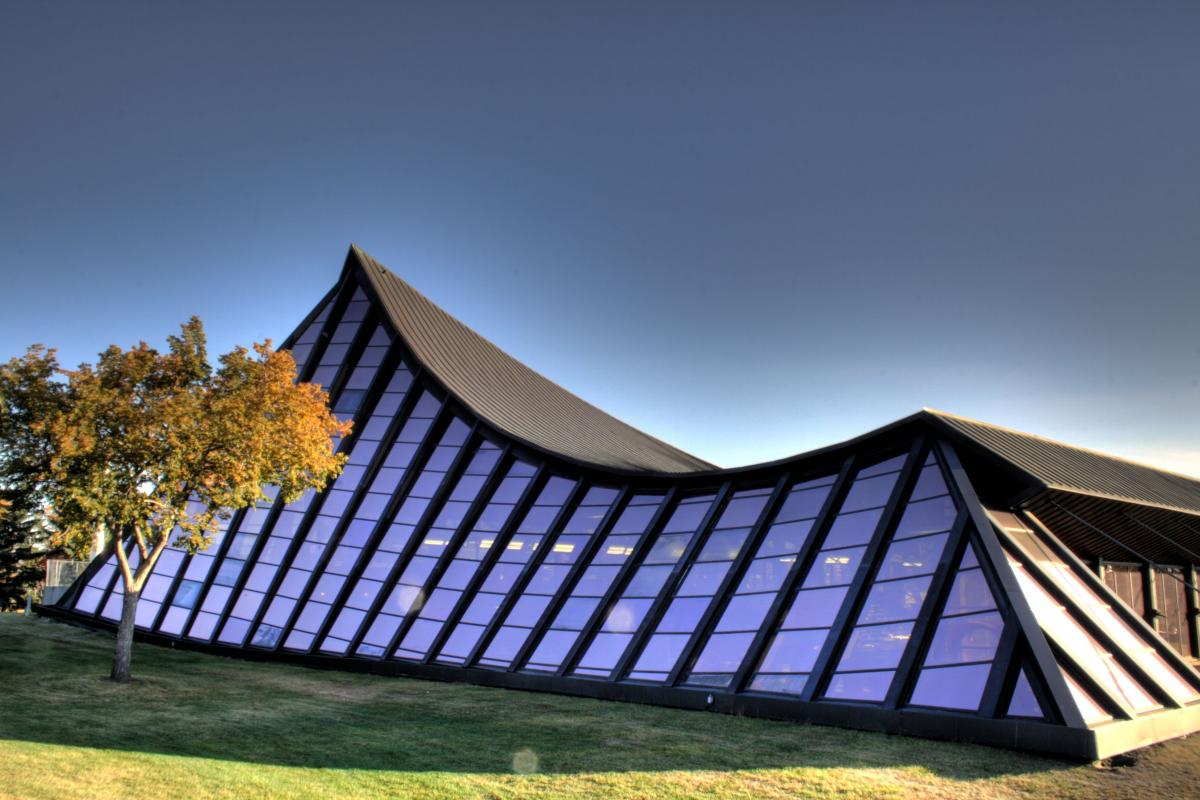 The Hemingway Fitness & Leisure Centre by Peter Hemingway was commissioned as a project to mark Canada's centennial for Edmonton. Originally named Coronation Pool this stunning facility displays a flowing-wave in its roof structure suspended with cables and bold outlines made with contrasting materials such as heavy timber, concrete, steel and glass. The facility, completed in 1970, reflects the modern architecture movement of the 1960s in Canada's prairie provinces.
The shape of the building steps away from the typical boxiness, found internationally at that decade, and references the Rocky Mountains, the foothills and the rolling flatlands of the prairies. Hemingway felt that the most powerful Canadian buildings from the post-war era were erected in the prairies "out of [a] harsh necessity for strong forms in a landscape wide as Heaven or Hell."
Peter Hemingway's unique structures beautify and enhance Edmonton's landscape, and continue to amaze and inspire architects, citizens and visitors alike.
Jury Comments
"It is a nationally-significant example of the architectural creativity and confidence engendered by Canada's centennial celebrations. Its design reflects a particular Modernist response to the Prairie landscape, the setting for some of the most powerful Canadian architecture of the post-war era. It expresses a delight in the potential of new technologies, with its inventive mix of glass, steel, heavy timber, and concrete. The flowing wave form, reflecting the pool within, gives it a certain uniqueness within the more prevalent rectilinear Modernism of the time.
Its significance has endured not only because of its iconic design, but also because of the high level of maintenance and care over the years. It continues to serve its original use. Both the building and its architect were warmly embraced by the community, and have served an important role in terms of local and regional pride and identity. "