You are here
Lieutenant Governor's Award
2014 | 2013 | 2012 | 2010 | 2009 | 2008 | 2007 | 2006 | 2005 | 2004 | 2002 | 2001 | Earlier
Dr. Edward MacDonald, Charlottetown, Prince Edward Island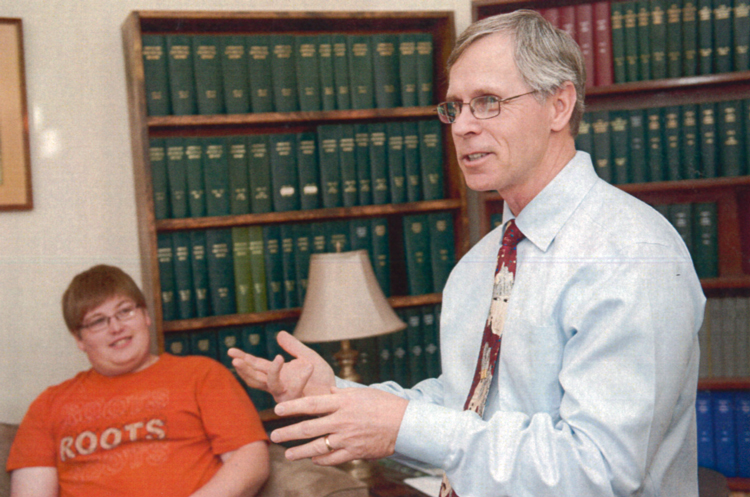 A native Prince Edward Islander, Dr. Edward MacDonald has been an important members of its heritage community for three decades. Known as Dr. Ed, he has served as editor, curator, teacher, policy advisor, heritage advocate, media resource, author, poet and outstanding public speaker.
Armed with a BA in History and English from the University of Prince Edward Island (UPEI) and a MA and PhD in History from Queen's University, Dr. MacDonald began his career as curator with the PEI Museum and Heritage Foundation in 1985, where he also edited its popular history journal, The Island Magazine.
In 2000, Dr. MacDonald joined the faculty of the UPEI as Associate Professor of History, a position that has garnered him numerous awards for excellence in the classroom. His Applied Public History course has inspired many graduates to pursue work in heritage related fields.
---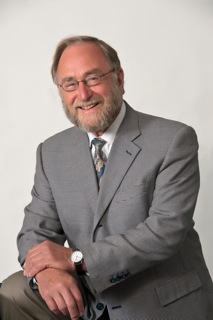 Mr. Charles Fairbank III, Oil Springs, Ontario
Known as "Charlie" to his friends, Mr. Fairbank has worked tirelessly to protect and promote a unique piece of Canada's industrial heritage: the First Commercial Oil Field National Historic Site, at Oil Springs, Ontario. The world's longest-producing oil company, it still operates using the original "Jerker-Line" pumping technology developed by Mr. Fairbank's great-grandfather in 1863. Today, Fairbank Oil Properties produces approximately 24,000 barrels of oil per year from 350 wells on 600 acres.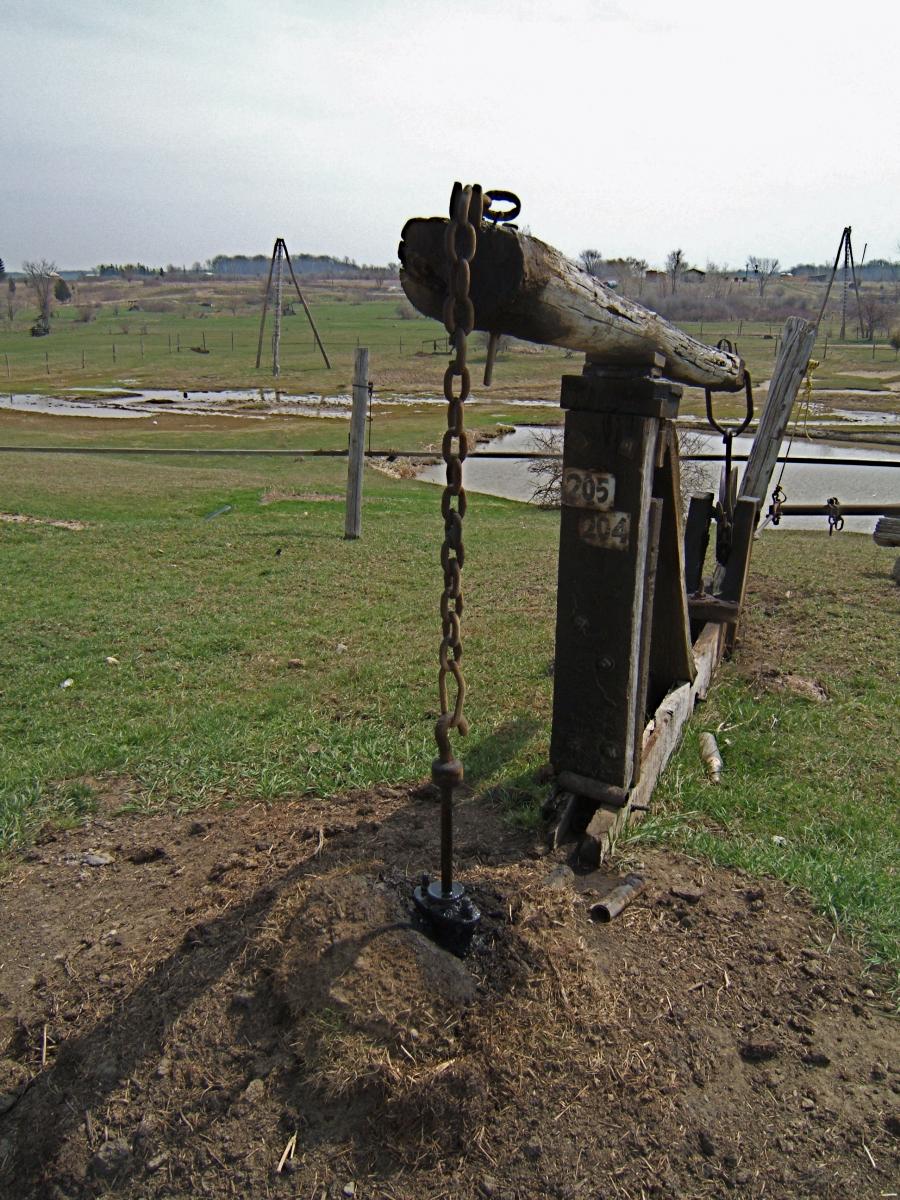 It was Mr. Fairbank's use of the historically accurate pumping system, his dedication to preserving his great-grandfather's legacy and his advocacy for heritage protection that led to the designation of Fairbank Oil and the greater Oil Heritage District as Ontario's only working industrial-based Heritage Conservation District in 2010.
Mr. Fairbank has been a national and international champion of Oil Springs and Petrolia as the location of the world's first commercial oil field, whose drilling and pumping technology quickly spread to the United States and later to oil fields around the world, giving birth to the global petroleum industry.
Mr. Fairbank runs Canada's oldest petroleum hardware shop, Van Tuyl & Fairbank Hardware in Petrolia, which continues to provide obscure oil production
equipment essential to the viability of Ontario operators. He is also a founder of Petrolia Discovery, a working museum of petroleum history, and is a constant financial supporter and partner with the Oil Museum of Canada.
---
Francine Lelièvre, Montreal, Quebec
Francine Lelièvre with the Hon. Pierre Duchesne at the awards ceremony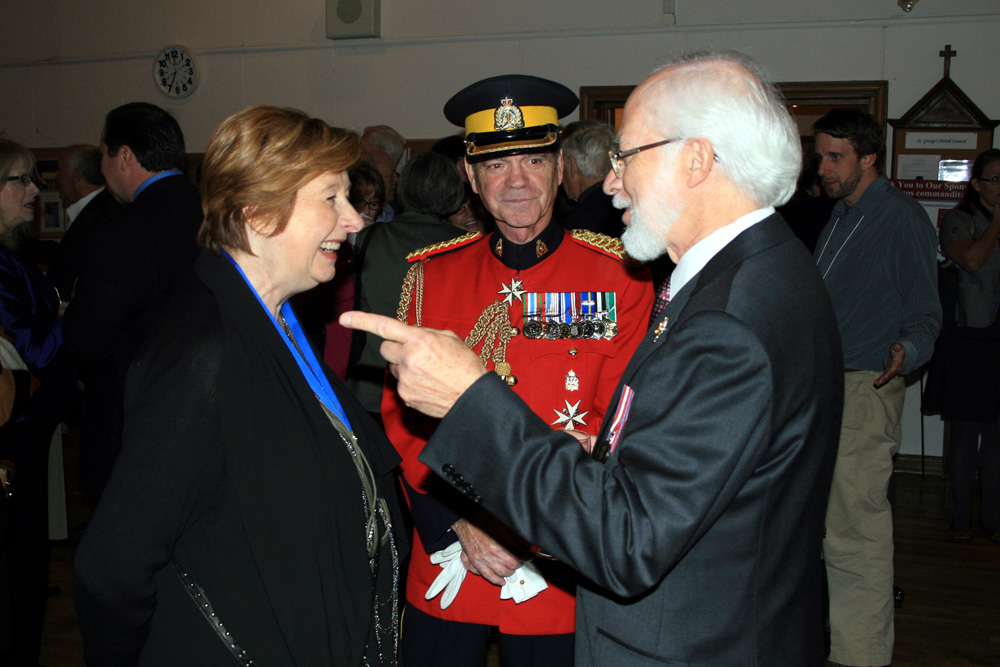 Preparing for the future by protecting and promoting our heritage and archeological history is the motto that motivates Francine Lelièvre. Founder of the renowned Pointe-à-Callière museum, Mme. Lelièvre is a passionate historian and teacher who has been devoted to preserving history through cultural, heritage and tourism institutions for over thirty years. She began her career with Parks Canada in 1973, where she took charge of the conservation, promotion and interpretation of several national historic sites including Louis-S. St-Laurent in Compton and Grande-Grave in the Gaspésie, the first site to be developed as a "cultural landscape". She was named Chief of Interpretation Services and Promotion for Québec in 1982, where she was responsible for 3 national parks, 26 historic sites and 4 historic canals. Her career then took her to the Musée de la civilisation du Québec before she set up her own heritage consulting firm, Processus inc, for 5 years prior to 1992.
Mme. Lelièvre had the vision and determination that saw the establishment of the Pointe-à-Callière museum of history and archeology in Montreal, set on the site of extensive archeological discoveries from the 1970s that revealed over 1,000 years of human activity including the ruins of the earliest French fortifications. She was determined for the site to not only become a nationally recognized destination for Canadians, but one that is celebrated internationally. Mme. Lelièvre has overseen the museum's expansion that has resulted in the preservation of surrounding heritage buildings: the Old Custom House, the Youville Pumping Station, the first electrically operated wastewater pumping facility in Montreal, the Old Mariners' House—now used as educational and exhibits spaces. She also established the first school for archaeological digs in an urban centre on the site of the Fort Ville-Marie—where Montreal was founded—and integrated it into the complex.
Ralph Clemens, St. John's, Newfoundland and Labrardor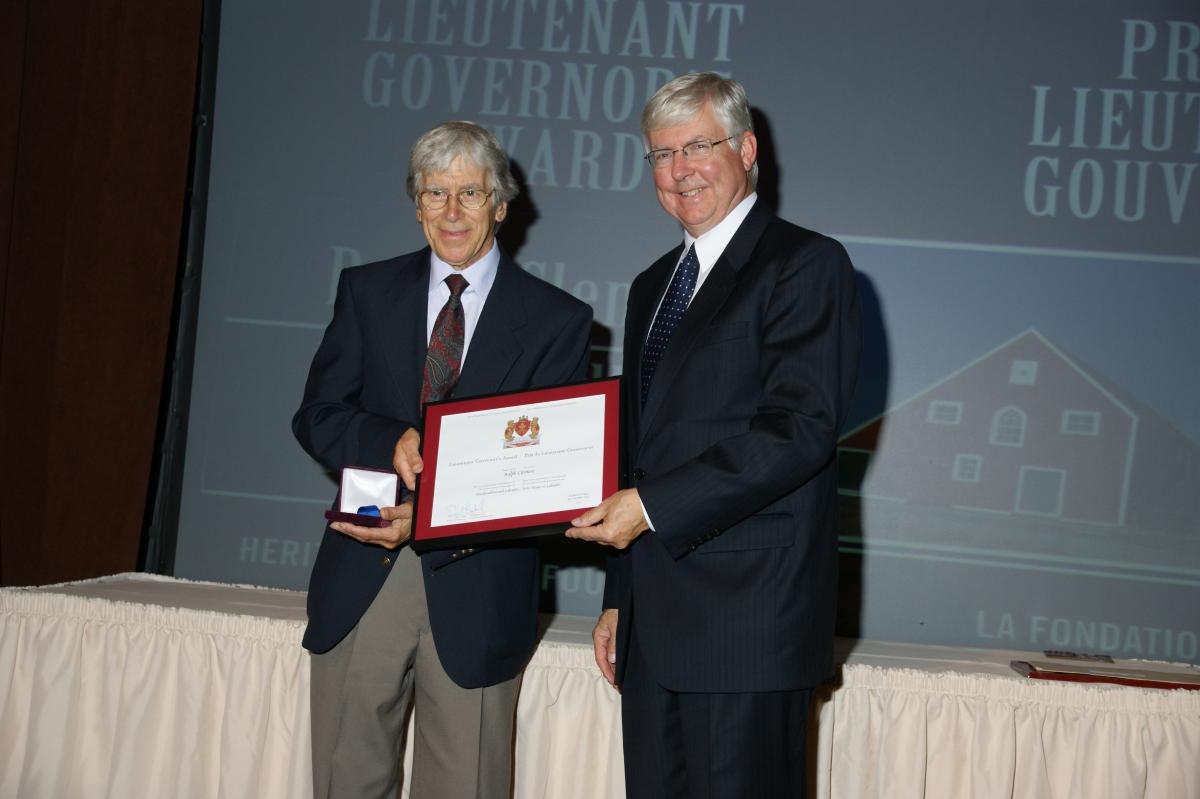 Ralph Clemens has worked in the field of heritage restoration in the province for over four decades. During Ralph Clemens' 27 years as Museums Technician with the Provincial Historic Resources Division, he was responsible for the reproduction and restoration of furniture for Government House, and for all the provincial museums and historic sites. Some of his other projects include Commissariat House, Bonavista Lighthouse, Mockbeggar Property, Hiscock House and Point Amour Lighthouse. A true artisan in every sense of the word, Ralph Clemens has brought devotion and a love of the craft to everything he has worked to create and restore. It is the skill, precision and care which he has brought to every project that has ensured many of Newfoundland and Labrador's heritage treasures are still around today for current and future generations to enjoy. Mr. Clemens was awarded the 2010 Lieutenant Governor's award in St. John's in October for his outstanding achievement in heritage conservation for the province of Newfoundland and Labrador.
---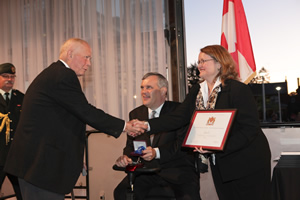 Stephen Otto, Toronto, Ontario
Stephen Otto has been contributing to the field of heritage for over 40 years. As the founding head of heritage conservation programs with the Ministry of Culture, Mr Otto has been ceaselessly educating the public on places that define people's experience in Ontario. Mr. Otto has inspired others in the field with his dedication in protecting the public on places such as The Distillery District National Historic Site, Todmorden Mills and Spadina House. Mr. Otto was the former director of the Ontario Heritage Foundation and Canadian Association of Professional Heritage Consultants, and has sat on several boards in various capacities. Mr. Otto was awarded the 2009 Lieutenant Governor's award in Toronto in September for his outstanding achievement in heritage conservation for the province of Ontario.
---
Dinu Bumbaru, Montreal, Quebec
Dinu Bumbaru of Montréal was the 2008 winner of the Lieutenant Governor's Award in honour of his lifetime leadership and commitment to heritage conservation in the province of Quebec. Policy Director at Heritage Montréal since 1982 and Secretary-General of ICOMOS International since 2002, he is committed to building alliances, public consultations and working with public officials and volunteers to ensure good conservation practices wherever possible.
---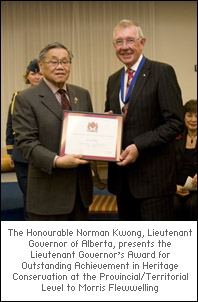 Morris Flewwelling, Red Deer, Alberta
For more than 40 years Morris Flewwelling of Red Deer, Alberta has worked with museums, historical societies and heritage organizations on various innovative projects – including, most recently, the Heritage Community Foundation's Alberta Online Encyclopedia. Such projects have enabled him to share his knowledge and passion for heritage, as well as inspire others to further promote Alberta's historic resources. At the local level, he was involved in the creation of the Red Deer Heritage Preservation Committee, which was the first group in Alberta to designate a municipal site. Since its inception in 1984, the committee has saved numerous landmarks including the Old Red Deer Courthouse, the Armoury, the C.P.R. Station, the Allen Bungalow and the Alberta Ladies College. Mr. Flewwelling also helped establish the Red Deer Community Foundation and the Red Deer and District Museum. Provincially, he has served as the founding director of the Alberta Historical Resources Foundation, the founding president of the Heritage Community Foundation, president of the Alberta Museums Association and co-founder of the Central Alberta Regional Museums Network. He has also served as president of the Canadian Museums Association and as the governor for Alberta and the Northwest Territories for the Heritage Canada Foundation. Over the years, Mr. Flewwelling has received many awards for his outstanding service and leadership in Alberta.
---
Ms. Peggy Kurtin, Toronto, Ontario
A graduate of Seneca College and the University of Toronto, Ms. Kurtin has worked as a volunteer in heritage conservation for more than twenty years. She was a founder of the Cabbagetown Preservation Association, and led an extraordinary volunteer effort to establish the Cabbagetown Heritage Conservation District. Now consisting of more than 1,500 properties, the district continues to expand, protecting early, small-scale properties west of Parliament Street. Ms. Kurtin was president of the Cabbagetown Preservation Association for five years and was a key player in producing the book, Touring Old Cabbagetown. For a number of years, Ms. Kurtin has also been a very active member of the Riverdale Farm Advisory Council which oversees the operation of the Riverdale Farm in Toronto. She currently chairs the Building and Grounds Committee. Ms. Kurtin's knowledge and experience has earned her a position on the Ontario Conservation Review Board. The jury unanimously recommends that Ms. Peggy Kurtin receive the Lieutenant Governor's Award. Ms. Kurtin was nominated by Ms. Pam McConnell, Councillor, City of Toronto.
---
Mr. Frank Korvemaker, Regina, Saskatchewan
For more than twenty-five years, Frank Korvemaker, both as a public servant and as a volunteer, has established a reputation in heritage circles across Saskatchewan, and beyond, as a respected and knowledgeable authority on diverse aspects of built heritage conservation, management and steward. Employed with the provincial Department of Culture and Youth's Heritage Branch from 1979 to 2004, Mr. Korvemaker compiled records, conducted research and managed key Saskatchewan heritage conservation programs. In the early 1980s, he was involved in developing The Heritage Property Act of 1981 and from 1990 to 1992, coordinated the establishment of the Saskatchewan Heritage Foundation. He served as its first manager. More recently, he worked as the research and restoration advisor with the foundation, primarily reviewing grant applications, providing technical and project management advice, conducting site audits for building restoration projects, and liaising with lottery-funded provincial heritage organizations, including the Saskatchewan Architectural Heritage Society. Today, he is employed with the Government Records Branch of the Saskatchewan Archives Board where he remains involved with the province's activities in the broad heritage field. The Heritage Canada Awards Jury praised Mr. Korvemaker's many accomplishments, noting especially his contribution in saving the Claybank Brick Plant National Historic Site from demolition and then, over a period of 15 years, continuing his involvement in all aspects of the site's research, restoration, public presentation and promotion. The jury also cited his collection of over 40,000 photographic images of historic buildings and sites across the province. In the case of those buildings now demolished, Mr. Korvemaker's images are the only ones that remain in a publicly accessible inventory.
---
Mr. Harold E. Wright, Saint John, New Brunswick
A native of Saint John, Mr. Harold E. Wright has been a tireless publicist and popularizer of New Brunswick history, hosting a regional television program, "Reflections," and writing extensively on topics ranging from endangered houses in Saint John to the province's maritime history. The awards jury cited his relentless efforts to save the Chipman Hill Properties and to have the Partridge Island Quarantine Station recognized, protected and interpreted as a provincial and national historic site. On Partridge Island, Mr. Wright led by example, undertaking physical stewardship on a voluntary basis. For more than twenty-five years, he has worked with various community organizations and heritage groups including Heritage Canada, the Association Museums New Brunswick, the New Brunswick Museum, the New Brunswick Historical Society and the Minister's Advisory Council on Heritage. His work and dedication to heritage conservation has also earned him several awards including the Association Museums New Brunswick's Award of Merit, the Canada 125 Medal, and a Certificate of Commendation from the American Association for State and Local History.
---
Heritage Trust of Nova Scotia
The Heritage Trust of Nova Scotia was the deserving recipient of the 2002 Lieutenant Governor's Award, established to recognize outstanding achievement in heritage conservation. For over 40 years, the trust has promoted, fostered and encouraged the preservation of historic buildings and sites throughout the province.
Founded in 1959, the Heritage Trust of Nova Scotia is a voluntary, non-profit organization, whose mandate is to "promote, foster and encourage interest in and preservation of buildings and sites of an historic, artistic and cultural nature within Nova Scotia." It is the oldest known heritage advocacy group in Canada.
"Among heritage organizations in Canada, the Heritage Trust of Nova Scotia has achieved a remarkable record in public education and advocacy – balancing both in an exemplary manner," stated the Heritage Canada Awards Jury. Examples of the trust's commitment to heritage preservation include the establishment of the Conservation Fund, which provides financial support to individuals, groups or organizations preserving heritage property and the trust's active program of tours, workshops and publications, including its newsletter, The Griffin.
---
Ms. Dorothy Duncan, Ontario
Ms. Dorothy Duncan, recently retired from her position as Director of Administration with the Ontario Historical Society, received the Lieutenant Governor's Award. The Heritage Canada Awards jury cited Ms. Duncan's illustrious career in the field of heritage resource management and her longstanding contribution to heritage conservation in Ontario. She was the Director of Administration of the Ontario Historical Society for 18 years, during which time she consolidated the network of some 600 local historical societies in the province.
---
Ms. Ruth Canning, St. John's, Newfoundland and Labrador
For the past 25 years, Ms. Ruth Canning has contributed to heritage preservation in many different ways. She is a founding member of the Newfoundland Historic Trust where she has held almost every executive office. She served on the Board of the Heritage Canada Foundation from 1988 to 1995 as well as the boards of the Baccalieu Trail Heritage Corporation and the Newfoundland Historic Parks Association. More recently, she has fostered the preservation of the historical legacy and heritage places in the domain of Sir William Coaker, organizer of the Fishermen's Protective Union as well as social and political reformer. His union-built town, called Port Union, retains a remarkable collection of housing, shops, and industrial buildings where several restoration projects have been initiated under the guidance of the Coaker Heritage Foundation. Ms. Canning has also devoted her time to the Beothuk Institute, which is dedicated to improving our understanding of Newfoundland's aboriginal peoples.
---
Alfred Pepin, Langley, British Columbia
Mr. Alfred Pepin of Langley, British Columbia, received the Lieutenant Governor's Award for his preservation work in the Fraser Valley.
---
Marion MacRae, Hamilton, Ontario
Ms. Marion MacRae is an architectural and design historian who has made a lasting contribution to the preservation of heritage architecture in Ontario. She worked on several restorations, including Dundurn Castle in Hamilton, Ontario, a project that engaged her in various roles from 1957-1967. She has been a mentor to a generation of professionals in heritage preservation and written or co-authored important books such as The Ancestral Roof, Hallowed Walls and Cornerstones of Order.
---
John Cousins, O'Leary, Prince Edward Island
Mr. John Cousins of O'Leary, Prince Edward Island was recognized for his outstanding contribution to heritage preservation in the province. Some of his impressive achievements include his work with Island folk festivals and developing a school curriculum for Island history.
---
Hudson's Bay Company
The 1995 Lieutenant-Governor's Award was presented to the Hudson's Bay Company for its significant contribution to heritage conservation. The Heritage Canada Awards Jury cited in particular the magnificent gifts of the Company's archives and its museum collection to the Province of Manitoba.
---
Cyril Simard, Québec
---
Margaret (Peggy) Sarjeant, Saskatoon, Saskatchewan
---
Russel K. Cooper, Black Creek Pioneer Village, Ontario
---
Shane O'Dea, St. John's, Newfoundland and Labrador
---
Martin Segger, Victoria, British Columbia
---
Catherine Hennessey, Charlottetown, Prince Edward Island
---
Robert L. Boyce, Saint John, New Brunswick
---
Walter Jamieson, Calgary, Alberta
---
The Architectural Conservancy of Ontario
---
John H. Archer
---
Mr. and Mrs. Lou Collins, Halifax, Nova Scotia
---
Mary Elizabeth Bayer, Winnipeg, Manitoba
---
David Nicholas Spearing, Nanaimo, British Columbia