You are here
Governors' Award
The Governors' Award for Extraordinary Achievement by an Individual or Organization in Heritage Conservation in Canada
The Governors' Award, created in 2008, is a non-juried award that recognizes extraordinary achievement by an individual or organization in heritage conservation in Canada. The award, a framed certificate, is granted upon the instigation of the Chair of the Board and the approval of the Board of Governors.
Carlos Ventin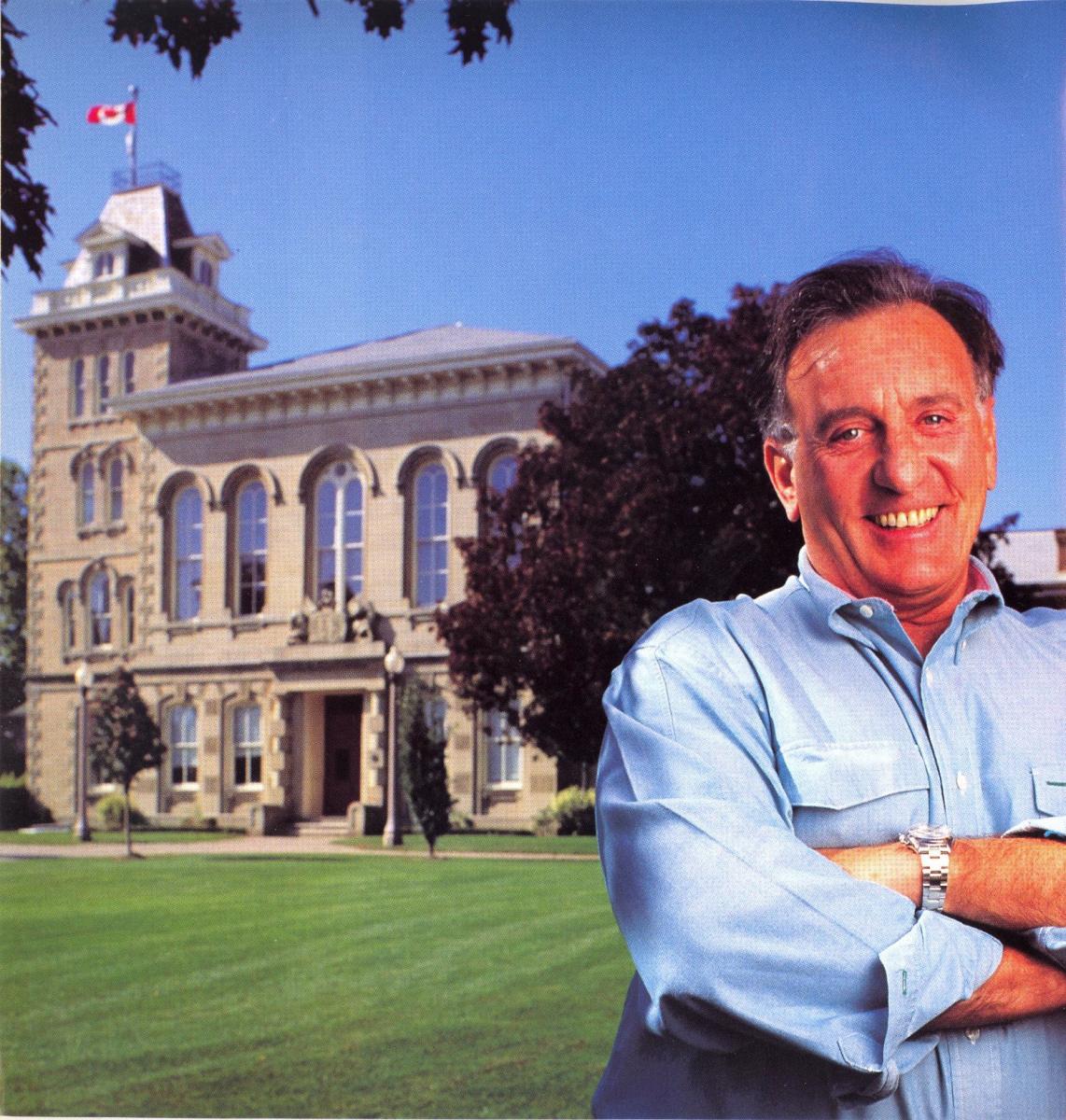 Carlos Ventin and County of Norfolk Courthouse, Simcoe
Carlos Ventin was trained as an architect in his homeland of Argentina at the University Resistencia and completed graduate studies in Climate and Architecture in Porto Alegre, Brazil, and at the Indian Institute of Technology in Kharagpur. After emigrating to Canada in 1965, and settling in London, Ontario, he joined the Board of Education as a Project Architect. He soon relocated to Simcoe to work for W.M. Smale. Smale passed away prematurely in 1970 and Carlos acquired and re-established the practice as C.A. Ventin Architects Ltd.
One of the firm's earliest commissions was the restoration and refitting of "Lynnwood," a Simcoe mansion that also won a Heritage Canada Foundation Award of Excellence, as the Norfolk Arts Centre. The local community was very impressed by Carlos' work. It was his second job, repurposing the former Norfolk County buildings in downtown Simcoe as municipal offices that made him known across the province. This project was symbolic of all of his strengths and skills he had acquired over the past 4 decades.
---
After nearly ten years of effort, Bill S-215, an Act to Protect Heritage Lighthouses was passed by Parliament last May. The Private Member's bill empowers communities to help preserve Canada's heritage lighthouses. A strong supporter of this preservation initiative since 1999, the National Trust for Canada worked closely with elected officials and local advocates in helping to bring this legislation forward.
In 2008 the Board of Governors of the National Trust for Canada (formerly the Heritage Canada Foundation) introduced a new award—the Governors' Award—to celebrate and honour the extraordinary efforts of two key figures who have worked for this legislation since the beginning: Sen. Pat Carney (Ret.) of British Columbia and Mr. Barry MacDonald of Chezzetcook, Nova Scotia. Their ongoing dedication and commitment was key to the successful passage of this legislation.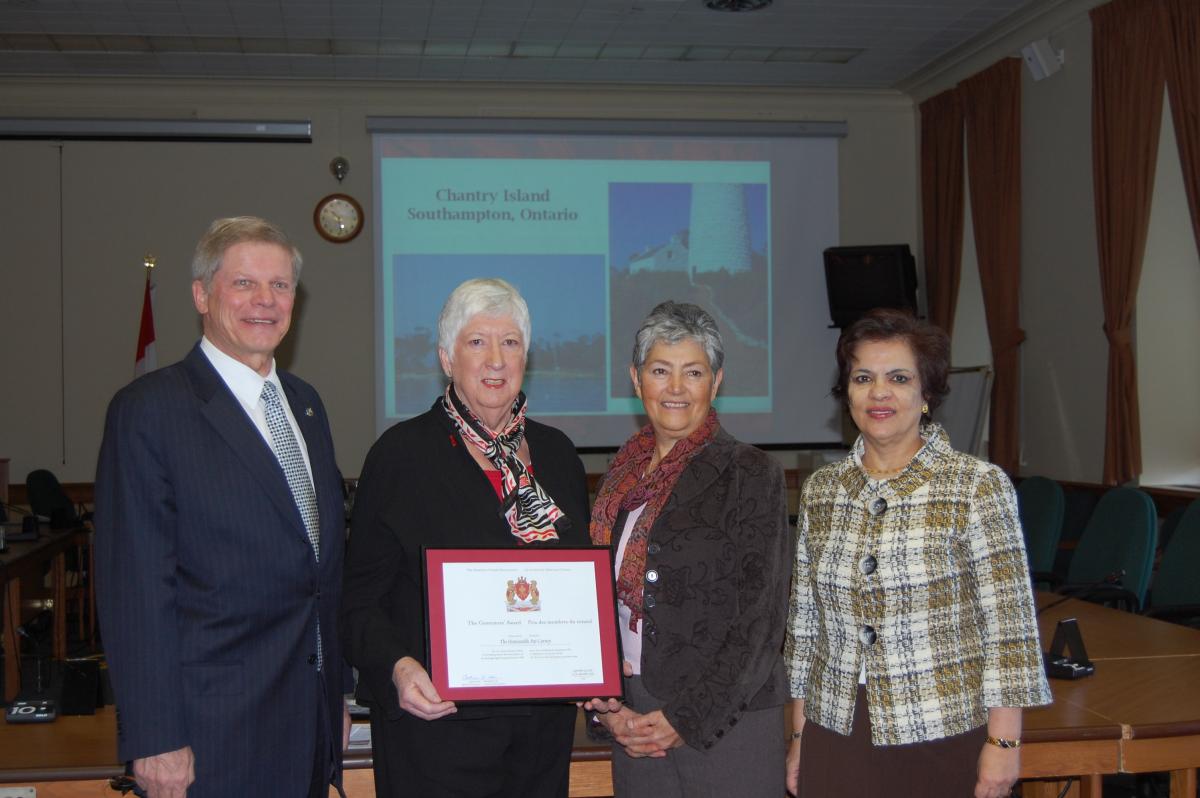 The Hon. Pat Carney, worked tirelessly to pass Bill S-215 even after her retirement in January. The legislation is intended to protect federally owned lighthouses from being altered, sold, removed, assigned, transferred or otherwise disposed of without public consultation. The first Private Member's bill to protect lighthouses was introduced in April of 2000 by Sen. Michael Forrestall of Nova Scotia. Sen. Pat Carney worked with him to have this legislation enacted until his death in June of 2006 and reintroduced the bill later that year.
Sen. Carney was first elected to the House of Commons in 1980 as MP for Vancouver Centre and held a number of senior positions including Minister of Energy, Mines and Resources, Minister of International Trade, and President of the Treasury Board. Since her appointment to the Senate in 1990, Senator Carney has also served as a member of several Senate Standing Committees including the Ad Hoc Parliamentary Committee on Lightstations.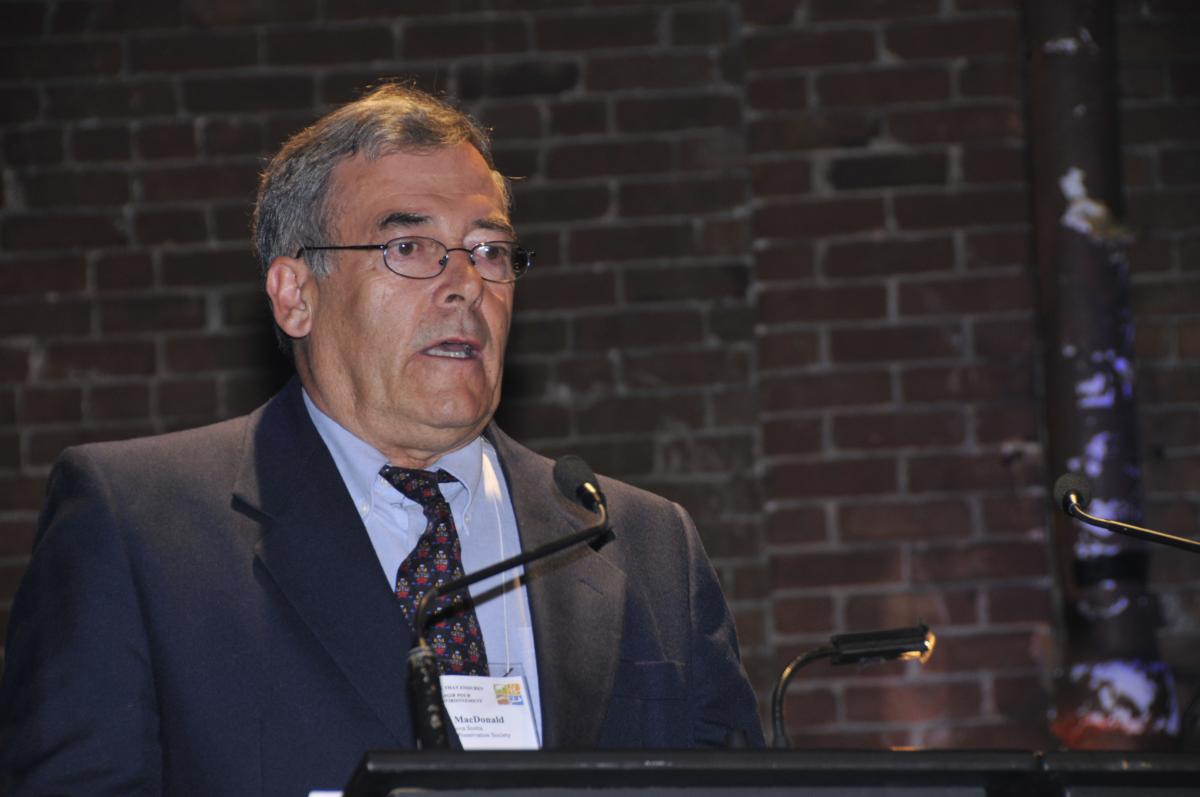 Mr. Barry MacDonald is the President of the Nova Scotia Lighthouse Preservation Society (NSLPS), the most active organization advocating for the preservation of lighthouses in Canada. He has volunteered with NSLPS since its creation in 1994 and throughout his time there has worked to protect Nova Scotia's historic lighthouses. By 1997, Mr. MacDonald, along with other volunteers of the NSLPS began putting their efforts behind the campaign for a national act that would facilitate the designation of lighthouses as historic sites and ensure their maintenance in a manner consistent with conservation standards.
Barry MacDonald has organized and participated in meetings with Members of Parliament, Senators and public servants and has made public presentations throughout the Maritimes and in B.C. as well as before the House of Commons Standing Committee on Fisheries and Oceans.
With the successful passing of the Act, Barry MacDonald is currently working, along with several dozen people across Canada, to form a national society dedicated to lighthouses.