You are here
Gabrielle Léger Medal for Lifetime Achievement in Heritage Conservation
2014 | 2013 2012 | 2010 | 2009 | 2008 | 2007 | 2006 | 2005 | 2002 | 1998 | 1997 | 1996 | 1995 | 1994 | 1993 |1992 | 1991 | 1990 | 1988 | 1986 | 1983 | 1981 | 1979 | 1978
Dr. Christina Cameron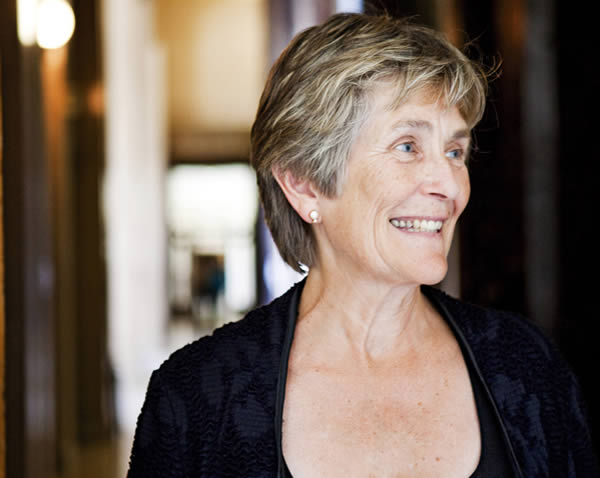 An internationally recognized expert in the field of heritage conservation and highly regarded for her outstanding contributions to heritage theory and policy, Dr. Christina Cameron is the closest we come to someone who embodies the heritage conservation field in Canada, both to Canadians and to the global cultural heritage community.
A seasoned academic, with studies covering literature, art, architectural history and museum studies, Dr. Cameron earned an MA in Art History from Brown University and a Ph.D. in Architectural History from Laval University.
In the early 1970s, Dr. Cameron joined Parks Canada Agency to work on the newly created Canadian Inventory of Historic Buildings. As a member of the executive over the next 30 years she oversaw the development of the agency's Cultural Resource Management Policy, an integrated and holistic approach to the management of the cultural resources in its national parks, national historic sites, historic canals and national marine conservation areas. She also guided the development of other important Canadian policies, such as Commemorative Integrity. Notable positions included Secretary to the Historic Sites and Monuments Board of Canada and Director-General of National Historic Sites Directorate of Parks Canada, where she steered the progress of the Federal Heritage Building Program and the ground-breaking Historic Places Initiative.
---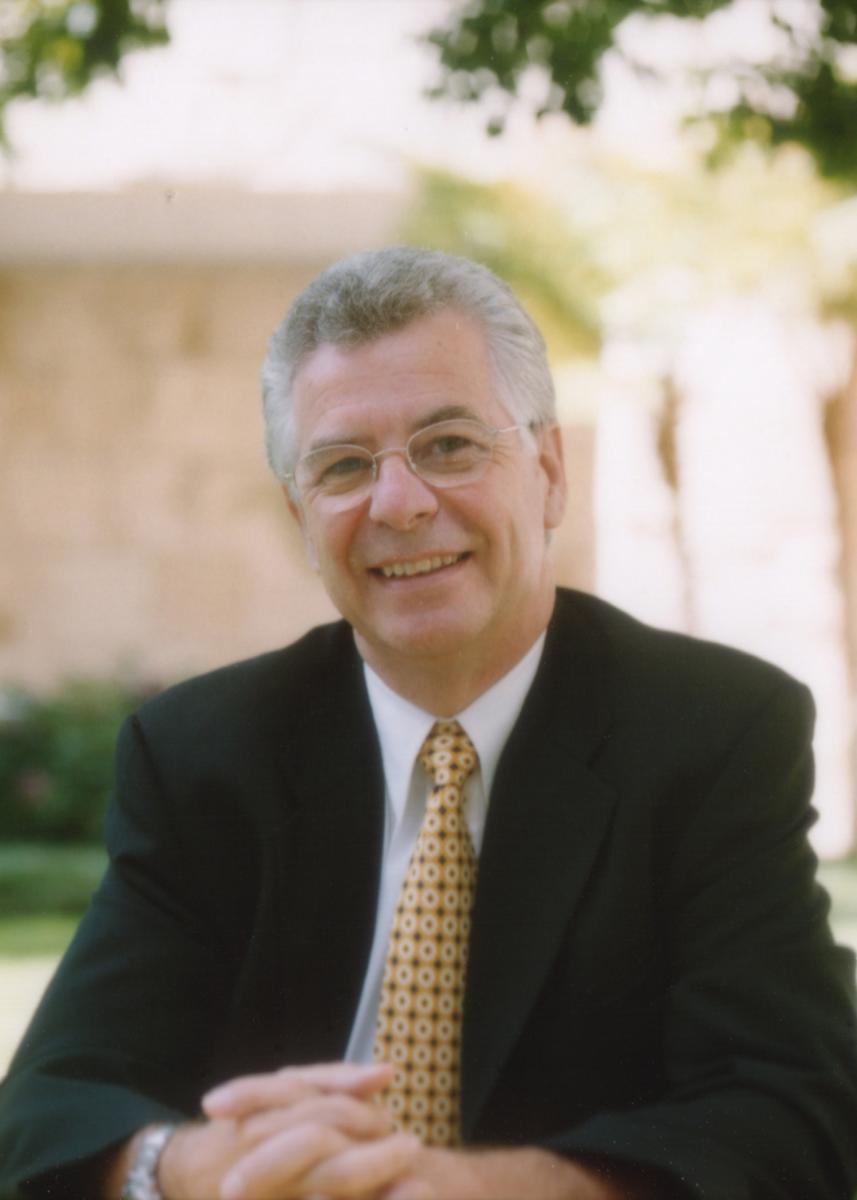 Mr. François LeBlanc, Ottawa, Ontario
As an architect, preservationist, author and educator, François LeBlanc has worked tirelessly and effectively for more than 40 years to build a strong heritage conservation community in Canada and abroad.
Widely respected and admired by his peers, Mr. LeBlanc is regarded as an outstanding thinker in the heritage conservation field. Known for his jovial and approachable nature, generosity and genuine passion for heritage conservation, he has had a career that most could only dream of.
It began in 1971 with Parks Canada, where Mr. LeBlanc worked as the Chief Architect for monuments of the French Period before moving to the Quebec region as Chief of engineering and architecture responsible for such important national historic sites as Les Forges de-Saint-Maurice, Fort Chambly, the Lachine Canal and the Quebec Fortifications.
---
Jim Bezanson, Saint John, New Brunswick
Jim Bezanson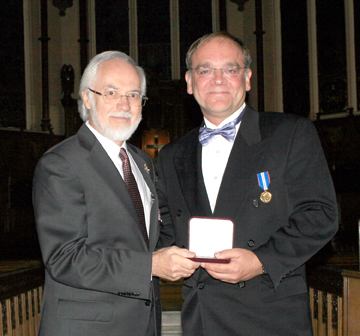 Jim Bezanson has simultaneously been a passionate heritage advocate, educator, conference speaker, volunteer, architect, planner, heritage consultant and building contractor for over 35 years.
He grew up on the east coast of Nova Scotia and worked there on the Canadian Inventory of Historic Buildings in 1975. He was later employed by Parks Canada's Restoration Section dealing with projects throughout the Atlantic Provinces. From 1980 to 1990, Mr. Bezanson lived in Vancouver, where he worked with the first Heritage Conservation Program; he helped establish the first award-winning heritage trades program at Vancouver Community College and was its principal instructor. He later launched his own architecture and planning practice, which specialized in the sensitive redevelopment of heritage buildings and a number of projects won awards.
As Heritage Development Officer for the City of Saint John, New Brunswick since 1990, Jim Bezanson has played a key role in shaping the city's heritage movement. In that capacity he has provided guidance on over 3,000 heritage conservation projects and has been instrumental in saving a number of buildings from demolition, including the first Carnegie Free Library in Canada. Through his efforts, a number of heritage designated districts were created in the city and hundreds of sites of cultural significance added to the Canadian Register of Historic Places. Mr. Bezanson was a strong proponent in having the City of Saint John recognized as a Prince of Wales Prize community in 2004.
---
Susan Bronson, Montreal, Quebec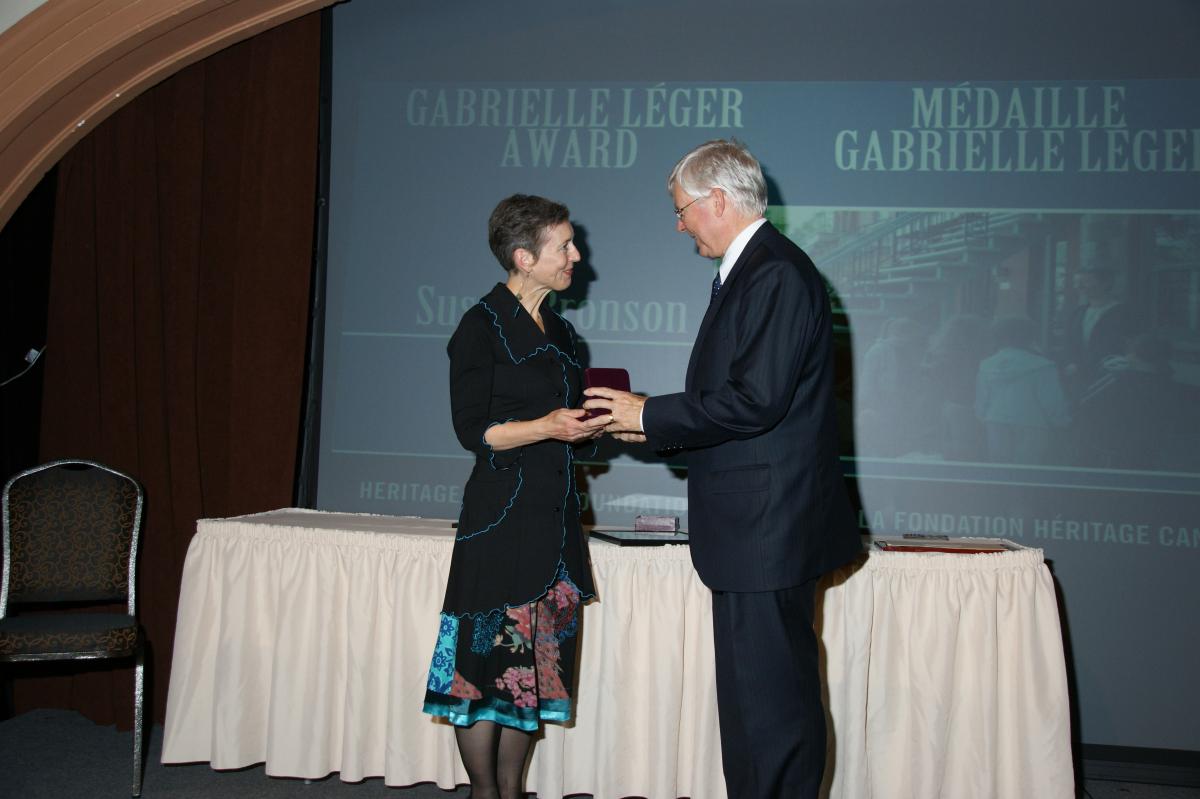 Susan Bronson has been a dedicated and tireless supporter of heritage for over thirty years. A registered architect with expertise in heritage conservation, urban history and conservation history and theory, she has worked in private practice both as an architect and heritage consultant. She has generously shared her time and talent with numerous organizations, including the Association for Preservation Technology International (APT), Friends of Saint-Laurent Boulevard and Mile End Memories Board of Directors. In her capacity as an educator Susan helped to develop, coordinate and lead three extensive study tours for the 2008 ICOMOS General Assembly. Through her teaching and her writing, Susan has communicated her strong belief in the essential link between conservation and environmental, social and economic sustainability. She helped foster research in this area by identifying its importance at a time when it was not widely discussed. Susan Bronson was awarded the 2010 Gabrielle Léger Award for her achievement in the field of conservation, in St. John's.
---
Dr. Harold Kalman, Vancouver, British Columbia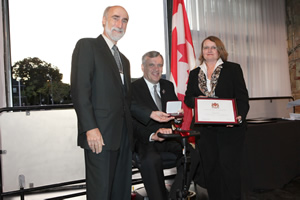 Dr. Harold Kalman of Vancouver is the proud recipient of the 2009 Gabrielle Léger award for a lifetime achievement in heritage conservation. Mr Kalman's reputation as a heritage conservation practitioner, theorist, writer and educator is internationally recognized. His practice first opened in Ottawa in 1975, and later formed, with John Stewart, Canada's first full-service conservation office, Commonwealth Historic Resource Management in 1984.
Mr. Kalman has been involved in over 1,000 professional projects internationally from historic building conservation to the development of public heritage policy. His expertise, extensive knowledge and passion for the field of conservation have made him a valued teacher at various educational institutions all over the world. His mission to raise public awareness was successfully achieved through popular broadcasting and writing, appearing regularly on CBC Radio, TV's Homes by Design, and through his column in Canadian Heritage magazine. Harold Kalman has been a continuously influential figure in the evolution of heritage conservation in Canada.
---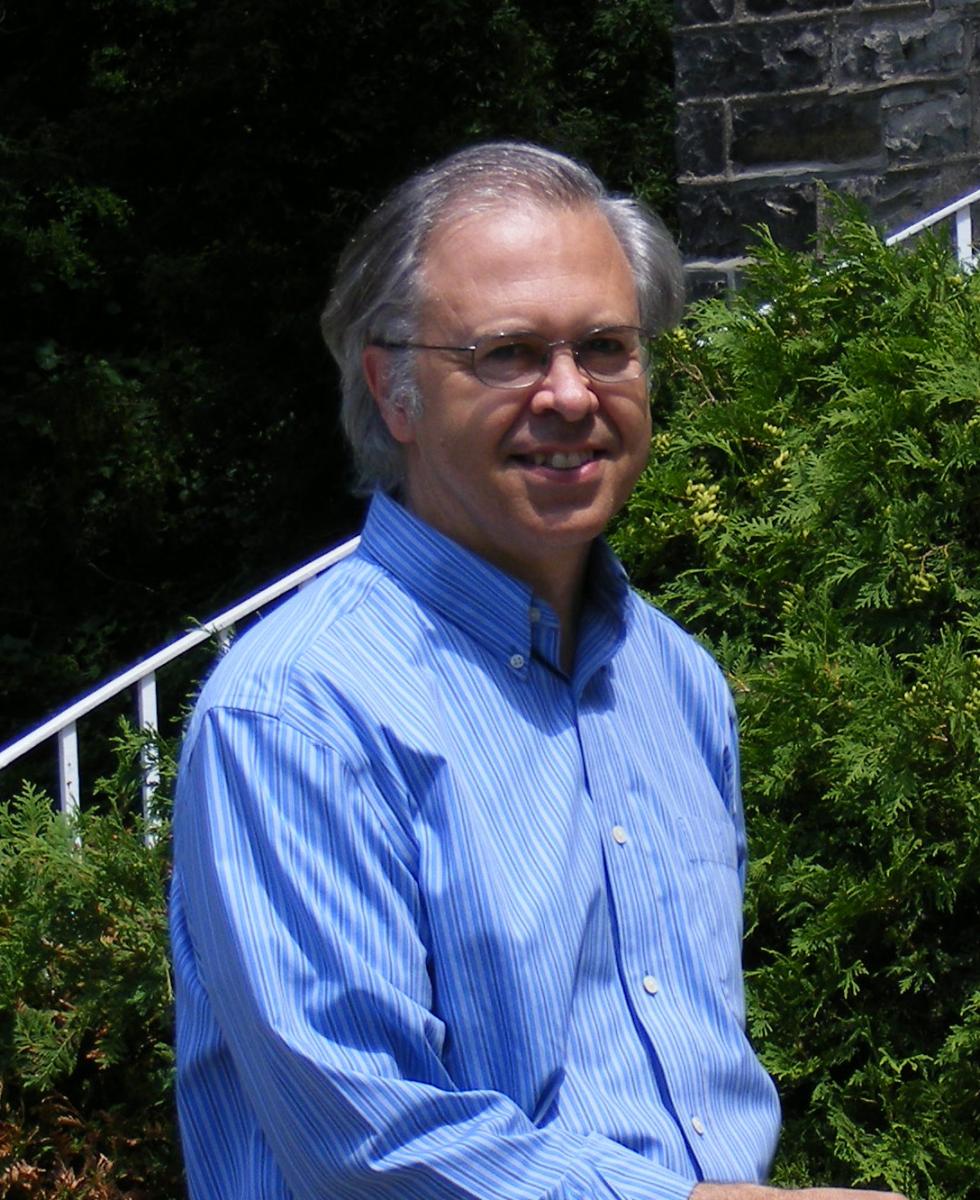 Julian Smith, Ottawa, Ontario
Scholar, educator and architect, Julian Smith has been a leader for over 30 years in efforts to conserve Canada's historic places. As the principal of Julian Smith & Associates, Architects, he has earned a national and international reputation for his work in restoration and adaptive reuse. He is noted for his sensitive designs for contemporary insertions in historic settings, and for the development of master plans, urvan design studies and heritage district plans for significant urban and rural places. Noted projects include the restoration of the Vimy Memorial, the landscapes of Parliament Hill and Rideau Hall, the Central Experimental Farm in Ottawa, the Aberdeen Pavilion National Historic Site, and master plans for Queen's Park.
In 1989, he established a graduate program in heritage conservation at Carleton University in Ottawa, where he served as director for 17 years. In this role, he served as a mentor to many working in the conservation field today. As well as his architecture practice, he heads up the Willowbank School of Restoration Arts in Queenston, Ontario. HCF was honoured to present Julian Smith with the Gabrielle Léger Award for Lifetime Achievement in Heritage Conservation.
---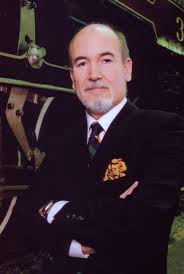 Jacques Dalibard, Ottawa, Ontario
Jacques Dalibard dedicated much of his life to the practice and management of heritage conservation in Canada. As the federal government's leading restoration architect and director of a team of emerging conservation specialists from 1968-1977, he developed and applied cutting edge technological and philosophical solutions to conserving several national historic sites – including Lower Fort Garry in Manitoba, the Rideau Canal in Ottawa and Dawson City, Yukon.
Active in the newly established International Council of Monuments and Sites (ICOMOS), he played a key role in the creation of ICOMOS Canada. With a group of Canadian and American colleagues, he also established the Association for Preservation Technology (APT) where he served as editor and president.
From 1978 to 1995, he served as the Executive Director of the Heritage Canada Foundation, where he was responsible for creating and directing various programs including Main Street, Heritage Regions, Canadian Centre for Livable Cities, and the Canadian Heritage Network.
Education and training were priorities for Jacques Dalibard and over the years, he lectured in Europe, the United States and Canada. In the decade leading up to his retirement in 2005, Mr. Dalibard taught in the Faculté de l'aménagement de l'Université de Montréal.
---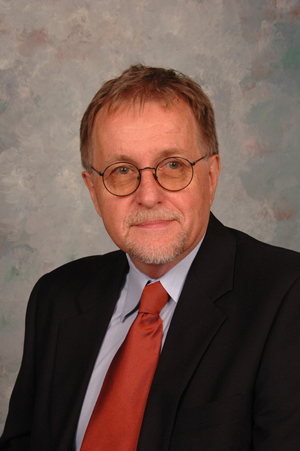 Mr. William F.W. Neville, Winnipeg, Manitoba
The jury cited the lifetime contribution of Mr. William Neville as a volunteer, writer, community leader and advocate for heritage. For more than thirty years, with dedication and zeal, he has served the City of Winnipeg, the Province of Manitoba, and Canada. His talent as a communicator has earned him praise in his community but, more important, has "resonated with the public." Mr. Neville served with distinction as a member of the Historic Sites and Monuments Board of Canada for ten years. The jury unanimously recommends Mr. William F.W. Neville for the Gabrielle Léger Award. Mr. Neville was nominated by Ms. Susan Algie, Winnipeg.
---
Mr. George Muirhead, Kingston, Ontario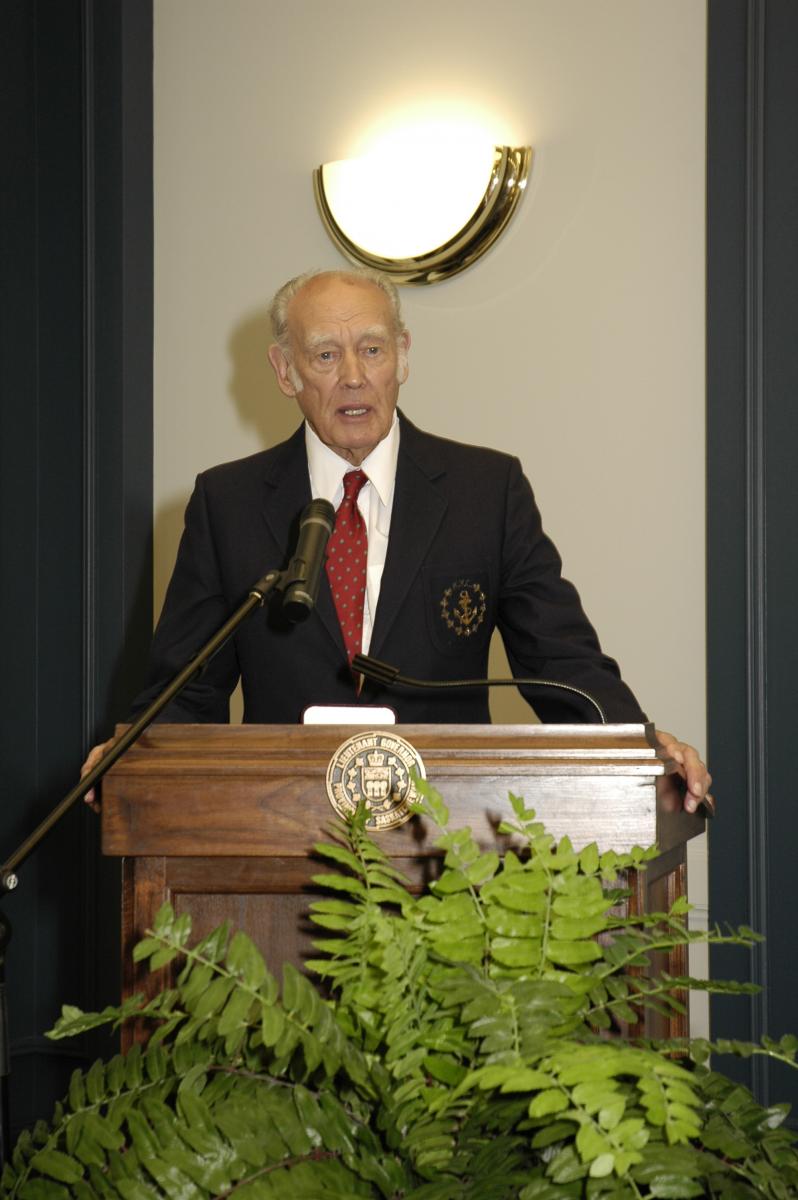 A pioneer in heritage conservation, Mr. Muirhead has inspired municipal and provincial governments, heritage organizations, businesses and citizens to recognize and appreciate the importance of their historic building stock. He has also been influential in promoting the concept that heritage restoration and conservation makes economic sense. As Kingston's heritage planner in the 1950s and 1960s, followed by eighteen years as the Director of Planning and Urban Renewal, he was instrumental in promoting the restoration of the historic City Hall, the creation of the city's first architectural inventory, the establishment of the Frontenac Heritage Foundation Society – for which he has served as president and board member for several years. He also spearheaded the revitalization of Kingston's downtown, which involved the restoration of several prominent 19th-century commercial buildings. Mr. Muirhead was involved in the drafting of a private Heritage Act for Kingston, which was the first attempt at heritage legislation in Ontario. Even though the legislation failed, it was used as a basis for the creation of the Ontario Heritage Act of 1975. In its decision, the Heritage Canada Awards Jury cited an impressive array of testimonials on Mr. Muirhead's achievements in heritage conservation. Former Kingston mayor Helen Cooper declared that "George has always recognized the critical importance of Kingston's architecture not only for its intrinsic aesthetic value, but also as an incalculable economic resource." Speaking on behalf of his Council, former mayor George M. Speal, Q.C., remarked that "George Muirhead awakened in all of us a sense of pride in, and responsibility towards, our historic buildings." Upon retirement, Mr. Muirhead became a member of the Community Editorial Board of the Kingston Whig Standard and a frequent contributor of articles – many of which focus upon current conservation issues.
---
Dr. Michael McMordie, Calgary Alberta
Throughout his teaching career at the University of Calgary and his voluntary work, Dr. Michael McMordie has made a significant contribution to the field of heritage conservation in Canada. Over the years, he has been a board member and past president of the Society for the Study of Architecture in Canada and was one of the founders of the Canadian Architectural Archives at the University of Calgary. From 1975 to 1978, he chaired Calgary's Ad Hoc Heritage Committee, leading to the establishment of the city's heritage planning program. Among his personal interventions, he succeeded in securing the preservation of the Burns Building, a 1913 Calgary landmark.
Since 1998, Dr. McMordie has served as president of the Calgary Civic Trust, a local heritage organization which promotes the development of legislation on the application of legal covenants on heritage property.
The Heritage Canada Awards Jury also commended Dr. McMordie on his leadership in developing the department of General Studies at the University of Calgary, which places architecture as the key focus in a multidisciplinary spectrum. His commitment earned him the position of Dean of General Studies from 1990 until 1998. Currently, Dr. McMordie is the director of the Environmental and Resources Program in the Faculty of Graduate Studies, University of Calgary. The Gabrielle Léger Award will be presented to Dr. Michael McMordie at an awards ceremony to be held at the Heritage Canada Foundation's annual conference in Halifax, Nova Scotia on September 27, 2002.
---
Dr. Chuen-yan David Lai, Victoria, British Columbia
Dr. Chuen-yan David Lai has spent years studying the historic development of Chinese communities in Canada, and is credited with almost single-handedly preserving Victoria's Chinatown, once the largest in Canada. Under his leadership, several key buildings were restored and new inspirational projects initiated. Victoria's Chinatown was designated a national historic site in 1995.
---
Janet Bingham, Vancouver, British Columbia
Ms. Janet Bingham of Vancouver, British Columbia, has been an exemplary volunteer and a leader in the heritage movement for more than 30 years. In the early 1970s Ms. Bingham was a key figure in the campaign to protect Gastown and Chinatown from a proposed freeway through those districts. She has also been active in a number of fights to save Vancouver landmarks, including Parksite 19, now known as Barclay Heritage Square. She is the author of two books, Samuel Maclure Architect and More Than A House: The Story of Roedde House and Barclay Heritage Square.
---
Ruth Redmond, Niagara Falls, Ontario
For over 40 years, Ms. Ruth Redmond of Niagara Falls, Ontario, has purchased properties on the Lundy's Lane Battlefield site in an attempt to protect this historic area from development. This site is connected to the famous battle of the War of 1812. Recently, in a generous and magnificent act, she bequeathed her holdings, 3 acres of land, to the City of Niagara Falls as an historic park. National Achievement Awards * Acadian Museum of Prince Edward Island in Miscouche for its video, The Island's Acadie, portraying the history of the Acadians on the Island; * Mr. Alden Weeks of O'Leary for his volunteer work at the Prince Edward Island Potato Museum; * Island Trails for its Confederation Trail project; * Island Nature Trust for its conservation programs, including protecting the endangered Piping Plover; * Community Museums Association of Prince Edward Island; * The Alberta Municipal Heritage Advisory Board honoured the Historic Resource Management Team for their accomplishments in creating and implementing a program designed to preserve the heritage of the City of Edmonton. Key components of the program included the establishment of a register of the city's most important historic resources, the introduction of a comprehensive management plan and the adoption of a tax policy that provides incentives to encourage designation and rehabilitation of heritage buildings.
---
John Woodsworth, Okanagan Valley, British Columbia
Mr. John Woodworth is a professional architect who has served as Chairman of the Nature Conservancy of Canada and is in his twenty-third year as a founding director of the Nature Trust of BC. In his home region, the Okanagan Valley, Woodworth has provided leadership in the creation of important parks and reserves, including Cathedral Parks, Okanagan Mountain Park and Kalamalka Lake Park. Nationally, Woodworth has been a driving force behind the designation of the 8,600-km Alexander Mackenzie Voyageur Route, which the federal government declared a national legacy earlier this year.
---
John Bland, St. Anne-de-Bellevue, Quebec
---
Elizabeth Pacey, Halifax, Nova Scotia
---
Barbara Humphreys, Manotick, Ontario
---
Pierre Mayrand, Montréal, Québec
---
Shannie Duff, St. John's, Newfoundland
---
Pierre Berton, Ontario
---
Phyllis Lambert, Montreal, Quebec
---
Arthur John Hampson Richardson, Quebec
---
Peter John Stokes, Niagara-on-the-Lake, Ontario.
Respected preservation architect who worked to preserve several important buildings in his own city, including the Butler House, Niagara Apothecary and St. mark's Church. He is also known for his work on Cobourg's Victoria Hall, Upper Canada Village, Galt City Hall, the Grange, Toronto, and Port Hope's Walton Street Study. He authored a number of books and more than 85 reports on early building.
---
Stan White, Ottawa, Ontario
---
Colin J.G. Molson
---
Anthony Adamson, Toronto, Ontario
---
John I. Rempel, Ontario
---
Jeanne Minhinnick, Ontario
In recognition of over 25 years of research to help preserve many Canadian artifacts and buildings through magazines, pamphlets, television, the lecture circuit, and At Home in Upper Canada, her definitive work on early artifacts and lifestyles.
---
Hartland MacDougall: Chair of Heritage Canada Foundation's first Board of Governors (1973 – 1978)